DETAILS OF THE ISSUE
The PennEast pipeline runs through a large part of eastern Pennsylvania and Central New Jersey, spanning the counties of Luzerne, Carbon, Northampton, Bucks, Hunterdon, Mercer. The pipeline was proposed in hopes of transporting natural gas extracted from northeastern Pennsylvania Marcellus shale plays to other areas of Pennsylvania and New Jersey.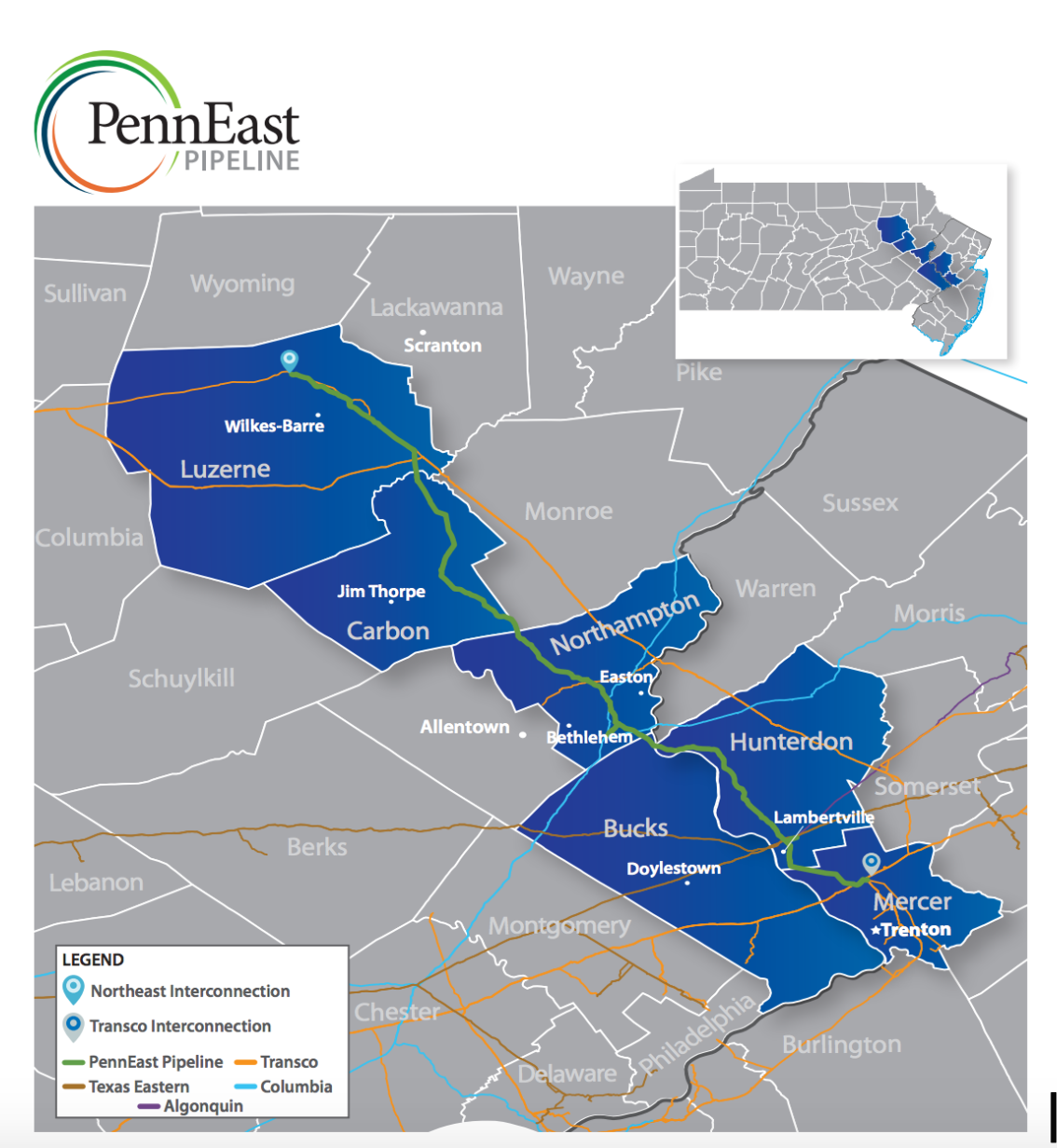 Unfortunately, the pipeline also acts to facilitate environmental injustices faced by those residing near the fracking wells from which this natural gas is transported. While these individuals are at risk of suffering water contamination from the spent fracking fluid that may enter the water table, they don't see any of the benefits of the cheap energy that the natural gas provides. This is a characteristic feature of environmental injustice, wherein the people suffering from the injustice are not the ones benefiting from its origin. The image below illustrates some of the thousands of fracking well violations that span northeastern Pennsylvania.
Meanwhile, the development of the pipeline itself is problematic to achieving environmental and energy justice in the communities it intersects. Oil and natural gas pipelines have been known to cause toxic spills that affect ecosystem services, as well as water resources that people depend on.
One of the greatest threats to environmental justice that the proposed PennEast pipeline risks is contamination within the Delaware River Watershed. The water flowing through the Delaware and its 88 tributaries provides drinking water to several million people residing in both Pennsylvania and New Jersey. Even if the pipeline is constructed using the greatest of safety precautions, future environmental disasters or accidents could result in a break in the pipeline that could have devastating consequences. If the pipeline breaks along critical points of the Delaware, drinking water contamination could become a widespread injustice.
Furthermore, natural gas pipelines are known to leak methane, one of the most potent greenhouse gases–thus this leaking contributes to climate change. The people who would be living along the PennEast pipeline would be at a disproportionate risk of exposure to high levels of methane, which has also been proven to have several negative health implications. Short-term health effects include headaches, nosebleeds, nausea and other symptoms–and long-term effects haven't been fully identified.
Proponents of the pipeline cite the positive impact that it will have on the local economy. The six companies comprising PennEast have claimed that the project will create 12,000 jobs and will have an economic output of $1.6 billion ($740 million of which is to be spent on labor income). But after the pipeline is completed, ongoing maintenance of the pipeline will only provide 98 permanent jobs contributing to $8.3 million dollars yearly income.