rachel carr biography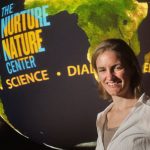 Rachel Carr is the director of the Nurture Nature Center.
She has a master's degree in environmental policy design from Lehigh University, where she focused her research on improving flood risk communication through social science.
She is the principal investigator on several flood-related research and education projects in partnership with National Weather Service and the National Oceanic and Atmospheric Administration, studying the ability of these organizations to communicate with the public.
Q & A with rachel carr