Moodle is hitting Macalester College in a big way in June. First, the Collaborative Liberal Arts Moodle Project (CLAMP) is hosting it's first ever Moodle User Group meeting (or "MUG") at the St. Paul, MN college. The MUG runs June 23-24, 2014 and features a packed schedule focusing on the pedagogical uses of Moodle.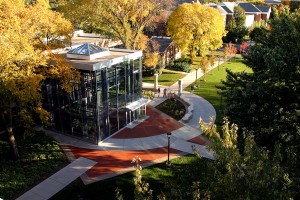 Immediately after the conference will be Moodle Hack/Doc Fest for Summer 2014. During that event we'll be kicking the tires on Moodle 2.7 and working on a recommendation on whether to go with the new version or to stick with Moodle 2.6. Plus we'll be tackling the usual motley assortment of Moodle bugs and documentation requests.
Want to join us? Register for the MUG and/or sign up for Hack/Doc.
I've been to every Moodle Hack/Doc Fest since the first one at Lafayette College, but I've never traveled by train. That changes this year; I'll be riding the rails with several other Hack/Doc'ers. It's a long trip — it will take us 30 hours to get to St. Paul, MN from Easton, PA — but it'll give me plenty of time to view the countryside, work on Moodle, read some books on my Kindle, and maybe even finish that Zelda game on my 3DS…
What will I be reading? I don't know — I'm currently reading Fractions: The First Half of The Fall Revolution by Ken McCloud but I expect to be done with that by then. I may fire up Gust Front by John Ringo, which is the sequel to a book I wrote (and reviewed for the now-defunct Science Fiction Weekly) back in 2000, but we'll see where I'm at.
I also plan on bringing a few non-fiction books to read, mostly dealing with responsive design. These include Responsive Web Design by Ethan Macotte and Implementing Responsive Design by Tim Kadlec. These are both print books, which provide a nice backup in case my Kindle goes on the fritz during the trip.
It wouldn't be a summer Hack/Doc fest without baseball. In previous years I've gone to a variety of major league and minor league games, including the Lowell Spinners (Hampshire), West Michigan White Caps (Kalamazoo), the Syracuse Chiefs (Colgate), and the Indianapolis Indians (DePauw). Since we're in St. Paul this year, a few of us will be going to a Twins game on Sunday in Minneapolis. I've never been to Target Field, and I'm looking forward to soaking in the ambience there.