Lafayette College is developing, testing, and adapting new instruments such as those described in the Common European Framework of Reference, i.e., the e-portfolio and the "I-Can" student self-perception of proficiency. These instruments have provided us with new ways to better articulate curriculum goals, scaffold and incorporate metacognitive tasks such as self-reflection and evaluate learning outcomes. The technology used in this work includes traditional .html, Web 2.0 and Google cloud software, all of which are readily available for all schools to use. It is our hope to collaborate with other institutions, both secondary and post secondary, as we proceed with this research.
LaFolio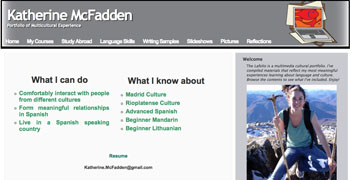 Increasingly used in North American and European academic institutions, the language e-portfolio is a personalized and reflective record of development and progress that students can take from class to class and level to level. Moreover, as language learning at Lafayette College becomes more outcomes-based, our faculty is exploring better ways to articulate what students know, what they are capable of doing and how to assess this learning. Thanks to a series of faculty development workshops and a faculty-student collaborative research initiative, we are implementing a customized, language ePortfolio which includes student media proficiency projects, chronicles of study abroad experiences, writing samples and results from formal testing instruments.
See a sample portfolio.                                    Access the ePortfolio tools.
The "I Can" Survey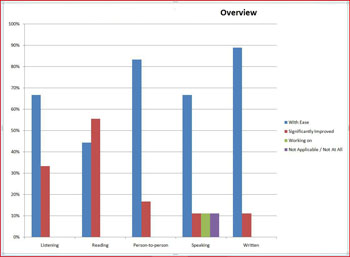 In our current work at Lafayette, we are investigating the feasibility of a language portfolio that culminates in a department-wide assessment.  Critical to this project is training students to "select, reflect, connect", the mantra of e-portfolio construction.   A key instrument in this reflective process has been the parallel development of an eight semester, "I can" rubric of students' perceived competence in a language. This assessment, based on the original, K-12 Lingua Folio, serves as both an entrance and exit survey and has been customized to reflect the Lafayette College experience. The Lafayette "I Can" survey also  places greater emphasis on learning strategies and active learning descriptors as per Bloom's taxonomy. In fact, they are important instruments in training learners in developing the reflective discourse so necessary to a portfolio. The surveys are deployed electronically, using  Google Docs.
Further information and access to templates.
Understanding the Results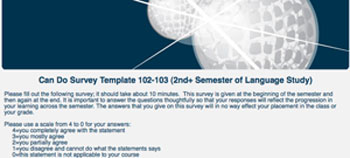 Results from the "I Can"  surveys, which are still being fine-tuned, measure the learners' listening, reading, written, presentational and interpersonal abilities, i.e., the five communicative modes and sub modes as outlined by ACTFL .
The different levels of the  "I Can" surveys have been uploaded to Google Docs Templates to make them available electronically to the greater community of language educators. We have also developed a program to extract data from these spreadsheets, formatting the results into meaningful tables for teachers. For a list of the templates and how to access  the program reporter files, please follow this link