Willkommen!
Events
Cabaret Evening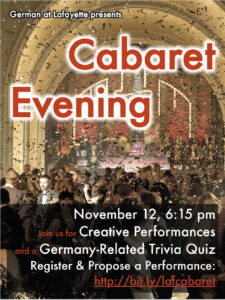 Singen Sie gerne oder spielen Sie ein Musikinstrument? Mögen Sie Gedichte oder Theater? Kennen Sie eine lustige Geschichte oder Anekdote? Alle Performances sind herzlich willkommen, in jeder Sprache oder Form, live oder aufgezeichnet, von Studierenden, Kolleg*innen und Freund*innen, solo oder als Gruppe.
Recent film screening and interview

Carl Laemmle was a German-Jewish immigrant who founded Universal Pictures and saved over 300 Jewish families from Nazi Germany. This dramatic feature documentary is about his extraordinary life story.
German Reunification seen from a trans-national perspective
Courses: Always something new!

Faculty spotlight
Dennis Johannssen joins the German faculty at Lafayette. Click on the picture to learn about his story.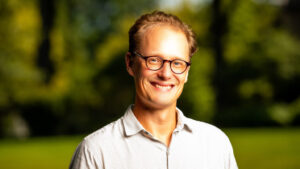 Max Institute at Lafayette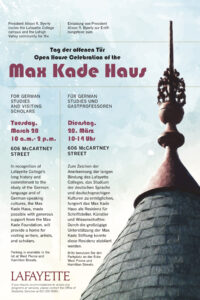 The Lafayette language program in German works closely with the Max Kade Institute programming bringing special events and artists in residence to work with students. Please visit the Max KadeCenter webpage to learn more
.
Featured Student Portfolio
Our 2019 I-World Gold Awardee: A double major in Economics and German. Click on Ruth's picture to walk with her through her academic journey at Lafayette.