Language, Literatures, and Cultures
| | | | | | | |
| --- | --- | --- | --- | --- | --- | --- |
| Video | Events | Students | Courses | Faculty | ePortfolios | Grads |
Courses
The Russian Language program at Lafayette includes Elementary, Intermediate, and Advanced language, literature, and culture classes. It is closely aligned and coordinated with the East-European and Slavic Cultures major and regularly sponsors Lafayette faculty-led study abroad programs.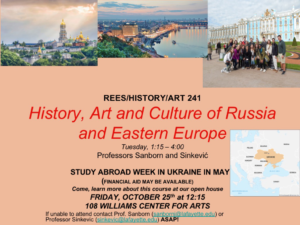 Spotlight on the Alums
A number of our Russian students find jobs working for the US government and international corporations. Michael Dombo '94 recently came back to Lafayette to talk about job opportunities for Russian majors and minors.

Honors Society
Lafayette Russian majors belong to Dobo Slovo Honors' Society. Every year Prof. Valeria Sachez sponsors a special induction ceremony and celebration of the seniors.