Bienvenue!
French Events
The French section at Lafayette regularly offers a variety of talks and cultural events; to name a few,
a Renaissance Dance workshop taught by Dr. Dorothy Olsson
previews of new films such as "Black Jews, The Roots of the Olive Tree", an account of an African-Jewish community in Cameroon with guest cineaste Laurence Gavron
a special poetry reading with Lafayette French professor and poet Mathieu Perrot.
Spotlight on our French professors:
Professor Olga Anna Duhl, Oliver E. Williams Professor of Languages, talks about her endowed professorship and its history, her academic focus on late Medieval and early Renaissance French literature and culture, as a well as a favorite song.
Toujours du nouveau!
French seminar courses: our dedicated faculty offer new, seminar courses regularly.
Spring 2021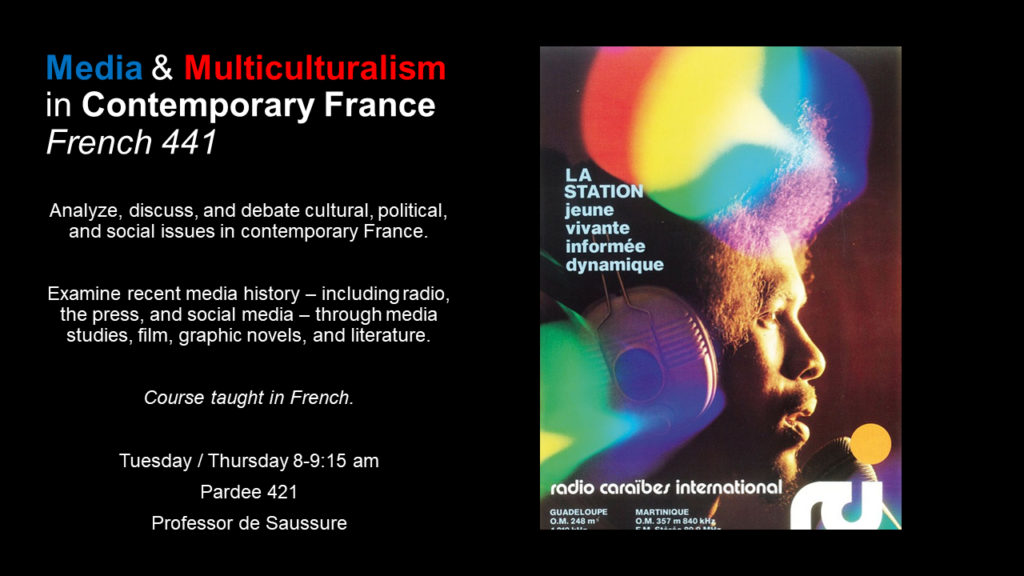 The Tournees Film Festival at Lafayette : Lafayette has been awarded several grants to bring new Francophone cinema to the campus community. These films are shared with the Easton Francophiles as well and are viewed in Lafayette's new Landis RedBox Cinema. View the screening archive.
Connecting with Francophone partners
Lafayette has several unique partnerships with Francophones around the world and in the USA. Do take a look at these special connections.
The French Heritage Language Program in collaboration with the French-American Cultural Exchange and our new Cyber-Pal initiative. A first event: the Spring 2020 retreat! Take a look at snapshots of the AY 2020-2121 exchange:

Driss Camara, a senior last year and in his first year of medical school, worked with a junior in high school from Togo. "Je ne le lacherai jamais!" Driss tells us that he is continuing to work with his FHLP Pal even now, helping him get into college.
Naomo Ganpo-Nkwenko worked with a young woman from Cameroon who attended the spring 2020 retreat. She's wanted to be an engineer, she was top of her class, but chemistry and physics were not offered to her as classes in the high school she attended. Naomi helped her develop a work-around and long-term plan to getin to a four year college.
Narindra Andrisoamampianina worked with a girl from Haitian student who had been in the US for only 3 months. As a native speaker of French, Narindra taught her tutee English for speakers of French.

Partnering with the French Corsican Collectivity

Webinar with Gilles Siméoni, President of the Executive Council, and preview of Catharine Sorba's Sundance Film Festival finalist entry, Da E Stelle a E Stelle (from Stars to Stars) (2018). The film is prefaced with a dedication from Edmand Siméoni to Lafayette students on the importance of democratic freedoms.
"From Corsica with Love", a 17 panel gift exhibit from the Collectivity of Corsica, chronicling the life of General Pasqual Paoli, who wrote the 1st democratic constitution in Europe.

Lafayette visit by the Corsican delegation and talk by President of the Executive Council, Gilles Siméoni
Writer/ and cineaste in residence Catherine Sorba, working with an advanced French seminar class of Prof. Olga Anna Duhl.

Study abroad in Sénégal: student journal
The French poetry initiative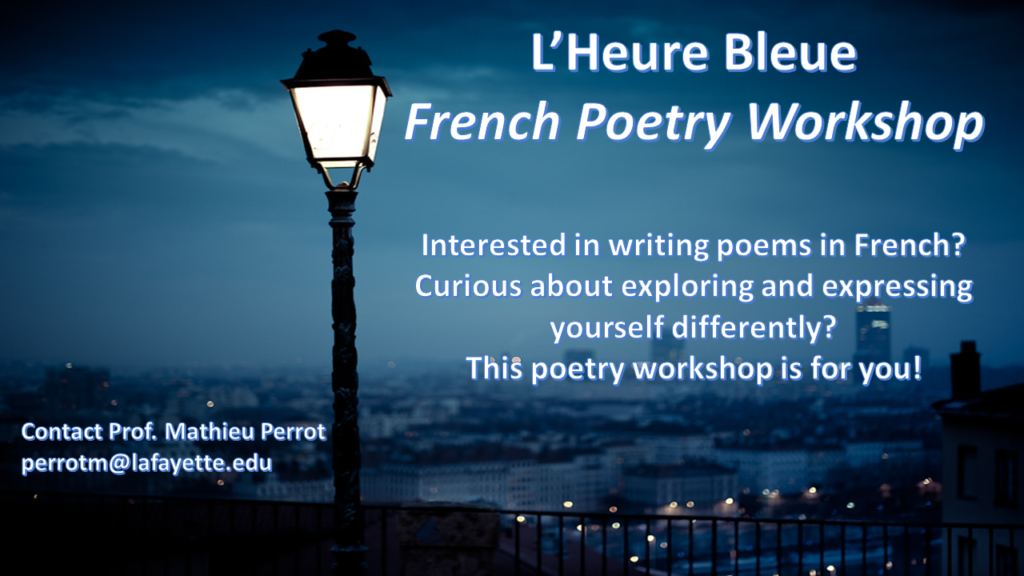 Poems written by Jennifer S. '20, Celeste F. '22, and Beatriz A. '23 were published in the American Journal of French Studies – Spring 2019 edition. Their poems were selected by the American Journal of French Studies' committee for the spring 2019 poetry contest, hosted by the Louisiana State University. The committee received more than 200+ contributions. Beatriz ranked 8th.
Furthermore,
Celeste
was also selected for another publication in a 2019 international poetry contest in France: "Poésie en liberté." She received a special award for her poem "Chez moi" ("At Home"):
https://www.poesie-en-liberte.fr/resultats-2019/
.
Spotlight on our student scholars:
The French Honor Society : Pi Delta Phi
The Undergraduate Research Conferences
Zainab X, working with Prof. Anna Olga Duhl presented : The Sword, the Rose, and the Pen, Constructing Identity in the French Medieval and Renaissance Art and Culture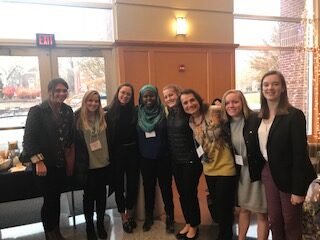 Graduates: What our students are doing!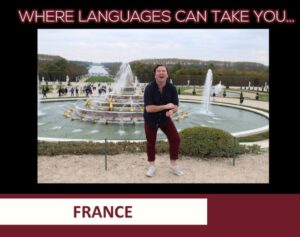 "I think of what the world could be
A vision of the one I see
A million dreams is all it's gonna take."
I made a 10 year dream of moving to Paris come true. I couldn't be happier.
–Matt B., 2018