Lafayette College
LaFarm at Lafayette's main website
Vegetables in the Community Site
Easton, PA
Garden of Easton is the result of the work of two Lafayette students, Miranda Wilcha and Peter Todaro. They have taken the time to create a map of food resources in and around Easton, in a web browser app and a full interactive map. Also included is information on how to apply for SNAP benefits, and places food is grown in and around Easton. Check out the site if you're interested in what Easton has to offer.
The longest running open-air farmers market in America, open from 9am-1pm on Saturdays and 4pm-8pm Wednesdays from May-November and 10am-2pm on Saturdays the rest of the year. Check the link for directions and all other information.
The West Ward Neighborhood Project is a community based organization centered around developing the West Ward of Easton. They organize the Easton Urban Garden, work with Lafayette's Vegetables in the Community to help provide accessible food for low income residents, and partner with many others like the Easton Area Community Center. 
The Nurture Nature Center is a community-dialogue focused non-profit right on Northampton Street in Easton. They organize community discussions, are a center for events, are home to one of only 100 of NOAA's Science on a Sphere globes, and try to educate Easton about local, but also national and global issues concerning the environment. They began as an educational center focused on informing Easton residents about floods after the series of large floods that hit Easton in the early 2000s. They created an Urban Garden in 2014, have a calendar of the huge number of events they host, and are generally one of the most active non-profits in the area (they also have room if you want to try hosting an event.)
The Lehigh Valley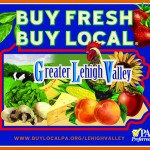 Buy Fresh Buy Local is a decentralized organization currently active in 18 states dedicated to connecting local farmers to their communities. The link above leads to their Greater Lehigh Valley branch, which includes a Local Food Search Engine called Fresh Food Finder. BFBL has a list of farmers markets in the Lehigh Valley, as well as lists of CSAs, farms, restaurants, stores, and other food-serving institutions in the LV.
Their Local Foods Guide is unparalleled in breadth, and the website has information for everything from cooking local foods, to reasons why you should eat local.
As a bonus, here is a link to Buy Fresh Buy Local Pennsylvania, BFBL Virginia, the national organization that supports BFBL, and their list of all BFBL Chapters.
The Kellyn Foundation is based in Tatamy and is focused on promoting the health and well being of the community. They do a good amount of work with education about health, including and very importantly about food, including helping manage school gardens and managing kitchens to teach people about eating real food. They have a number of volunteer and internship opportunities for anyone in the area looking to help out.
The Alliance for Sustainable Communities: Lehigh Valley is a nonprofit that promotes sustainable community development within the Lehigh Valley. They are one of the most important community based organizations around in terms of organizing information and helping sponsor forums and dialogue in the area. On the web they have a calendar of events for any sustainable organization in the Lehigh Valley; a directory of local sustainable businesses and organizations that they update periodically and release a print form of yearly; and a collection of blogs called Voices of the Valley. Definitely a great place to start looking for opportunities to help foster sustainability.
Pennsylvania
PASA is the probably the most important organization in PA for sustainable growers. They also run FoodRoutes, the PA based, national organization that coordinates Buy Fresh Buy Local (links for that above.)
PASA is split into four regions, which each have specific event calendars and discussion groups that extend out to involve close-by farms not located in PA boundaries. They organize field days, seminars, and other educational events for learning how to grow sustainably, and their yearly conference is one of the most important food events in the region. Their website hosts a classifieds section for anyone looking to buy or sell secondhand equipment or livestock in PA.
PASA does some policy work, organizes a huge number of volunteer opportunities for consumers and producers alike, and has a robust resources section of their own featuring PA wide CSA Guides, a resource guide for businesses, a guide to finding agricultural jobs including listings, food safety and employment guides for farmers, and a how-to for starting a farmers market.
The Northeast
Future Harvest: Chesapeake Alliance for Sustainable Agriculture (or Future Harvest CASA, or just CASA) is a Chesapeake Bay organization founded to support sustainable farming. They have a set of trainings available through their Field School, they hold a yearly conference, they have a few resources for advocates of sustainable agriculture, as well as a calendar of sustainability focused events in the area, a bulletin board for job or other listings, and an outdated but useful directory of sources for meat, poultry and dairy in DE, MD, VA, and WV.
NOFA is an advocacy and support organization for organic farmers in the northeastern US. The overall organization hosts a summer conference as well as a several winter conferences, fights for and keeps updates on agricultural justice, publishes a series of guidebooks as well as a newspaper, keeps a calendar of events and does training in organic land care. Of course each individual chapter in Connecticut, Massachusetts, New Hampshire, New Jersey, New York, Rhode Island, and Vermont all have their own individual programs, projects, and services that end up being much more extensive than that which the umbrella organization can do by itself.
The United States
The Rodale Institute is an Emmaus, PA based organization that has been studying and practicing organic agriculture for over 35 years. In addition to the calendar of events that Rodale hosts, they have webinars, online courses, and a set of documents to support learning how to farm organically.
They have compounded much of their research onto their website here, they host a farmers connect forum, and have a serial production for new organic farmers, that is unfortunately pay-to-access. None-the-less, Rodale continues the longest legacy of organic farming in the United States.
A project of Bon Appetit Management Company (BAMCo) that exists to facilitate the creation of more college farms. They have a step-by-step guide to starting a campus farm which you can use regardless of whether your college contracts with BAMCo for dining services. They also have a section for farming on a corporate campus, and a shared document library where colleges are encouraged to share the various documentation that goes into farming: business plans, design docs, food safety guides, etc.
Right now, the Campus Farmers network is pretty small, but given time I believe the project has the chance to flourish.
The Greenhorns is a New York State based, naitonal non-profit organization which aims to "recruit, promote, and support the new generation of young farmers." They produce many, many valuable resources themselves, including guidebooks on everything from affording land to cooperative farming to planning your sustainable agriculture profession trajectory; their documentary exploring young farmers' experiences in America; a book filled with the stories of starting farmers; their 2013 and 2015 New Farmer's Almanac which contains a huge amount of advice for new farmers in writing and illustration (the 2013 Almanac also has an audio version)
The Greenhorns also have a number of continuously updating media; their blog is frankly one of the better food and farm blogs I've encountered, it's topics are always interesting and informative and it doesn't dominate my rss aggregator; many greenhorns do talks in various places about topics from global economic development to helpful farm advice and keep a compendium of them; they created a web video series called Our Land; they have a radio segment on the Heritage Radio Network; they even run a cooperative farm film festival that appeals to as many audiences as it has collaborators.
They also organize and list a huge number of events for young farmers from workshops and conferences to potlucks and sail freight trades. You could easily spend days of your life looking through the information that the Greenhorns produce every year, and it would be very useful for any starting farmer.
Agrarian Trust is a specific extension of the Greenhorns that focuses on the complex issue of land access. They are farmers, legal experts, and others actively working to guarantee land access for the new generation of farmers. They have a list of resources for understanding land access in America, a map of resources and organizations for farmers available around America, and a listing of land and job opportunities for new farmers where older farmers can send in proposals. 
They have many more resources focused on land access that any new farmer should really check out to educate themselves on this complicated policy issue. Land access is considered the biggest obstacle in starting a farm for most people for good reason, and that fact is why this organization exists.
The National Young Farmers Coalition is a national organization formed to connect farmers with each other and organize resources to help farmers through community support and policy change in order to foster farmer independence, training, and economic viability, as well as promote sustainability, diversity, and cooperation. They organize policy campaigns, national and local social and educational farming events, they put together farmer training, workshops on acquiring jobs, land or capital, and have a guide on how to go organic. They also put together a documentary called Resilient: Soil, Water, and the New Stewards of the American West. They also have Local Chapters you might want to check out.
As the name indicates though, they are specifically around as a resource for Young Farmers. They actually have a whole page talking about why. As a national organization, they take the time to work with and talk about more local organizations like the Rough Farm Corps and other such projects for young aspiring farmers. These folks and the Greenhorns are some of the most important organizations for any aspiring farmer looking for where to start, because these two are both grass-roots organizations formed by farmers, for farmers.
NSAC is a relatively well known national organization that does everything from policy work to creating guides for sustainable farmers. Their Blog and Newsletter are both great ways to keep up to date with the latest sustainable agriculture related news, be it about policies or practices. Also they organize certain political action to support policy for a sustainable food system and offer ways for anyone to be involved. Their grassroots guide is very good for advocates and growers interested in learning about the policies currently in place concerning food in America, and anyone who wants to learn about this topic should take a look.
Farm Aid is a non-profit dedicated to keeping family farmers from all over America on their land. The organization was started by a concert in 1985, and each year has a concert to help raise money/awareness, and is directed by Willie Nelson, Neil Young, John Mellencamp and now Dave Matthews. They both support local and regional markets and push for nation-wide policy change. While they don't ever mention supporting organic farming in particular, they are specifically against factory farms and are in support of small-scale farmers growing good food. They offer a grant program, have a Disaster Fund, keep track of locally, regionally, and nationally available services, tools, and opportunities for family farms, and have a lot of information on various food and ag issues.
They also started Homegrown.
Homegrown is "a community for celebrating the culture of agriculture and sharing skills…" They promote are provide resources for farmers, home growers, and just normal people trying to use good food. They have a series of "101's" for teaching everything from Starting a CSA to various Crafts as well as cooking, in a forum format where you can share your knowledge with others. They also have a guide for how to find good food wherever you are in America; they collect pictures and videos and give smaller groups a place to start; they even have 2 blogs, the later of which is posted to by members looking to tell their own stories. Membership of homegrown being non-exclusionary, you could become of a member today.
The Virtual Grange is an educational Grange organization, put together by the Stone Barns Center Educational Working Farm and Farm-To-Table Restaurant in New York State. They have a number of educational videos and tutorials, and every year in December they host a nation-wide Farm Conference whose attendance is decided by lottery (as there is only limited space.) They also have a useful forum for farmer to farmer questions, opportunity postings, and article sharing.
Farm Commons is an organization to support sustainable farmers, mostly through legal resources and advocacy. They have a series of webinars and tutorials that are also soon to be released as podcasts, as well as a font of resources organized based on state, or on what service they provide. In addition, Farm Commons actually offers direct risk analysis and audits, and other various legal services.
The World
World Wide Opportunities on Organic Farms is a network of host farmers and volunteers from all over the world (literally over 50 countries have national WWOOF groups, on every populated continent) whose purpose it is to provide people who want to live in any of these places and do organic farming with host farms who will give them that opportunity. The details are dependent on the destination country, and even more dependent on the individual farm (with living conditions from 'a bedroom in our b&b with wifi' to 'a tent on flat ground in the shade of our barn' and times from year round to two weeks.) Many WWOOF Farmers are multilingual, so language may not be a barrier to WWOOFing abroad, and there are some places that have accommodation for partners or even children. The process entails generally becoming a member of your destination country's national WWOOF group, but there are also hosts in countries without a national group. There's also a group for hosts from Latin American countries without groups specifically.
The organization has actually been around for over 40 years, and it started in England. It is solidly a volunteer organization, not a work organization, and although the program involves being given housing and often food, money cannot be exchanged between host and volunteer (because international labor restrictions make this illegal if you're crossing state lines without a work visa, and even if you want to WWOOF in your own country, the international organization does not want to risk being seen as a work exchange force.) Overall, this is one of the best ways to directly gain experience in organic agriculture, while fulfilling life goals like travelling abroad.
(This is a worldwide community, but it is most active in US)
An open-source, communal solutions website for farmers; Farm Hack is a place for farmers to come together with their unique tools and designs to share them with each other. The tool listings are rather intense, detailing everything you would need to know to put together something that another farmer has created, and the tools are generally simple solutions to reduce dependence on big sellers. They include everything from sensors, electrical controls and software to season extension techniques to DIY versions of common tools to person-powered versions of tractors. Being open-source, the website is all by-farmers, for-farmers, so they're always looking for the contribution of new solutions.
In addition to their web listings, they host events that can be demos of certain hacks, general meetups or international forums on globalization.