Most of the time, we (LaFFCo or the LaFarm Manager) will work with you to get you out here in a way that works best for all involved. For anyone who needs to organize their own transportation, there are several options to get to the farm: biking, the LCAT shuttle, and driving.
Biking:
Taking a bike ride to the farm is a fun and active way to get to the farm.  The distance from campus is about 3 miles, creating a 6-mile round trip ride.  There are a few hills, but makes a leisurely ride with nice shoulders on Sullivan Trail. Make sure to follow bike laws of PA, wear bright clothes, and bring water.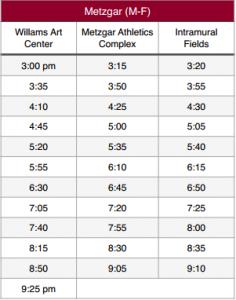 LCAT Shuttle:
The free Lafayette student shuttle services takes students to the Metzgar Athletic complex daily, a short walk to the farm entrance.  See the schedule for exact dates and times.
Driving:
The farm is located 3 miles north of campus adjacent to the Metzgar Athletic Field Complex. Please ask Sarah specific directions on where to park (depends on size of party, day of week and time, etc) Google Maps to Metzgar