History: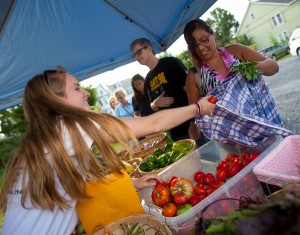 The Veggie Van project began in Fall 2012 through a collaboration between Lafayette College Technology Clinic and the West Ward Neighborhood Partnership (WWNP) in an effort to bring fresh produce into the West Ward of Easton. For 7 weeks during the Summer of 2013, produce was collected from Easton Urban Farm, Community Gardens in Easton, and LaFarm, and distributed to residents. In this pilot study, the summer farm stand method proved a viable option, providing, on average, 200 pounds of fresh local produce each week.
The program transitioned at the end of 2013, and is now under the advisement of Dr. Benjamin Cohen, Dr. Lawrence Malinconico, and Dr. Bonnie Winfield who are: developing and improving the relationship between the College and the WWNP, the City of Easton and its residents; and providing opportunities for student leadership through Community Based Learning, Research, and Service (CBLRS).
During the Summer of 2014, three students, Alexa Gatti ('16), Andrew Goldberg ('15), and Rachel Leister ('15), grew vegetables at LaFarm in partnership with the Easton community gardens, researched several aspects of sustainability in context of the VIC program, and planned for a weekly distribution of produce at a farm stand in Easton's West Ward. The weekly distribution came in the form of the "Veggie Van", which operated like a farm stand located in the middle of Easton's West Ward.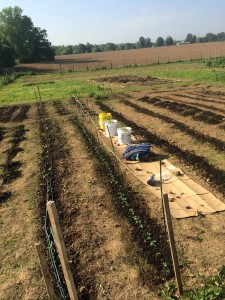 Mission:
Summer 2015 VIC Program: By implementing a model that unites production, distribution, and consumption VIC aims to promote food justice and local food agency in Easton's West Ward. This model creates a community space to provide and celebrate fresh, nutritious, and culturally appropriate foods to the local population.
Summer 2014 VIC Program: Build community strength in Easton's West Ward Neighborhood through the production and distribution of fresh locally grown produce.
From Technology Clinic Spring 2012-Fall 2013: "Provide fresh produce, at a nominal cost, to residents of the West Ward Neighborhood of Easton, PA."
Summer 2015:
Two students, Alexa Gatti ('16) and Rachel Young ('18) are currently growing vegetables mainly at LaFarm, as well as at Easton's Urban Farm located in the south side of Easton for this summer's Veggie Stand. In order to reach more families and involve more community members throughout Easton, various demonstrations have been planned for distribution nights. Alexa and Rachel are researching how the Veggie Stand can stay sustainable for future summers, and the impact it has on the health of the local community.
Thank you, Sponsors and Supporters:
Easton Hospital, Capital Blue Cross, City of Easton, Kellyn Foundation, Easton Area Community Center, Crayola Gardens, Ken Jones and the Lynn St. Garden, Yvonne Tugya and the Friends & Family Garden, Lafayette College, CACLV, and West Ward Neighborhood Partnership.