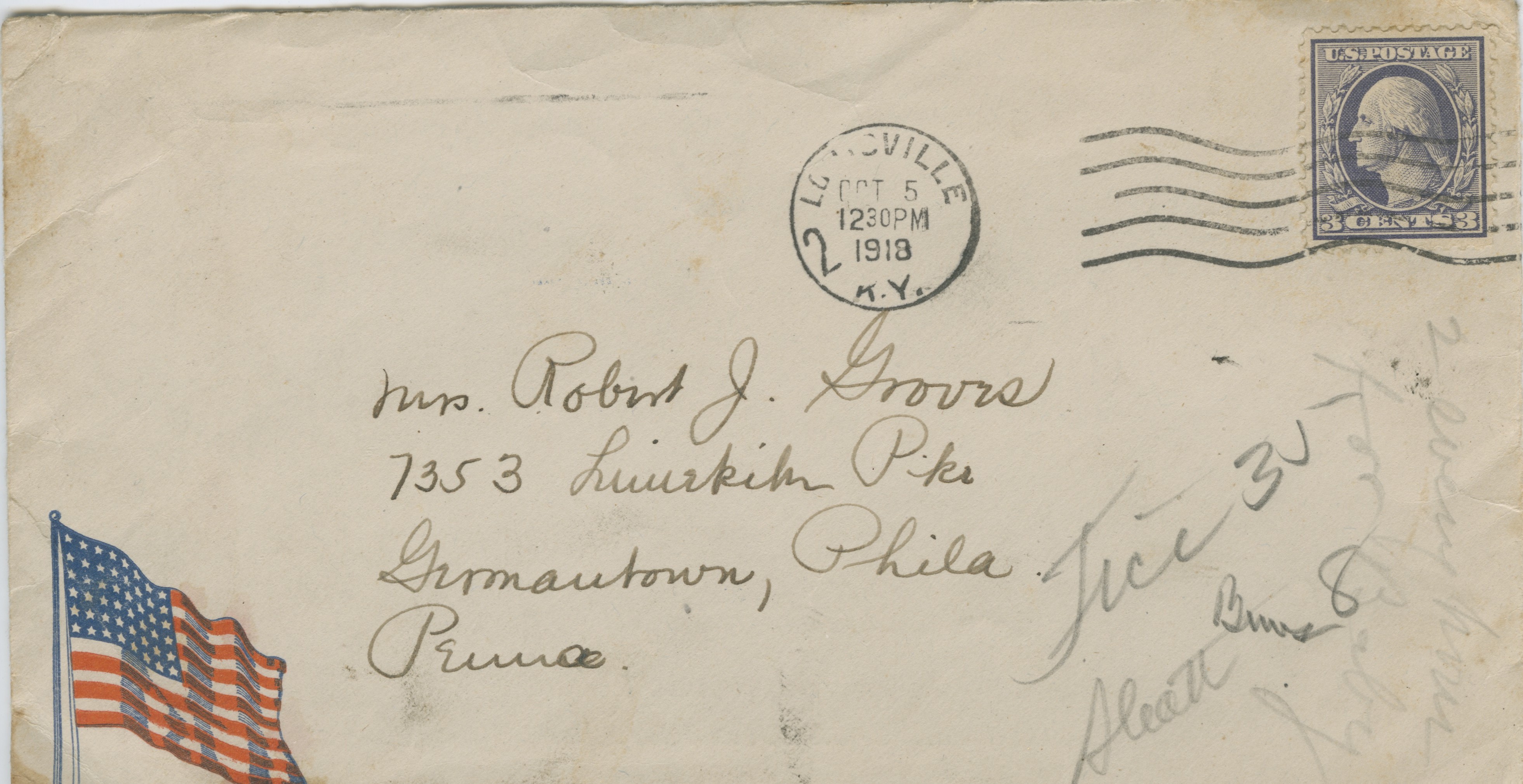 BIOGRAPHICAL SKETCH
Walter Alexander Groves was born in Germantown, Pennsylvania on March 10, 1898, the son of Mr. and Mrs. Robert J. Groves.  He attended Lafayette College for three years in the army, enlisted and served as a second lieutenant with the field artillery in World War I, then returned to Lafayette, earning an AB in 1919.  Undergraduate activities at Lafayette included the Franklin Literary Society, Sigma Alpha Epsilon, the Track team (on which he served as captain), the Cross Country Team, and Phi Beta Kappa. He received an AM from Princeton University in 1922 and a PhD from the University of Pennsylvania in 1925.  Groves was a member of the faculty at Lafayette from 1922-1924, teaching history and the Bible.
Estelle Crawford Groves was born in 1905.  She attended the University of Pennsylvania. Her family lived in Norristown, PA at the time of her marriage and correspondence home.
On February 28, 1925 Walter and Estelle were married and departed almost immediately for Teheran, Persia to serve as missionaries teaching at the American School of Teheran, also known as the American High School for Boys, latter renamed Alborz College.   Referred to at Lafayette as "Lafayette in Persia," the American School was founded and run by Samuel Martin Jordan, Lafayette Class of 1895, under the auspices of the Board of Foreign Missions of the Presbyterian Church in the USA.  The relationship with Lafayette was cemented in 1906 (when Jordan returned to the USA on furlough and centered his promotional efforts for fundraising support for the school in Easton) and formalized in 1923 by the Board of Trustees of Lafayette College.
The couple served as missionaries in Teheran until 1940 (with at least one furlough in 1930), during which time Walter held increasing levels of responsibility at the American School.  He was registrar from 1925-1931 during which time he also taught religion, ethics, and philosophy, as well as starting and running the school's library.  He became dean in 1931 in addition to his previous responsibilities.
The Groveses' tenure in Teheran runs concurrent with the rule of Riza Shah.  The Groveses arrived in Teheran after Riza Shah took control of the state by force in 1921, but a year before he was "crowned king," as Walter Groves described the occasion, in 1925.  Though outside of the scope of this collection, the Groveses left Teheran when the Allies invaded Iran in 1941, an action that precipitated the abdication of Riza Shah.  Walter's letters especially make reference to Persian politics and Persian/American interaction, including the financial mission started by Arthur Millspaugh in 1922 and ended in 1927.  Both Groveses make reference to American Minister Hoffman Philip and his wife, as the families interacted socially.
During the period of these letters (1925-1930), three sons were born to Walter and Estelle.  Walter Craig Groves, Lafayette College class of 1949, was born in Teheran on February 6, 1927; Warren Olley Groves, Lafayette College class of 1948, was born in Teheran on November 8, 1928; and Robert H. Groves was born on August 1930 in the States while the family was home on furlough.
Upon returning to the States, in 1940, Walter served on the faculty at Centre College in Kentucky, teaching philosophy and religion from 1940-1942 and then serving as professor of theology at Louisville Presbyterian Seminary from 1942-1946. He was awarded an honorary doctorate of divinity by Lafayette in 1945. In1947, he returned to Centre to take the position of President of the College, which he held until 1956.  In 1956, he resigned this office to return to the Middle East, and become the president of the new engineering college at Abadan, Iran. He remained there until 1961, when he became dean of the engineering school at Shiraz. He died in 1984.
FINDING AID
The following finding aid provides a description of the content found within the Groves Papers. The tags include: (1) American legation, (2) American School of Teheran, (3) American School of Teheran Girls' School, (4) American School (of Teheran) Summer Camp at Aveen, (5) Estelle Crawford Groves Teaching, (6) Family and Domestic Notes, (7) Items from the States, (8) Lafayette Alumnus/Family, (9) Lafayette College, (10) Lafayette College, (11) Language Study, (12) Persian Politics and Culture, and (13) Presbyterian Church and Missions.
Click here to view the full finding aid to the Groves Papers.
DIGITIZED SELECTIONS FROM THE GROVES PAPERS
I. Estelle Crawford Groves Letters, 1925-1928 (15 letters)
II. Walter A. Groves Letters, 1925-1928 (12 letters)
III.  Additional Documents ("Motherhood in Persia" and "Commencement, American College of Teheran, 1929")
I.   Estelle "Teddy" Groves's letters written between Mar. 22, 1925 and Nov. 16, 1928.
II. Walter "Buddy" Groves's letters written between May 2, 1925 and November 28, 1928.
III. Additional Documents