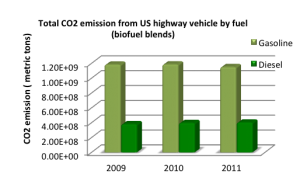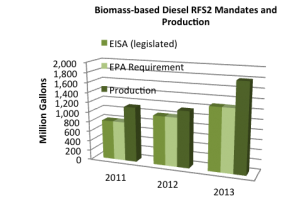 The United States is the only country so far to have adopted a blending mandate for biofuels – the Renewable Fuels Standard (RFS) – which is part of the Energy Independence and Security Act of 2007 (EISA). It defines the volume of different biofuels that have to be blended with conventional fuel between 2006 and 2022.
Second generation of biodiesel is still in its early development stages. Because of the high cost in research and development, the favorable policy environment is needed in order to stimulate the process. As the result of the Renewable Fuels Standard in 2007, we see the production of biodiesel has greatly increased over the past 5 years. In addition, the emission of CO2 has dropped in 2011 as compare to previous years because of the increase in shares of biodiesel blends in conventional petroleum fuel.
Reference:
"Data Source: EIA Monthly Energy Review, Table 10.4." Print. Access 16 Apr. 2015.
"Policy and mandate: IEA Sustainable Production of Second-Generation biofuels."  Web. Access 16 Apr. 2015.
Composed by Tien, edited by Matt