Many consider Bioethanol the future of fuel because of its many benefits.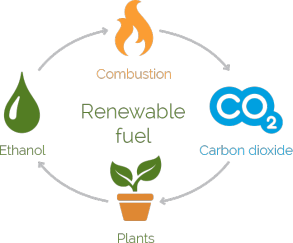 Advantages include:
More complete combustion making it a much cleaner exhaust than gasoline
There are numerous sources for this fuel as long as it contains starch or sugar
The sources of Ethanol consume carbon while growing and release that carbon when combusted making it a neutral carbon emitter and does  not raise the atmospheric concentration of CO2
Energy security is increased as it shifts the need for some foreign-produced oil to domestically-produced energy sources.
Countries that do not have access to crude oil resources can grow crops for energy use and gain some economic freedom.
If fuel spills were to occur it is much easier biodegraded or diluted to non toxic concentrations.
Ethanol is considered a renewable energy resource because it is primarily the result of conversion of the sun's energy into usable energy. Creation of ethanol starts with photosynthesis, which causes feedstocks, such as sugar cane, to grow. These particular feedstocks are processed into ethanol.
References:
"Bioethanol Fact Sheet." Www.sts-technology.com/. STS- Technology, 2015. Web. 6 May 2015.
"Ethanol Benefits and Considerations." Alternative Fuels Data Center:. U.S. Department of Energy's Clean Cities Program, 2 Jan. 2015. Web. 6 May 2015.
Lucas, Paul. "Bioethanol – the Advantages and Disadvantages." Bioethanol – the Advantages and Disadvantages. Really Good Domains Ltd, 12 Feb. 2010. Web. 6 May 2015.
(Composed by Matthew Schmitt, Edited by Tien Tran)