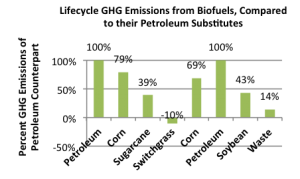 Energy input and overall emissions for biodiesel production also depended on feedstock and process. All biofuels exhibit lower CO2 emission compare to its petroleum counterparts. The waste  bio-feedstock is currently the one with the lowest equivalent CO2 emission for our second generation biofuels. However, as we stated in our policy section, this second generation of biodiesel (created from waste instead of growing feedstock) is still in early stages of development and hence are not widely used in current production process.
Typical values are fossil fuel inputs of 30% and CO2 emission reductions of 40%-60% vs. diesel. Biodiesel reduces net emission of CO2 by 78.45% compared to petroleum diesel. For B20, CO2 emissions from urban buses drop 15.66%  as oppose to buses that run on traditional petroleum diesel.
References:
"PA's Renewable Fuel Standard Program (RFS2) Regulatory Impact Analysis". Print. February 2010. EPA-420-R-10-006.
Composed by Tien, edited by Matt