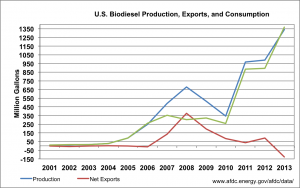 The figure above give us more information on our domestic production ( blue), consumption ( green), and net exports ( red). In particular for the past five years, the US had experience a strong growth in both consumption and production of biodiesel. More importantly in 2013, we see the consumption surpassed the domestic production and so our net exports became negative.
References:
"Total Biofuels Production and Consumption." International Energy                Statistics– EIA.  Web. Access 16 Apr. 2015.
" EIA Monthly Energy Review, Table 10.4 ". 2007.  Web. Access 1 May. 2015.
Composed by Tien, edited by Matt