Associate Professor of English, University of Texas at El Paso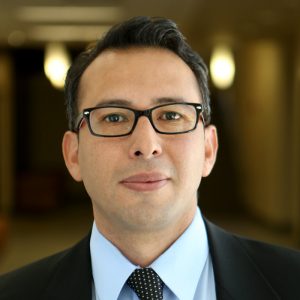 Ruben Espinosa is associate professor of English at University of Texas at El Paso where he specializes in Shakespeare and early modern studies. Professor Espinosa received his Ph.D. in English Literature from  University of Colorado at Boulder (2008). He is author of Masculinity and Marian Efficacy in Shakespeare's England (2011) and co-editor of Shakespeare and Immigration (2014), a collection of essays exploring the role of the immigrant and alien in Shakespeare's England and drama. He has published essays in Shakespeare Quarterly, Explorations in Renaissance Culture, and Literature Compass. He currently is working on a book-length project that employs critical race and ethnic studies to examine how the issues of race, language, ethnic identity, assimilation, and immigration not only inform our understanding of Shakespeare's contemporary, cultural value in our diversified world, but also allow us to scrutinize the meaningful intersections of Shakespeare and Latinx identity and culture.
---
Panel
Wednesday, March 27
7:30-8:30: Keynote Lecture
"Shakespeare's Illegitimate Bodies"
Paper Abstract: Drawing on cross-historical perspectives, this talk considers not only Shakespeare's attention to notions of legitimacy and illegitimacy through his dramatic characters, but also interrogates how legitimacy is imagined when it comes to contemporary consumers and makers of Shakespeare. Who has legitimate access to Shakespeare, and why? Whiteness in all things Shakespeare looms large, and this reality often casts a shadow on, and renders illegitimate, people of color who engage Shakespeare. To attend to the perceived illegitimacy of black and brown bodies—bodies that have been deemed and imagined as ungovernable, threatening, and thus made vulnerable over time—is to recognize the need to scrutinize and reimagine the value of Shakespeare's cultural capital so as to push back, through our research and our teaching, on ideas, practices, and policies that define and delimit the borders of these bodies.
Recommended Reading: Espinosa, Ruben. "Beyond The Tempest: Language, Legitimacy, and La Frontera," in The Shakespeare User: Critical and Creative Appropriations in a Networked Culture, ed. Valerie M. Fazel and Louise Geddes (Palgrave, 2017).
Article Abstract:  This essay considers the unique nature of borderland epistemologies as a means not only of scrutinizing Shakespeare's relevance on the U.S. Mexico border, but also of bringing diversity to a field in need of diversification. The essay interrogates Latinx invisibility in the realm of Shakespeare in popular culture—that is, the not-so-subtle coding of legitimate productions of Shakespeare as white—so as to examine what Latinx students see when they engage Shakespeare on social media, and more specifically within the popular realm of YouTube Shakespeare. Ultimately, this essay looks to the way that digital technologies and the YouTube venue allow Latinxs to use Shakespeare to explore and negotiate linguistic and ethnic differences while affording a novel and diverse view of Shakespeare for us all.