Associate Professor of English and Women's and Gender Studies, Rutgers University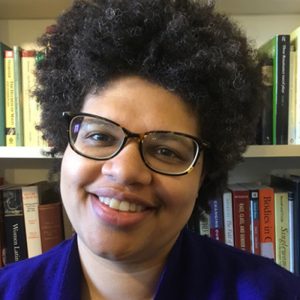 Patricia Akhimie is associate professor at Rutgers University–Newark where she teaches Shakespeare, Renaissance drama, and early modern women's travel writing. Her courses have included Race and the Renaissance and an honors seminar on Shakespeare and race. She holds a Ph.D. in English from Columbia University and is author of Shakespeare and the Cultivation of Difference: Race and Conduct in the Early Modern World (Routledge, 2018). She is co-editor with Bernadette Andrea of Travel and Travail: Early Modern Women, English Drama, and the Wider World (University of Nebraska Press, 2019).  Her research has been supported by the National Endowment for the Humanities, Folger Shakespeare Library, Ford Foundation, and John Carter Brown Library
---
Wednesday, March 27
4:10-5:30:Panel: Teaching Race: Changing Tradition
"Cultivating Expertise: Glossing Shakespeare and Race"
Paper Abstract: Tracing connections between research methodologies and classroom practices in the study of Shakespeare, this talk argues for the importance of offering students opportunities to build and demonstrate expertise.  I discuss the use of glossary exercises in classes on race and early modern literature and the learning objectives for such courses.  Finally, I offer a critique of the Shakespeare course as commonly structured and suggestions for new directions in teaching race in literature from this period.
Recommended Reading:  Akhimie, Patricia. "Bruised with Adversity: Reading Race in The Comedy of Errors," The Oxford Handbook of Shakespeare and Embodiment: Gender, Sexuality, Race, ed. Valerie Traub. (Oxford University Press, 2016): 186-96.
Article Abstract:  "Bruised with Adversity: Reading Race in The Comedy of Errors" examines the role of the body in the social production of both individual subjects and racial groups. In The Comedy of Errors, two sets of twins experience the benefits as well as the pitfalls of mistaken identity, revealing the ease with which individuals may be grouped with others who merely share the same bodily markers, and the ease with which such markers may be stigmatized. The play's complex mistaken-identity plot allows characters of varying social rank to discuss the experience of being labeled or mislabeled. The essay focuses on the treatment of the bruised bodies of the two servant/slaves, Dromio of Ephesus and Dromio of Syracuse, arguing that bruises are imagined to indicate a moral and  social inferiority that is hereditary and insurmountable.