Associate Professor of English, University of New Hampshire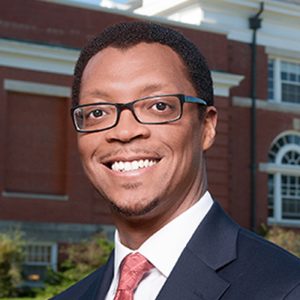 Dennis Britton is associate professor of English at University of New Hampshire. The focus of his research and teaching is early modern English literature, especially Shakespeare and Spenser, reformation theology, race theory, and an examination of how theological constructions of race shape interactions among Christians, Muslims, and Jews. He is author of Becoming Christian: Race, Reformation, and Early Modern English Romance (2014) and co-editor with Melissa Walter of Rethinking Shakespeare Source Study: Audiences, Authors, and Digital Technologies (2016). He held an NEH research fellowship in 2012-2013 at the Folger Shakespeare Library, and his research was featured in the spring 2013 issue of Folger Magazine. He was awarded an Excellence in Teaching Award in 2013. He received his B.A. from University of Southern California and his master's and Ph.D. degrees from University of Wisconsin at Madison.
---
Panel
Wednesday, March 27
4:10-5:30: Teaching Race: Changing Tradition
"Race and Periodization in the 'Regular' Shakespeare Course"
Paper Abstract: This presentation will consider the role of race studies and periodization in the "regular" Shakespeare course. Although a Shakespeare course is often used by students to fulfill a pre-1800 requirement, I believe greater attention to non-pre-1800 Shakespeare is essential if we are going to provide students with a more accurate understanding of Shakespeare's relevance today and recent developments in Shakespeare studies. Alongside considering the place of Shakespeare in English major curricula, I will share ways I have tried to develop a "regular" Shakespeare course that attempts to marry pre-1800 and non-pre-1800 Shakespeare, especially with attention to race.  
Recommended Reading: Corredera, Vanessa. "'Not a Moor exactly': Shakespeare, Serial, and Modern Constructions of Race." Shakespeare Quarterly 67 (2016): 30-50.
Article Abstract: Examining allusions to Romeo and Juliet and Othello in season 1 of the podcast Serial, Vanessa Corredera demonstrates that race as it plays out in the podcast and in our contemporary moment is no more stable and strictly scientific than it was in the early modern period. As a result, she argues not only that scholars should not hesitate to discuss race in the early modern period, but also that recognizing the flexible nature of race—both then and now—can allow students to have fruitful conversations about race in Shakespeare and ensure that classroom discussions of Shakespeare matter in "real life."