Professor of English, Whittier College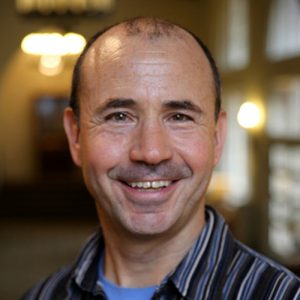 Jonathan Burton has taught English at every level from sixth grade to the Ph.D. in New York, Maryland, West Virginia, California, and Pakistan. At Whittier College he teaches a range of courses on Shakespeare, Contemporary Drama, Transcultural Literature, and The History of Literary Criticism. A graduate of Haverford College, another Quaker-founded liberal arts college, Professor Burton was drawn to Whittier for its emphasis on diversity, service, and the Quaker values of listening to and learning from others.  He seeks to embed those same values in a pedagogy that embraces performance practices, creative writing, and the digital humanities. He holds a Ph.D. from City University of New York, and he is author of Traffic and Turning: Islam and English Drama, 1579-1624 (2005) and co-editor with Ania Loomba of Race in Early Modern England: A Documentary Companion (2007).
---
Panel
Thursday, March 28
4:15-5:30: Innovations in Teaching Shakespeare and Race
"Sprezzatura and Swagger"
Paper Abstract: There is little doubt that students of Shakespeare will benefit from an increasingly diverse professoriate. In the meantime, white Shakespeareans can move beyond empathy to co-conspire with students and colleagues in overturning racialized systems of oppression. This talk reviews four efforts to develop a culturally sustaining Shakespeare pedagogy. These projects arise first out of Quaker values and Dirty South hip hop, enlisting ideas from literary erasure and internet memes as well as students on 13 college campuses–including Lafayette.
Recommended Reading:  Paris, Django. "Culturally Sustaining Pedagogy: A Needed Change in Stance, Terminology and Practice." Educational Researcher 41.3 (April 2012): 93-97.
Article Abstract: This essay reviews, synthesizes, and extends educational theory and practices around multiethnic and multilingual classrooms from the mid-1990s into the second decade of the 21st century. In particular, Paris argues for extending Gloria Ladson-Billings' idea of culturally relevant pedagogy by starting to imagine a culturally sustaining pedagogy.  For Paris, this term and the practices it might generate differ from culturally relevant pedagogy through their emphasis on valuing the community knowledge and cultural practices that students bring to school equally with new material that they are encountering in the classroom. So, for example, student familiarity with hip-hop is not treated as a means of enabling familiarity with iambic pentameter, but as a parallel cultural competency worth developing side-by-side with knowledge of Shakespeare.
Recommended Reading: Grady, Kyle. "Why Front? Thoughts on the Importance of 'Nonstandard' English in the Shakespeare Classroom." Pedagogy 17.3 (2017): 533-40.
Article Abstract: This essay considers the importance of 'nonstandard' English to fostering a more inclusive Shakespeare classroom. Grady focuses on his experience as the instructor of a Shakespeare course that occasionally employed African American vernacular English in its analysis of texts. His reflection considers how taking such language seriously generates more points of entry for a wide range of students. While this pedagogical approach offers one manner in which the field of early modern studies might expand points of access and foster cross-cultural dialogue, Grady also acknowledges how the valence and effects of nonstandard language will vary with instructors of various identities.