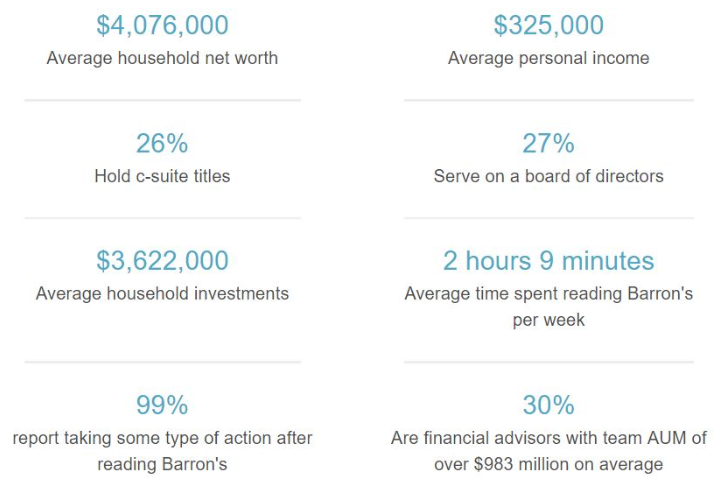 The above statistics refer to readers of Barron's. If you like what you see, read below or click here to sign up for free.
If you have any interest in financial services (as a career or on the side), surely you've heard the importance of staying aware of market activity and financial news. Now you have a way to do that, for free. Generous Lafayette alumnus John Vaccaro '66 has sponsored a Barron's subscription for Lafayette faculty and students, and you should take a look.

Barron's is an esteemed weekly financial publication in the form of a magazine, but a subscription offers much more than just leisurely reading. Access to a constantly updated news website and a plethora of in-the-weeds market data and insights are included. All you have to do is click on this link right here. Alternatively, you can find the link at my.lafayette.edu. Simply enter your Lafayette email address, and after a confirmation email, you're good to go.
Once on the website, in the top right corner you can choose between Interests (various articles describing different financial topics and news), Magazine (where you can read the actual publication for the week), or Data (where you can find a crazy amount of information). Data ranges from index performance comparisons to futures settlements.
Everything on the website is valuable information that only increases your awareness of financial happenings and market activity. I would highly recommend at least going in and looking around – if you're interested in getting more involved in the club or just generally curious, Barron's is a fantastic resource.
Questions? Comment on this post or email me at klearmas@lafayette.edu.