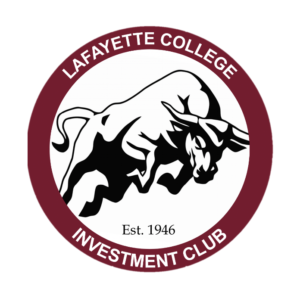 The Lafayette Investment Club is an educational resource offering real-world experience to Lafayette students interested in the world of investing. Starting in 1946 with $3,000, it is the oldest student-run investment club in America, currently managing a portfolio worth over $1,000,000. (See more at CNN Money Article). With backgrounds ranging from "no experience, but I want to learn" to "I manage a personal portfolio" this investment club is ideal for anyone interested in learning how to make (or lose) money.
We strive to educate members on the investing process by creating presentations on helpful concepts and investing in real assets. Our funds are available to test our own ideas and learn from our decisions. The club organizes trips to Wall Street, brings in informative speakers, and supports various activities to encourage student development. While the Executive Board sets the agenda for weekly meetings, the Club relies on the input and participation of all of its members. Unless emergency action is required, all decisions by the Lafayette Investment Club are voted on during Friday meetings by its students.
Our portfolio consists of an assortment of securities with the majority being equity-based. Other than domestic stocks and mutual funds, the Investment Club also invests internationally, currently holding an emerging markets exchange-traded fund. In addition, the club also owns bonds and holds a percentage of the portfolio in cash, which is used to buy new assets and to fund the club's annual field trip to Wall Street.
The Investment Club meets on Fridays during lunch in the basement of the Simon Economics Center. Free pizza and soda are always provided for members in attendance. Meetings typically involve an update on the current market, proposals to buy or sell securities, informative presentations, or guest speakers brought in to either educate members in their area of expertise or discuss possible job and internship opportunities.
Whether you actively participate in making proposals, or just come to learn the fundamentals of investing, you can always count on walking away with having learned at least one thing that will allow you to make money in the future.