Bethlehem Area Vocational-Technical School Defends Title as Souper Bowl Champion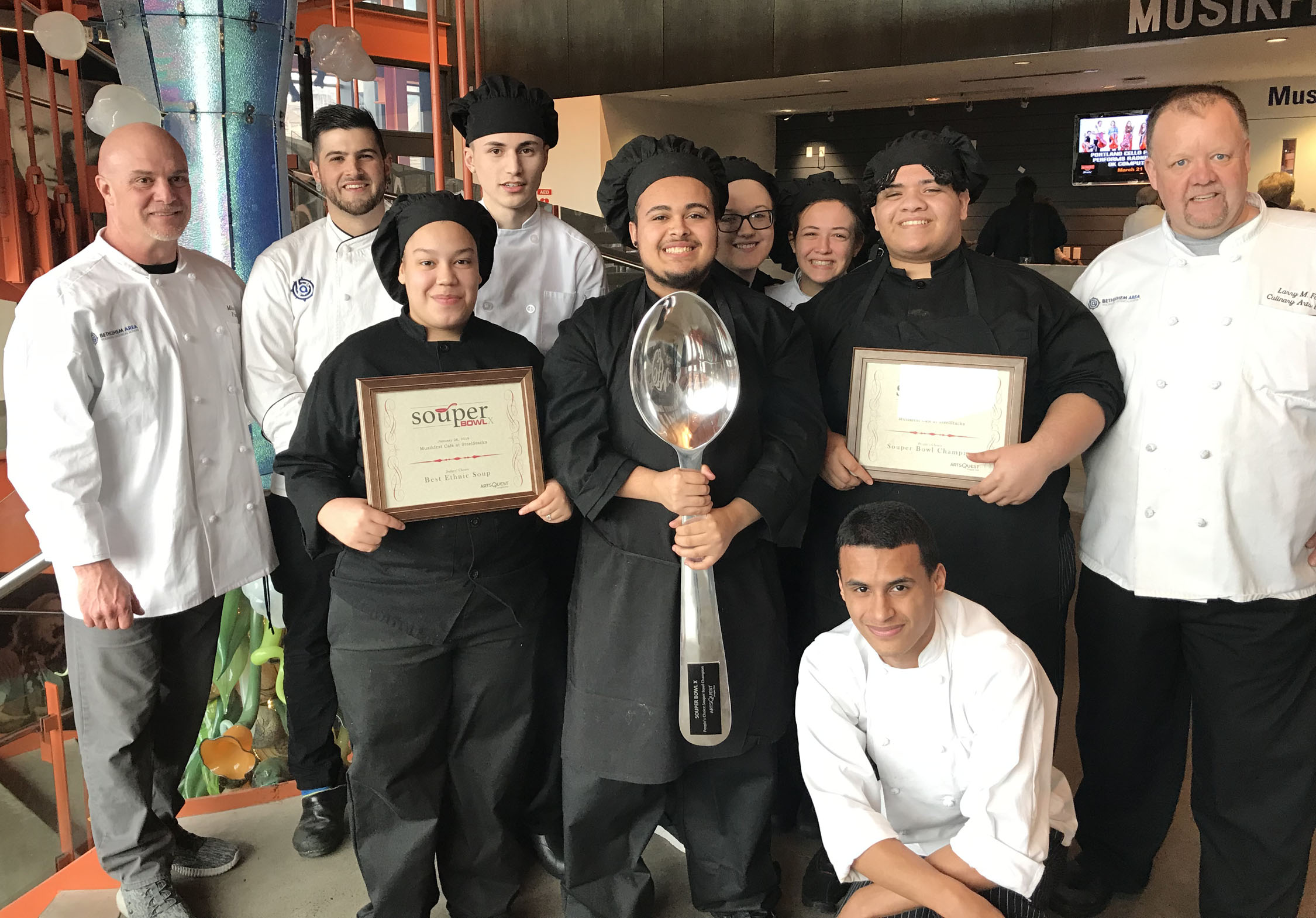 BETHLEHEM, PA – Twenty-one teams served up a tough competition at ​ArtsQuest's 11th annual Souper Bowl, presented by Burkholder's Heating & Air Conditioning. The culinary contest drew 500 attendees to the ArtsQuest Center's Musikfest Café in Bethlehem on Jan. 25. For the second year in a row, the culinary arts students from the Bethlehem Area Vocational-Technical School were declared Souper Bowl champions with their mouth-watering Maple Bacon Sweet Potato Soup. The competition raised $24,000 for the​ Arts Education Fund for ArtsQuest​, the nonprofit that presents Musikfest, Christkindlmarkt Bethlehem and programs at the Banana Factory Arts and Education Center and SteelStacks.
The first runner-up for Souper Bowl Champion was Joe's Tavern for its Almond Broccoli Chicken Soup, while Southside 313 Bar & Grille took second runner-up for its Pickletini Bisque.
The Souper Bowl Judging panel also named several category winners:
Best Cream-Based – ​Bethlehem Area Vocational-Technical School, Maple Bacon Sweet Potato Soup
Best Ethnic – ​Forks Mediterranean Deli, Mjadara (Lentil with rice and caramelized onions) Soup
Best Meat-Based – ​Estelle's Catering, Chicken Tortilla Soup
Best Seafood-Based​ — ​Emeril's Fish House, ​Corn & Crab Chowder
Best Vegetarian​ – ​Cathy's Creative Catering and Café, ​Blueberry Pear Cobbler Soup Most Origina​l – The View at Morgan Hill, Beets and Cream Soup
Judges for Souper Bowl XI were Vicki Doulé, Michael Faccinetto and Richard Liu of the ArtsQuest Circle, George Wacker of Lehigh Valley with Love Media, LLC, Dave Wieder, VP of Burkholder's Heating & Air Conditioning and Pam Anderson, ​New York Times best-selling cookbook author and Director of Copper House Events.
Special thanks to MacIntosh Services for supporting this year's contest. Souper Bowl XII is set for Jan. 30, 2021. Tickets for the event will go on sale later this year.
---
---