Three Birds Coffee House: Two Lovebirds and a Parrot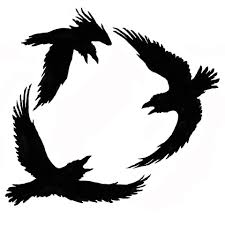 EASTON – When Joe Langdon and Jennifer Murray met at an artists' retreat in Wyoming in 2016, they never in their wildest dreams imagined that three years later they would be engaged and opening a coffee house in Easton, Pa.
But that's exactly what happened.
Enter Three Birds Coffee House, an old Victorian mansion-turned-coffee shop featuring glistening chandeliers, gleaming parquet hardwood floors, a grand mahogany wood staircase, and cozy leather armchairs.
Where did the name Three Birds come from? Murray, a bird enthusiast, explained that the coffee house is named for her pet parrot (named "Beetle") and the two love birds themselves. The couple has since adopted another parrot; though they agreed that this addition may confuse customers, the spirited bird has added an extra dose of liveliness to the place.
For Murray, who was previously working at a bar in New York City, starting her own coffee shop has been a long time coming. "I wanted to get out of that world," she said. Opening her own place seemed like the next logical step and the most obvious alternative to a bar.
"I've been kicking it around in the back of my head for years," she said. "I was waiting for the right business partner–and life partner, but they didn't have to be both."
Conveniently enough, Murray found both of these things in Joe Langdon while they both were staying at an art residency in Sheridan, Wyoming. At the time, Langdon was a writer working out of Vegas. Murray and Langdon decided to keep in touch when they left Wyoming; three years later, they have an engagement ring, two parrots, and a coffee house to show for it.
To remind him of the origins of their love story, Joe has a tattoo on his forearm of a drawing of a buck that Jen was working on during their time in Wyoming. "I got a tattoo and then I moved in with you," he said with a laugh, giving Jen a playful nudge.
The first major hurdle in their venture was finding the right location. Langdon grew up in Chester County and has lots of family in Pennsylvania, and he knew that he wanted to get closer to his roots. The couple drove all throughout the state looking for the perfect location for their project.
For starters, the couple knew that they wanted a walkable downtown. They also decided that they wanted to be in close proximity to a college–preferably one with an arts school. When they decided that they would live above the coffeeshop, this dramatically narrowed down real estate
choices.
Together, Murray and Langdon explored Doylestown, Wilmington, Philadelphia, and beyond in a quest to find the perfect home for them and their brainchild, but nowhere seemed as welcoming or perfectly suited to their needs as Easton, Pa. "It checked a lot of the boxes we were looking for," Murray said.
They quickly fell in love with Easton and the greater Lehigh Valley, which were both rich in culture, history, and community. "I think the world is going to discover Easton pretty quickly," Langdon said. "It's a beautiful little town, it's got a lot of history."
Lucky for them, their building has history in spades. It was originally constructed in 1862 as the Victorian mansion of wealthy department store owner James Bull. The expansive property has since been transformed into a funeral home (owned by the Addams family), and then into a piano shop before it fell into disrepair and remained vacant until its rebirth as a coffee house.
Transforming the space into the warm, inviting coffee house that it is today was no easy task. Renovation took a little over a year, and at times, they didn't think they would finish. They feared that city codes would force them to tarnish the buildings' original Victorian opulence and charm. "There were a couple moments where we had put in so much time and I thought, this might not happen," Langdon said.
But the couple is thankful to have had each other throughout the entire process. "I can't imagine doing something like this solo," Murray said. They found that they were able to push each other and hold each other accountable. "I think we have fairly complementary skills," Langdon said.
Together, the couple decided to serve light fare at Three Birds–soups and salads, paired with bread and pastries. They wanted the focus of the shop to be on their hot drinks. "Coffee and tea is what we do," Murray said. They offer teas from all over the word, as well as rotating single origin coffees.
Although the two knew little about coffee before opening their shop, they have since become masters of their craft. They keep a daily log of grind settings, water temperature, and brew notes. "It matters more than I would've ever guessed," Langdon said.
Although Langdon admitted that they both "collectively don't know what they're doing," they are excited that business has been booming, and they have been warmly welcomed into the Easton community ever since the coffee shop's opening. "It's been wonderful," Murray said. "Everyone's been really accepting and supportive."
"…Even when I make my lousy latte art," Langdon added with a grin.
---
---