Hi all!
I am so happy to report that the 2020 remote iteration of the Digital Humanities Summer Scholars Program is done, and we have plenty to share with you from the hard work that the Scholars did during the program. This was the first time that this program has been conducted virtually, and we were incredibly lucky to be able to still have the opportunity to go ahead with our research despite the circumstances of the COVID-19 pandemic.
Our DH Summer Scholars were all grateful to hone their ideas and learn how to do solid, ethical research despite the limitations of physical isolation; lack of access to scholarly materials like physical books; technical difficulties using digital communication tools like Google Meet, Zoom, etc.; as well as the necessity of spanning time zones (domestic and international) for synchronous class and lab sessions. I was happy to quickly adapt to teaching and guiding the students through their research remotely; I was fortunate enough to have a very proactive and agile DH Teaching Fellow in Milena Berestko '22 to help me navigate the difficulties of engaging students in intellectually challenging work in the online learning environment.
I also made sure that the cohort understood that they had a myriad ways to contact us when they needed us: DHSS Spaces page, DHSS Slack channel, Google Meet conferences, email, and phone. Building a collaborative group virtually is challenging, and I found that establishing a standard of meaningful communication was key to keeping the group together and productive as they moved along in the research process.
In the end, the 2020 DHSS Final Digital Research Projects Presentations were held publicly on Zoom the week of June 22, 2020. I am excited to make the recordings of those presentations available to everyone now here on the DHSS website.
Please click on the date of the presentation that you would like to view to access the recording:
Megan Deacon:

The Femme 

Fatale

 and the Distortion of Female Criminality

Saide

 Singh: 

Indo

–

Diasporic

 Currents: 

Reimagining

 Guyanese Identities Through Women-Authored Poetry
Shirley 

Liu

: 

Chinablock

: A History of Housing and Displacement in Washington, D.C.'s Chinatown
Rachel Cox

: Placing Women's Issues on the National Agenda: How the KKE's Mobilization of Women During the Greek Civil War Impacted the Social and Political Structures of Greece

Songmouy

An: How Khmer Rouge Affects the Inclusion of Khmer Classical Dance in Cambodia's Pop Music Industry.
Oyu

Gantumur

:  What Does the Food on Your Plate Say About You?

Dawit

Gebeta

: What is the Relationship Between Black Movies and Anti-Black Sentiment on Twitter?
Thank you so much for stopping by to check out the DH Summer Scholars' great work this year!
Sincerely,
Angela
Angela Perkins
Research & Instruction Librarian
Director, Digital Humanities Summer Scholars (DHSS)
David Bishop Skillman Library
Here are some Frequently Asked Questions:
Q: What is the Digital Humanities Summer Scholarship?
The Digital Humanities Summer Scholarship (DHSS) is a competitive, six-week seminar where students engage with Digital Humanities: learning digital tools, methodologies, and community practices in order to build a research project of their own design. They work independently and as a collective to understand and participate in rigorous original research. We are in our fifth year of the program.
Q: When is the program held? How long is it?
The DHSS program lasts 6 weeks in total. This summer's program will run from May 19 – June 26, 2020, but any interested student should keep in mind that there are year-round program obligations, including an orientation held in April, project presentations the summer and fall, as well as other events.
Q: Who runs this program? Where is it housed?
This program, originally funded by a Mellon grant, is currently funded by The Lafayette Libraries, and is housed in Lafayette College's Skillman Library. The program is headed by Angela Perkins, Research and Instruction Librarian, and collaboratively run by members of its Research and Instruction Department, with support from Digital Scholarship Services and many other members of our community.
As the place where disciplines, methodologies, and research expertise intersect, the Library is the natural home for the program.
Q: How much is this scholarship? Are there any other benefits that I will receive as a Summer Scholar?
The DHSS program offers a $2000 stipend and on-campus housing for the program's duration.
Q: How are scholars selected?
Scholars are chosen through a competitive application process, which concludes on March 13, 2019 this year. Interested students must schedule a brief interview (15-30 minutes) with Angela Perkins prior to applying. The student should be prepared to discuss their interest in DHSS, experience with digital humanities or digital scholarship, and current research interests.
After the preliminary interview, if the student is interested in applying, they will receive instructions to apply.
When considering the application for acceptance to the program, we look at the strength of the research question, the potential to design and execute a project effectively within 6 weeks, and degree of enthusiasm for their inquiry. All applicants will be notified as to the status of their acceptance to the program by March 23, 2020.
Q: How is the DHSS program structured academically? 
The program is a seminar-style course with an emphasis on fluidity and flexibility in schedule in order to facilitate a creative and intellectually expansive basis for pursuit of original research, and building the final digital research project. Classes meet twice weekly for three hours, and a lab period of three hours is scheduled on Fridays.
The first two weeks focus on learning and discussion of basic research methods and methodology, in addition to creating and honing the digital project's central research question. The following two weeks see the Summer Scholars taking digital humanities methods and methodologies workshops, including text mining and analysis, topic modeling, data visualization, geographic information systems (GIS) and mapping, and digital storytelling. The final weeks are concentrated on the Summer Scholars completing practical assignments which started on the first week, including the digital project outline and plan, literature review, digital tool review and demonstrations, and research paper. These all lead up to completion of the final digital project, and presentation.
Weekly journal entries round out the required work, which serve as reflections on the challenges, blocks, and accomplishments along the research journey, as well as a documentary method which instills the importance of transparency through disciplined project management.
Q: Where can I find more information/resources/syllabus? How can I connect?
Please feel free to contact Angela Perkins, Research and Instruction Librarian, for more information at perkinsa@lafayette.edu.
_____________________________________________________________________
Read about the 2019 Digital Humanities Summer Scholars Program in an article by Lafayette College Communications Division's Stephen Wilson this past summer:
August 13, 2019
Filling the Gap
Students create digital projects that shine light on oft-missed yet important topics
By Stephen Wilson
Scholars by nature pursue a passionate interest and add to a conversation, no matter the number of voices in dialogue. For some subjects, there is silence, and the scholars' job is to begin a conversation.
Digital Humanities Summer Scholars, a program of the Lafayette Libraries, helped fill a gap in our collective culture as they traversed a six-week journey from forming a research question, scouring scholarly resources, analyzing findings, writing and revising, and then finally translating that content into the digital realm.
It's a daunting task, but the group was up to it.
"They were super invested and worked hard," says Angela Perkins, research and instruction librarian and also director of the Digital Humanities Scholarship Program. "The students cared about their projects, wanted to improve the cultural record, and grappled with the varying skill sets needed to digitize their scholarly work."
The projects spanned the globe from Hindu-Buddhist architecture in Angkor City, Cambodia, to household electricity and educational performance in Madagascar. Add stops in Eastern Europe, Sudan, and Japan.
Below is a snapshot of a few projects, their creators, and the process to bring the work to life along with links to their project pages.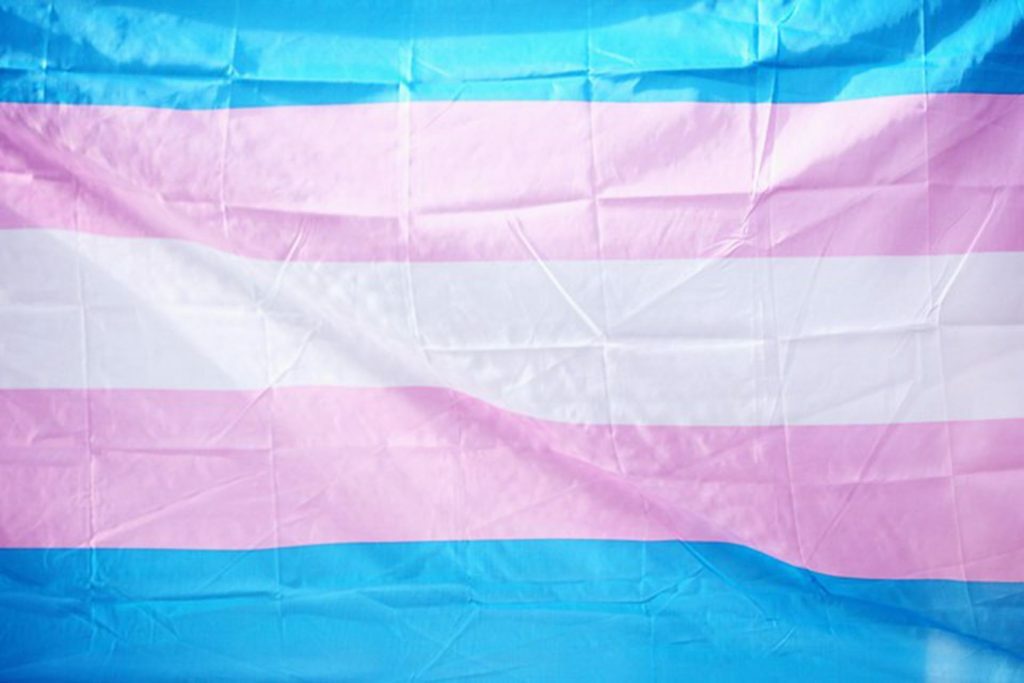 Photo by Sharon McCutcheon on Unsplash
Bec Stargel '20
Psychology and anthropology & sociology
Defining "Transgender"

Narrowing the research question: Stargel started her project with many ideas and potential approaches but nothing solidified. She knew she wanted to focus on the LGBTQ community and language. "This was the most difficult yet most rewarding part of the project," she says. By the end of the second week, her focus became clear: the history, use, and evolution of the word transgender.
Gathering research: She started looking in old dictionaries, but it wasn't an entry. From there she turned to newspapers, books, scholarly articles, noting how the word changed over time. "The timeline on my site traces the medical origins, the shifts in use by people who identified as transgender, and the broader uses today," she says. To create her timeline and project, Stargel created a database of definitions, searching for every source provided by Google Scholar that used the word "transgender" in the title between 1980 and 2010. She then read the top five most cited works for each year, about 95 articles in total. About two-thirds of those articles provided definitions of the word. "It took about two weeks to find the sources, comb through them, and create a spreadsheet," she says. While there was great variety in definitions, some were similar.
Digitizing the work: "I knew nothing about HTML," she says of the coding language to make a website. "So this was a stressful time." She wanted a timeline and sections, like a traditional paper, with graphs and text.  This is where the team of scholars helped. "To get my head out of my project and get suggestions or explore other avenues was helpful," she says. "I'm proud I got to make my research accessible so it could help others."
Value/impact: As Stargel heads into her senior year with plans to write a senior thesis, this project shaped her approaches. "I feel more confident as a researcher and discovered my strengths as a researcher," she says. "This project also helped me refine my proposal for my honors thesis. I now know I can come up with a question and trust that it will present itself."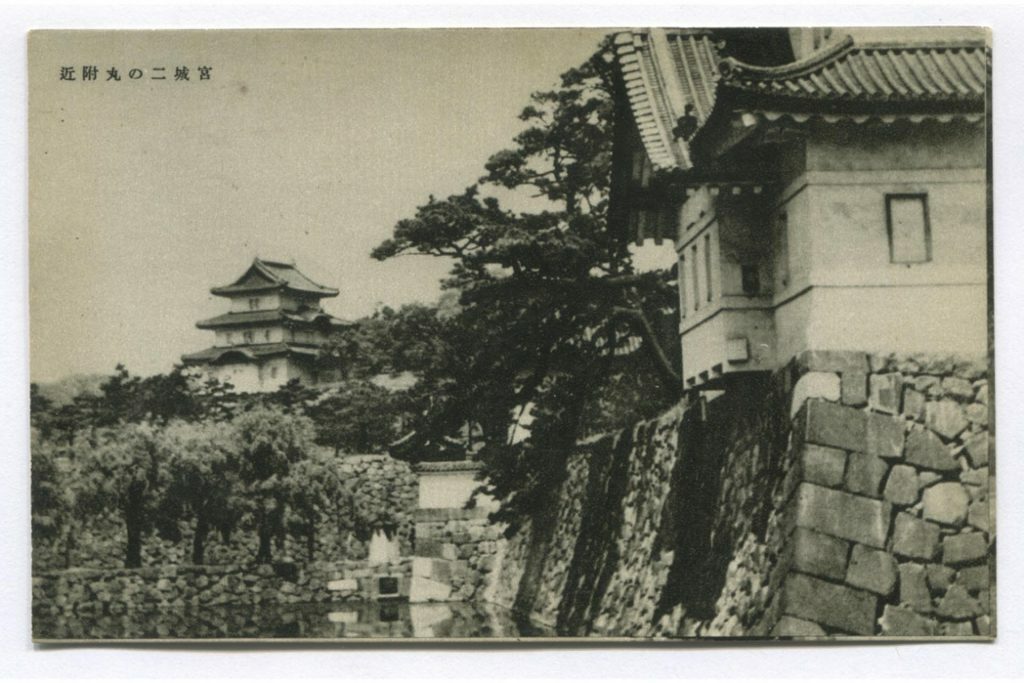 Imperial Palace Ninomaru Neighborhood 宮城二の丸付近
Ren Makino '20
International affairs and Asian studies
66 Images of Tokyo: Postcards from the Magazine Shufu no Tomo (主婦の友)
Narrowing the research question: "I didn't have much of a research question," confesses Makino. "The College has a fabulous East Asia Image Collection, and I wanted to find a way to make images that could be part of the EAIC more accessible and visual." Makino has a research interest in pre- and post-war Japan. The collection had a full set of postcards, a marvelous historical artifact of photographs of places across Tokyo, that came as a "special gift" in the September 1932 issue for women who purchased the magazine Shufu no Tomo.
Gathering research: "The postcards came out a year after the Manchurian Incident when the ultra-nationalist prewar Shōwa period was leading the country towards militarism," says Makino. "But there were remnants of the period before nicknamed 'Taishō democracy,' where individuality flourished." In the 1910s and early 1920s, women increased their marriageability through traditional methods, like flower arranging and tea ceremony, but by the mid-1920s, marriageability could be increased through self-cultivation. "The postcards served as a vehicle of that self-cultivation by exposing women to the real-life aspects of Tokyo," he says. The cards also represent consumer capitalism as interspersed between the images were ads for powdered milk, shampoo, and heel lifts. "The magazine was read by urbanites and rural workers who could be influenced by the messages," he says.
Digitizing the work: Makino created a map, locating each image on it. Such a task demands patience especially when some of the buildings have long been destroyed or rebuilt. "The postcards came with a map," he says. "It showed a general location which I had to confirm by comparing maps from across the decades." Geolocation takes time, getting the exact longitude and latitude. More time consuming was translating the number of old characters. "There are characters that are unused today because of post-war reforms," he says. "I had to consult with many people to ensure I had the wording correct."
Value/impact: "In our digital world, there is so much more information available that it can be hard to know what is the most important," he says. "I wanted to simplify the process for others who are looking to find valid information whether they are academics who want to look at the postcards with the geolocation in mind or people who are generally interested in Tokyo." Makino signed up in hopes to bridge that digital gap, but he learned how much work goes on behind the scenes. "My site looks alright," he says. "It is hard to know all the work that remains in the background and is easy to take for granted."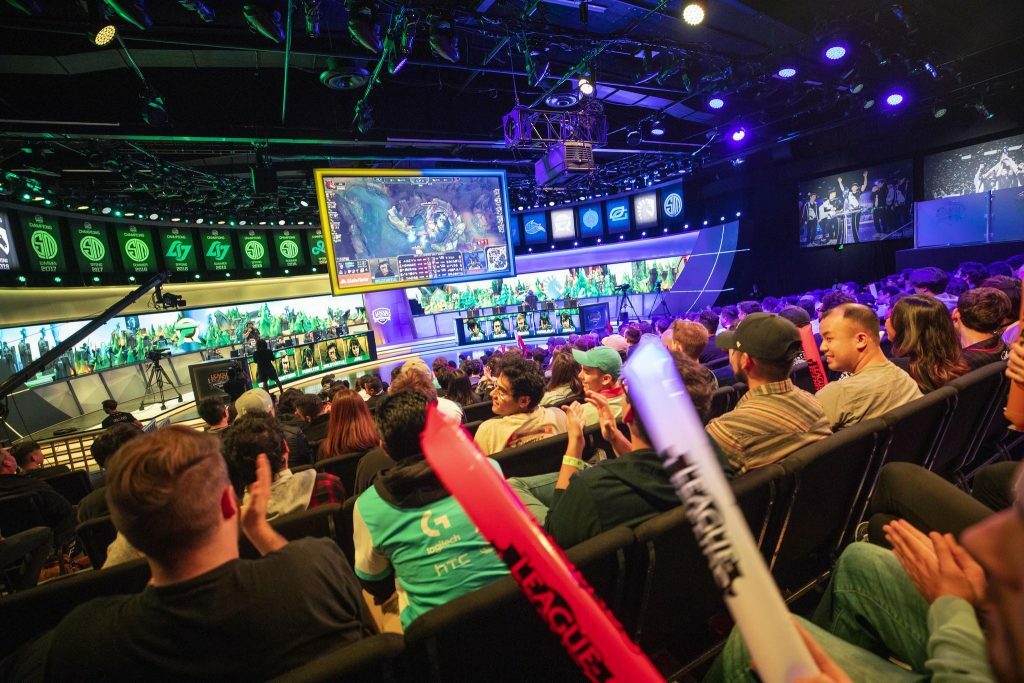 FANS ENJOYING AN LCS MATCH FEATURING TEAMS COUNTER LOGIC GAMING AND TEAM LIQUID. IMAGE VIA RIOT GAMES
Joseph Illuzzi '21
Economics and policy studies
Labor Rights Considerations in eSports: A Policy Analysis of North American League of Legends & Riot Games
Narrowing the research question: Major league sports have governing bodies. But in the billion dollar esports world, governing bodies don't exist … or reside solely in the hands of the game developer. "That means there are no protections for players," says Illuzzi. "No punishment limits, minimal judicial review, and often no appeals processes." In the growing world of esports, this can make working conditions for players and teams unfair. He focused on a specific game, League of Legends, and worked to outline many key definitions, abuses, and remedies.
Gathering research: "Much of the industry is hidden," he says, "so I couldn't look up players' contracts or industry standards." Instead, he conducted a policy review of every North American competitive ruling since 2011, nearly 40 in total. Much of the discussion about these rulings lives in spaces where gamers talk, like Twitter and Reddit. He compared the rulings to their accompanying rulesets and standards in traditional major league sports and found that many were generally fair, but a few set a problematic precedent.
Digitizing the work: His formats in the digitizing tools didn't fit the work that Illuzzi envisioned, so he made a format that might better explain the subject and not overly complicate it. "This is an academic work, but I wanted a platform that fits the esports scene so it might be read by players," he says.
Value/impact: "This was an exercise in time management," he says. "I had to throw out ideas and not get tunnel vision in the six weeks we had." The process also made him take ideas and make them more consumable and succinct. "I want to prompt more esports research," he says. "And help shift the cultural perception away from esports being a bunch of nerds in their basement. Esports is not a cultural fad but rather a developing profession."
More scholars' work
Milena Berestko '22
Psychology and theater
The Mosaic of Romani World
Victoria Puglia '21
International affairs
Examining the Perpetuation of Violence in the South Sudan Civil War
Tafita Rakotozandry '22
Electrical and computer engineering
Household Electrification and Education Performance in Madagascar
Aidy Ung '21
Civil engineering
Hindu-Buddhist Architecture in Angkor City
Digital Humanities Summer Scholars program was made possible by a generous donation to the Lafayette Libraries from alumnus Bruce Marshman '62.
Read about the 2018 Digital Humanities Summer Scholars Program in an article by Lafayette College Communications Division's Stephen Wilson this past summer:

Photo by Stephen Wilson
Digital humanities summer scholars turn original research into engaging online presentations
By Stephen Wilson
Mention the word "anime" to people and it conjures different images. None more striking than the associations between white and black Americans.
Uchechi Anomnachi '19 ought to know. In six weeks as a digital humanities summer scholar, he developed a detailed timeline that shows the very different paths anime entered into white and black cultures and the varied connotations that came with it.
On the one hand there's the science fiction-loving nerd passing a VHS tape of Japanese animation to his friends in a fan club. On the other is a hyper-masculine hip-hop artist dropping rhymes, adopting pseudonyms, and wearing styles that pay homage to martial artists like Bruce Lee.
A cultural intersection occurs in the 1990s when the cartoon Dragon Ball Z first airs. The show blends science-fiction tropes and martial-arts spectacles with heroic struggles by a strong male character.
Anomnachi and six other scholars dove fast and hard into topics that ignited their passions, activated their research, and pushed them to convey that scholarship in a digital sphere.
Angela Perkins, research and instruction librarian at Skillman Library, led the scholars through the intensive seminar that gives Lafayette students a unique opportunity to conduct their own original research.
Under the guidance of Skillman librarians, college faculty, and even their past scholars, summer scholars not only learn the basics of how to perform credible, solid research, but they also incorporate digital tools into the collection, analysis, and presentation of their respective projects.
"I wanted the students to work in a holistic way," Perkins says. "To mine the texts more deeply, to generate intellectually sound research, and to select technically advanced methods to display their findings."
She sought scholars who would rise to the occasion.
Alex Murrell '19 spoke with Perkins in the spring because of her similar interests.
"I have always been fascinated with library sciences and heard that Perkins attended graduate school in my hometown of Austin, Texas," says Murrell. "After speaking with her, I knew I wanted to be a part of this opportunity."
While Murrell was unsure of her project's topic during those conversations, she knew that playing with the tools and methodology were crucial to her development as a thinker and researcher.
Murrell dove into the occult. For nearly 200 years, the second-most-purchased book, behind the Bible, was Malleus Maleficarum, Latin for The Hammer of Witches. The text serves as a kind of instruction manual to help identify and avoid collusion with the devil via sorcery and witchcraft.
She discovered the text as noting many references to the book while working on an independent study in art. She wasn't quite sure what to do with the book as a scholar.
"Perkins was always honest with me," says Murrell. "She would tell me if I should try a different direction and served as a sounding board to my many questions and ideas."
The project approach has her hooked. She plans to develop her site further and present at two conferences.
As a native New Yorker, it seemed fitting for Ben Gordon '19 to explore the subway.
"It's what people in the city talk about," he says. Maybe complain is a more appropriate word.
Gordon's research took the form of maps, each one tracing the evolution of the transit system—when the subway's development began and then ended and how it got replaced by the car.
His maps layer in population density. He illustrates how real estate agents used subway lines to develop upper-class neighborhoods. As soon as the masses could avail themselves of the subway, the automobile took over with highways, bridges, and expressways cutting across the city to the benefit of the upper class.
Gordon's project is deep and wide. "I was spending 50 hours a week on it," he says. "There was a real intensity to the project, but it was so worth figuring out." He thinks his capstone project will focus on this same topic since there is more to explore.
All agree that the whirlwind nature of this program combined with surprises while researching and the shifting focus of their central questions, help from previous scholars, and comradery of the students made for a fantastic opportunity in group learning, original research, and wielding digital tools.
View all the projects in detail:
This year's DHSS program was made possible by a generous donation to the libraries from Bruce Marshman '62.