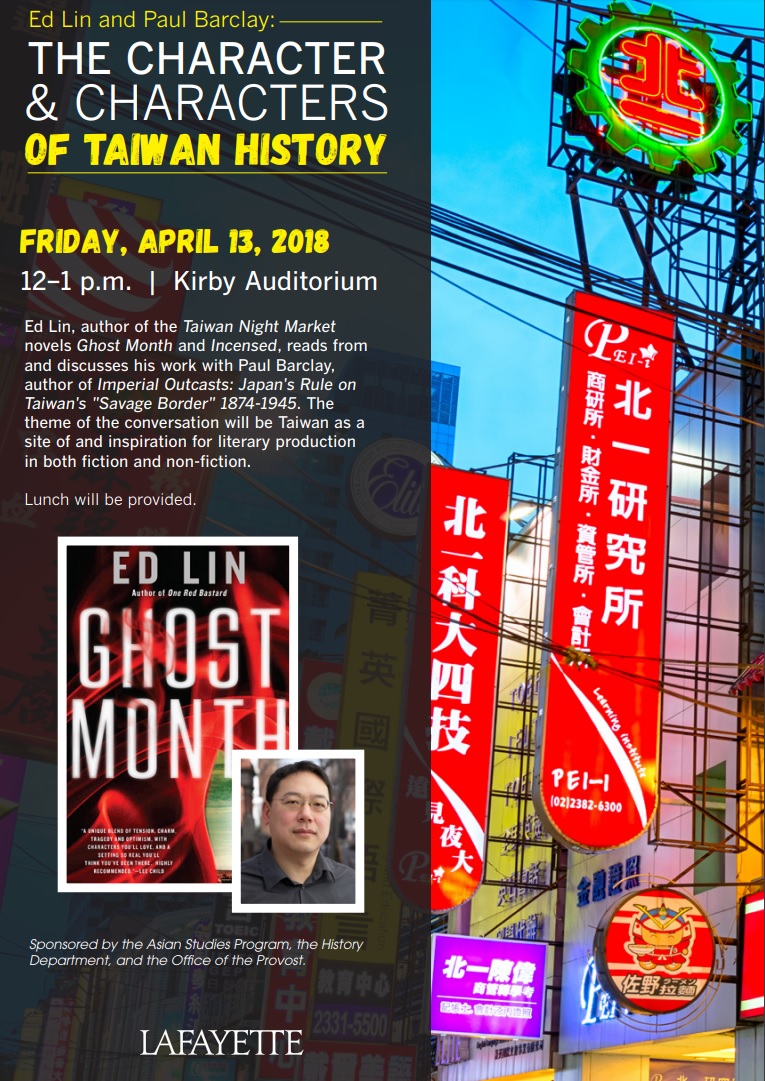 Author of the Taiwan Night Market novels Ghost Month and Incensed Ed Lin reads from and discusses his work with author of Imperial Outcasts: Japan's Rule on Taiwan's "Savage Border" 1874-1945, Paul Barclay (History, Lafayette). The theme of the conversation will be Taiwan as a site of and inspiration for literary production, in both fiction and non-fiction.
when:
Friday, April 13, 2018 – 

12:00pm

 – 

1:00pm
sponsored by: Asian Studies Program, History Department, Provost's Office
4:10pm-5:30pm: Seminar w/students and faculty: "Reading/Writing Taiwan in the Age of Martial Law and White Terror" Ramer 103.
Novelist Ed Lin and Historian Paul Barclay host a round-table discussion about the newly emerging history of Taiwan's brutal dictatorship centered around the 2/28 (1947) Incident, martial law during the US Alliance ("White Terror") and the perennial challenge of writing about places "over there" for readers and students "over here". 
Just for fun: Short Readings on Taiwan/Cold War/Martial Law
Rwei-Ren Wu, "Fragment of/f Empires: The Peripheral Formation of Taiwanese Nationalism," Social Science Japan December 2004. Fragment of empires pdf
Chou Wan-yao, A New Illustrated History of Taiwan excerpts on Feb 28 Incident, Martial Law and White terror. Chou Wanyao pdf
Victor Louzon, "From Japanese Soldiers to Chinese Rebels: Colonial
Hegemony, War Experience, and Spontaneous Remobilization during the 1947 Taiwanese Rebellion," The Journal of Asian Studies Vol. 77, No. 1 (February) 2018: 161–179. JAS article pdf
Steven Phillips, "Between Assimilation and Independence: Taiwanese Political Aspirations under Nationalist Chinese Rule, 1945-1948." From Murray Rubinstein, ed. Taiwan: A New History. Phillips pdf
Leonard Gordon, "American Planning for Taiwan, 1942-1945," Pacific Historical Review, Vol. 37, No. 2 (May, 1968), pp. 201-228.pdf for Leonard Gordon article