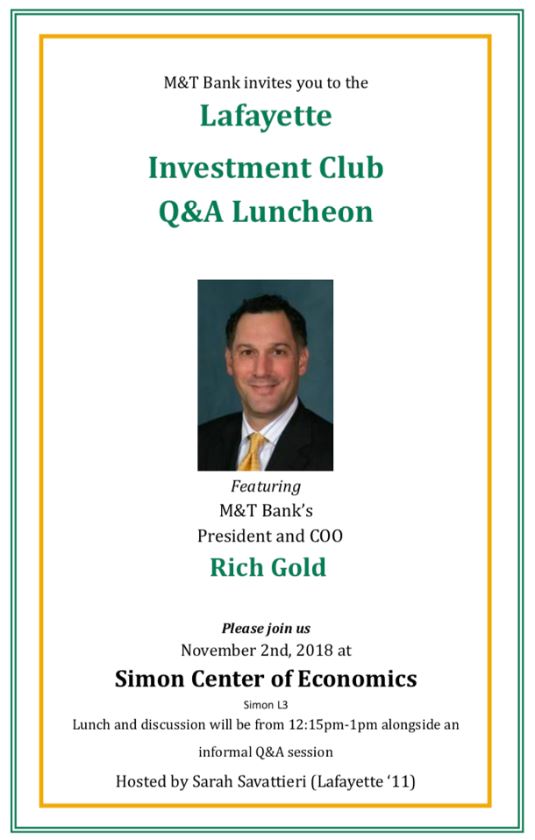 If you're looking to network with someone who's top-3 at a publicly-traded bank, come to Simon L3 at 12:15 on Friday, November 2! Rich Gold, President and COO of M&T Bank, will be visiting the club to answer questions and talk at large. M&T has hired a plethora of Lafayette alumni, and currently offers various full time positions as well as internships — so come on Friday to see what it's all about.
October 26th's packed meeting lineup included our standard market update, a new market outlook, a report on earnings season, as well as a trim pitch that succeeded in its effort to sell the club's GrubHub position, in the beginning of what is likely a series of trims.
But first, Henry Lewand '21 again updated the club on the status of the Investment Club-sponsored MarketWatch investment game, reminding members that the game will start on November 2 and last until the end of the month.

Emmett O'Toole '20 and Harrison Kusnierz '21 tackled the market update and outlook, recapping a dim week and general volatility in the markets. For the outlook, they covered the Fed, interest rates, equity values, corporate earnings, and general market performance. See more detail in the full presentation at the bottom of this post.
Digging into earnings season was Henry Lewand '21, Luke Cummings '19, and Brett Berger '22. The group covered some winners and losers in recent earnings reports and briefly analyzed how they affect our portfolio and the market at large.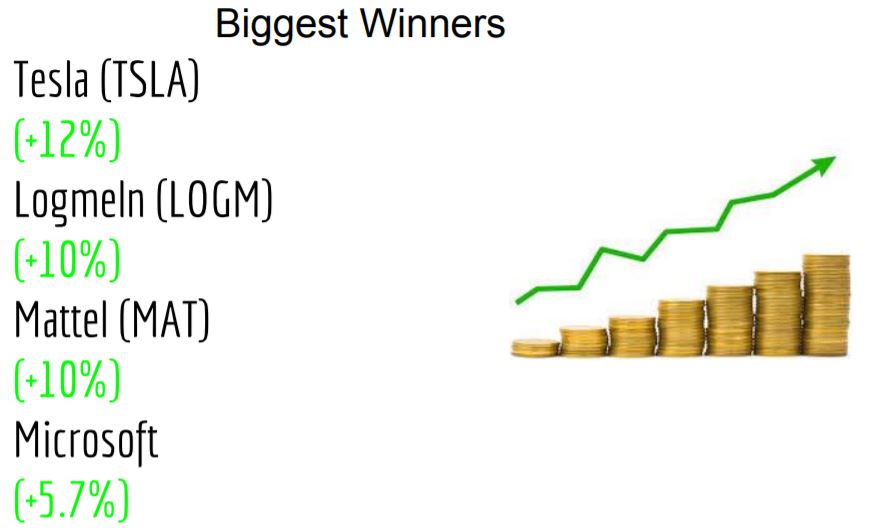 Club chairman Jeff Sikorsky '19 and Tyler Furlong '20 tacked a sell pitch for our stake in GRUB. GrubHub is an online and mobile food ordering service based in Chicago. They went public in 2014, and shortly thereafter, the club made a purchase in the company. The duo covered their reasoning for the sell pitch, including increasing competition by larger and better-known firms, and the fragility of the industry. Jeff was sure to point out that while he wanted to sell, we still did well with the buy, netting approximately $16,500 in unrealized gains since the club's initial purchase of the stock, a 220% gain. See more details in the attached presentation.