From "Auto Airhead" to Mechanic: Patrice Banks's Journey to Female Empowerment through the Automotive Industry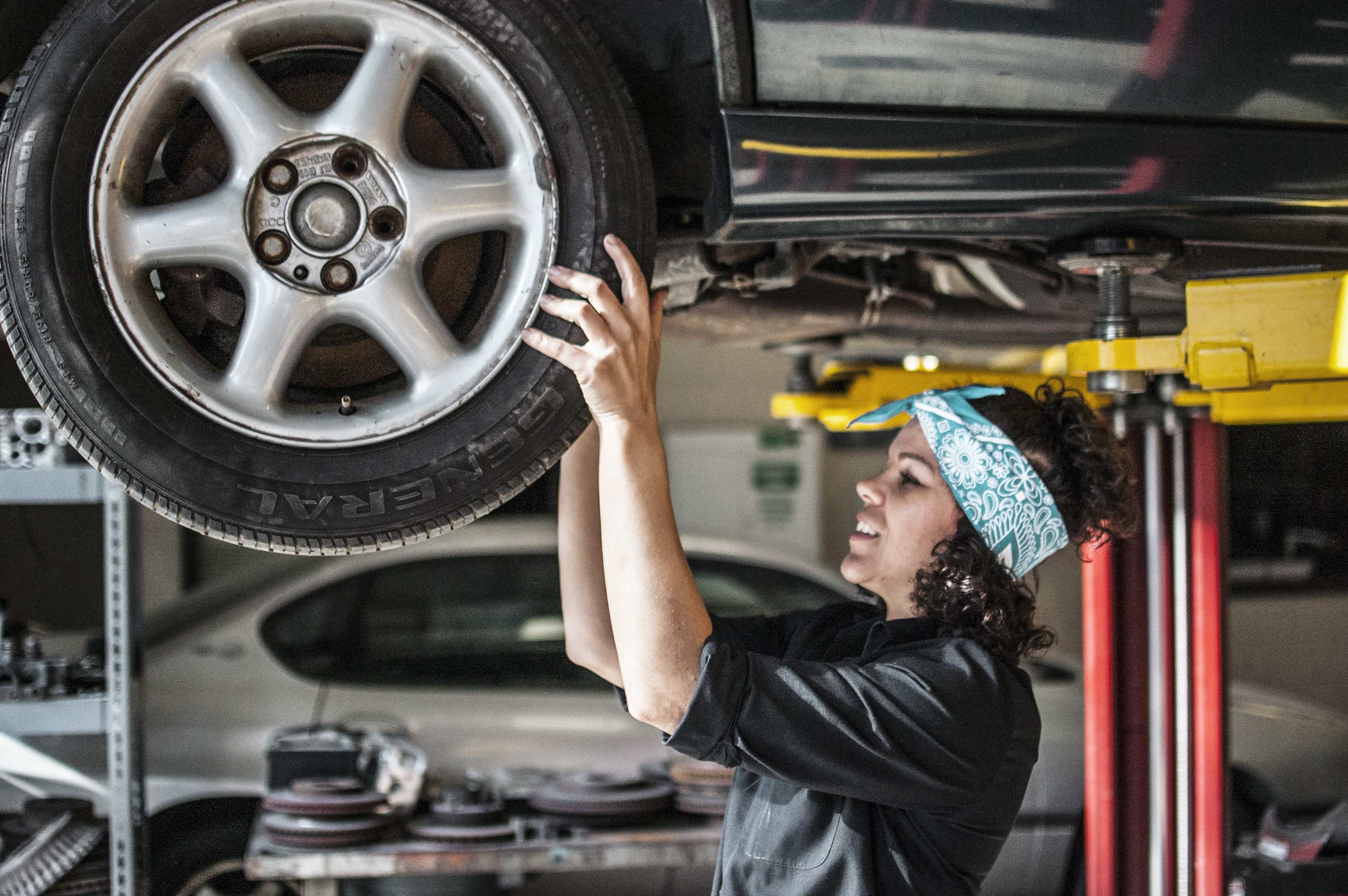 By Madeline Hoffman
Formerly a self-proclaimed "auto airhead," Patrice Banks is on a mission to revolutionize the female's role in the automotive industry.
Tired of feeling helpless when making decisions about her car, Banks decided it was time to make a change. With the goal of empowering females, she set off on a journey to change the relationship women have with their vehicles.
"Women don't have a voice in the automotive industry," she said, explaining that although the female population accounts for the largest number of new car purchases, women have very little say in the industry.
Banks knew that in order to educate and empower other women, the first step was to educate herself. The former Lehigh University ('02) graduate began taking night classes at an automotive training school. She was the only woman in a class of 19-year old boys, and she remembered feeling afraid that they would make fun of her. Nevertheless, she didn't let fear get in her way.
"I don't care how I'm being perceived," she said. "I'm here for women; I'm not here for men."
While taking night classes, Banks continued to work as an engineer at Dupont, where she had been working for 12 years.
"I had a really great career as an engineer," she said, "but I didn't love what I was doing." She didn't feel like she was making a contribution to society, nor did she feel empowered through her work. Eventually, Banks decided to leave her six-figure salary at Dupont. She used her newfound auto repair knowledge to open Girls Auto Clinic, located in Upper Darby, Pennsylvania and staffed entirely by female mechanics.
"I decided to create a company that listens to women," she said. Banks explained that she doesn't think of Girls Auto Clinic as an automotive company so much as a "female empowerment" company.
While waiting for their car to get fixed at this female-friendly shop, women can stop by Girls Auto Clinic's Clutch Beauty Bar to get a blowout, manicure or pedicure.
But Banks didn't stop there. In 2017, she published ​Girls Auto Clinic Glove Box Guide​, a guide to help women better understand their cars. She also founded the #sheCANic movement with the goal of enabling women to be more educated and empowered through their cars.
"I'm hoping that Girls Auto Clinic can help start a movement, and #sheCANic can be that movement," she said.
In addition to managing her mechanic shop, the author and entrepreneur holds workshops where she teaches women the basics of car repair and maintenance. She also uses the public speaking skills that she cultivated during her years at Dupont to spread her #SheCANic movement and educate women–from middle school-age girls to CEO's.
"I'm here to say, 'I get it ladies, I've been there. What can I do to help you feel more confident as a driver?'" she said.
Looking forward, Banks hopes to provide more educational resources for women, expand her car care workshopsand open more repair centers staffed by female mechanics.
Her goal is to disrupt the male-dominated auto industry and make Girls Auto Clinic a household name.
"I can't wait to grow it and reach as many women as I can," Banks said. "I don't ever want a woman to feel like she needs a guy to help her."
---
---