"5 Fabulous Fests for Foodies"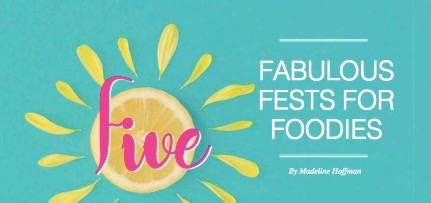 I wrote this fun, informal piece to highlight some of ArtsQuest's food festivals for the "foodie" issue of InQ, ArtsQuest's quarterly magazine.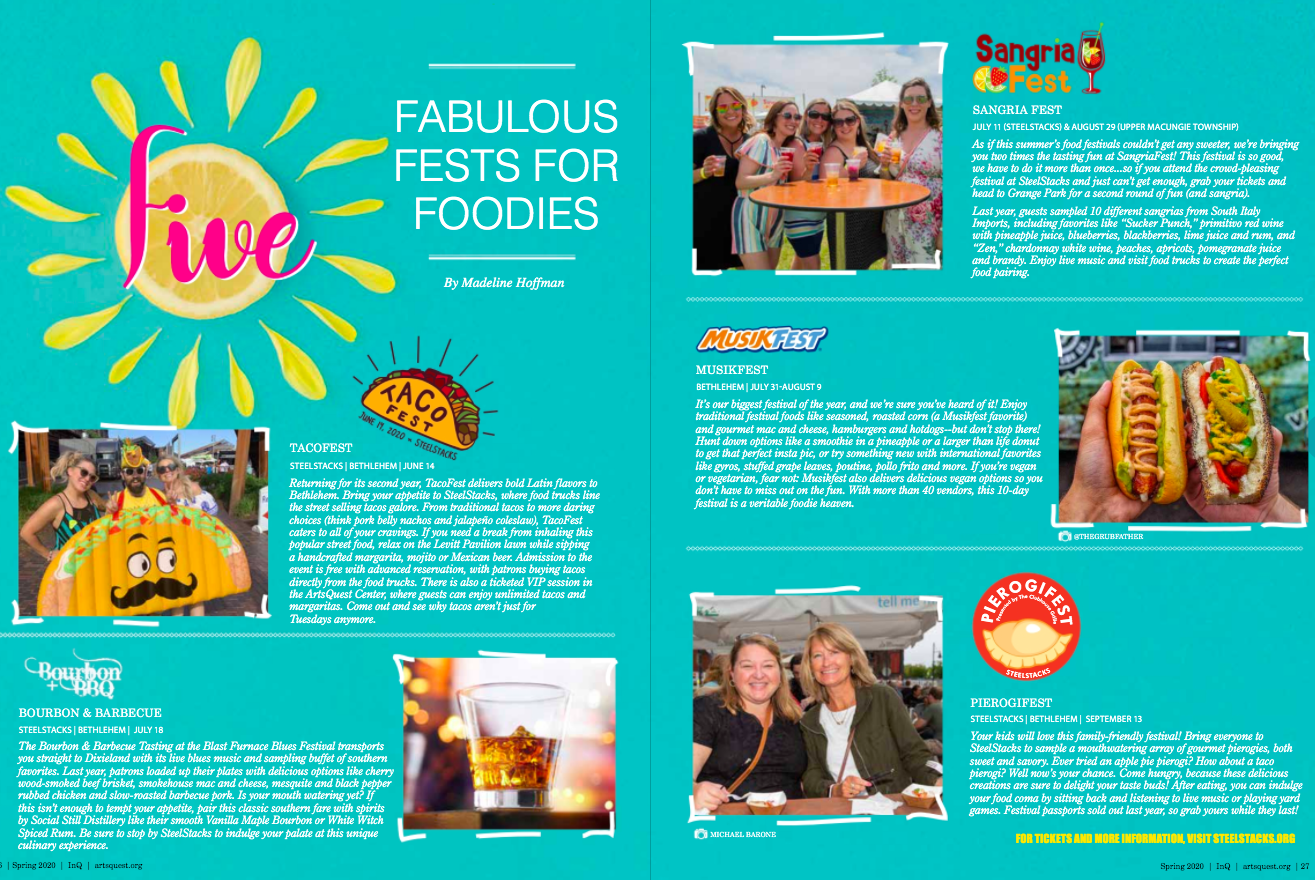 TacoFest
June 14
Returning for its second year, TacoFest delivers bold Latin flavors to Bethlehem. Bring your appetite to SteelStacks, where food trucks line the street selling tacos galore. From traditional tacos to more daring choices (think pork belly nachos and jalapeño coleslaw), TacoFest caters to all of your cravings. If you need a break from inhaling this popular street food, relax on the Levitt Pavilion lawn while sipping a handcrafted margarita, mojito or Mexican beer. Admission to the event is free, with patrons buying tacos directly from the food trucks. There is also a ticketed VIP session in the ArtsQuest Center, where guests can enjoy unlimited tacos and margaritas. Come out and see why tacos aren't just for Tuesdays anymore.
Sangria Fest
July 11 (SteelStacks) & August 29 (Upper Macungie Township)
As if this summer's food festivals couldn't get any sweeter, we're bringing you two times the tasting fun at SangriaFest! This festival is so good, we have to do it more than once…so if you attend the crowd-pleasing festival at SteelStacks and just can't get enough, grab your tickets and head to Grange Park for a second round of fun (and sangria).
Last year, guests sampled 10 different sangrias from South Italy Imports, including favorites like"Sucker Punch"–primitivo red wine with pineapple juice, blueberries, blackberries, lime juice and rum– and "Zen," chardonnay white wine, peaches, apricots, pomegranate juice and brandy.​ Enjoy live music and visit food trucks to create the perfect food pairing.
Bourbon & Barbecue
July 18
The Bourbon & Barbecue Tasting at the Blast Furnace Blues festival transports you straight to Dixieland with its live blues music and sampling buffet of southern favorites. Last year, patrons loaded up their plates with delicious options like ​cherry wood-smoked beef brisket, smokehouse mac and cheese, mesquite and black pepper rubbed ​chicken​ and slow-roasted barbecue pork​. Is your mouth watering yet? If this isn't enough to tempt your appetite, pair this classic southern fare with spirits by Social Still Distillery like their smooth Vanilla Maple Bourbon or White Witch Spiced Rum. Be sure to stop by SteelStacks to indulge your palate at this unique culinary experience.
Musikfest
July 31-August 9
It's our biggest festival of the year, and we're sure you've heard of it! Enjoy traditional festival foods like seasoned, roasted corn (a Musikfest favorite) and gourmet mac and cheese, hamburgers and hotdogs–but don't stop there! Hunt down options like a smoothie in a pineapple or a larger than life donut to get that perfect insta pic, or try something new with international favorites like gyros, stuffed grape leaves, poutine, pollo frito and more. If you're vegan or vegetarian, fear not: Musikfest also delivers delicious vegan options so you don't have to miss out on the fun. With more than 40 vendors, this 10-day festival is a veritable foodie heaven.
PierogiFest
September 13
Your kids will love this family-friendly festival! Bring everyone to SteelStacks to sample a mouthwatering array of gourmet pierogies, both sweet and savory. Ever tried an apple pie pierogi? How about a taco pierogi? Well now's your chance. Come hungry, because these delicious creations are sure to delight your taste buds! Buy individual pierogies from vendors or grab a few at once to share. After eating, indulge your food coma by sitting back and listening to live music or playing yard games. Festival passports sold out last year, so grab yours while they last!
---
---