Early Solar Water Heaters
The earliest records of solar water heating date back to 1896. The first solar water heaters in the United States were boxes painted black with water in them. The black paint absorbed the solar thermal energy and heated the water. The major drawback
of this first model was that it took almost an entire day to heat up the water even with ideal conditions. At night the water would also lose heat at a rapid rate due to a lack of insulation. The first improvement of the technology was made by inventor Clarence Kent. He improved the insulation of the system allowing for a longer retention of heat. Kent's system was known as a batch water heater and allowed solar water heating to become commercially viable for the first time.
In 1909, William Berry created a more ergonomic compact design. His system was the first thermosyphon system. This place the tank on the roof and a collector underneath. Bailey's innovative system allowed for hot water day and night a massive improvement on previous models. California and Florida had solar water heating widespread by the 1930's.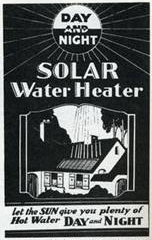 Advancements in Solar Thermal
Solar water heating became well used in California and Florida after the World War II, but the technology was limited to warm climates. The current systems would freeze in a colder climate. It took until the 1970's to achieve the right motivation to advance the technology. After OPEC caused a massive spike in oil prices, solar thermal technology began advancing in the space program. Improvements in the technology led to solar water heating being able to be used in cooler climates as they were integrated with antifreeze systems.
Other countries have helped in the development of solar thermal technology. Israeli
engineers developed a more efficient solar panel surface called selective black surfaces. These surfaces were more effective in the collection and storage of heat. Spain constructed Europe's first solar thermal power tower in 2007. This utilized a series of mirrors directed at a tower with molten salt to produce energy throughout the day and night.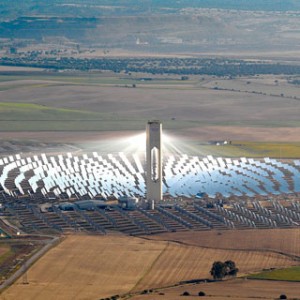 Authored by: Chris Castello
Edited by: Sam Brinton