Announcing a consortium for a new Water Lilies piece for Wind Ensemble
Water Lilies for Wind Ensemble will be the fourth in a series of Water Lilies pieces, which also includes versions for solo piano, chamber winds, and orchestra. Each version is based on the same melodic idea; but in each piece this idea is developed using different compositional procedures. The result is a series of noticeably related but distinct pieces. The Wind Ensemble piece will retain an identity with the series but will not be a transcription of one of the existing versions.
The idea for these pieces comes from my impressions of an exhibit of Monet's Water Lilies paintings at the Musée de L'Orangerie in Paris. The room that these magnificent works are displayed in is in the shape of an oval; and when sitting in the middle of the room one has the distinct impression that one is in the middle of Monet's pond.
My Water Lilies pieces are not necessarily an attempt to reproduce each painting in sound; rather, they represent the attempt to reproduce the feeling of being surrounded by these images, which from far away seem perfectly clear and photographic but up close are rather blurry and repetitive. Indeed, Monet's genius lies in his ability to make his audience look upon his art from afar, taking in the whole view at once rather than focusing on the details of its construction. This series of pieces attempts to recreate this effect in sound.
Recordings of the solo piano and chamber winds version are included below. Here is a review of the solo piano version, as recorded on my first CD, Strange Flowers (Parma Recordings, available on all streaming sites and in hard copy):
"Water Lilies for solo piano illustrates O'Riordan's talents in writing for piano quite well. This is a beautiful work that the composer acknowledges pays some homage to the water lily paintings of Claude Monet. This ethereal, nearly impressionistic piece places us in an imaginary space wherein the piano's shifting harmonies and dynamics flow as if in a circle where colors come in and out as go the textures of the piano. This is a wonderful work that seems almost too brief for its beauty; it begs for more." —Audiophile Audition
Information
I anticipate completion of the piece during the summer (2022), in time for delivery before the Fall 2022 semester. The work will be approximately 10 minutes in duration.
All ensembles that participate will
be listed in the score
recieve an personalized and autographed score (digital [pdf] or hard copy)
have rights to (at least) one performance (based on the tier)
have Zoom coachings and consultations if needed
be apprised regularly of progress
Consortium Tiers
Tier 1: $500
All performance materials in both hard copy and digital formats
One year of exlcusive recording rights (granted to all ensembles in this tier, beginning on the date of delivery)
Two years of performance rights, beginning on the date of delivery
Tier 2: $400
All performance materials in both hard copy and digital formats
One year of performance rights
Tier 3: $300
All performance materials in digital format
Performance rights for one performance
Payments can be made by check or by PayPal. Contact me for information. The commission is open to interested patrons as well, at any tier.
Instrumentation
Flutes (2 parts)
Piccolo
2 Oboes
2 Bassoons
4 Saxophones (AATB)
4 Horns
5 Trumpets
3 Trombones
Euphonium (TC and BC parts provided)
Tuba
Percussion (3-5 players)
I may include additional instruments (Alto Flute, English Horn, etc.) based on availability in commissioning ensembles.
About the Composer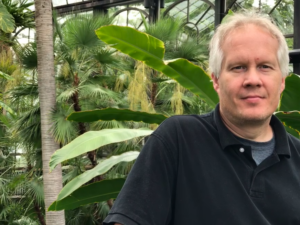 Kirk O'Riordan's music has been referred to as "unapologetically beautiful" and is often praised for its uniquely "visual" qualities that depict a wide range of striking moods. His debut compact disk, Strange Flowers, was praised by Audiophile Audition as "one of the most impressive and beautiful collections of chamber music I have heard in awhile….This is all just so lovely and invokes exactly the emotions that good music should be able to induce in all of us."
Gramophone Magazine praised O'Riordan as "a composer for whom imagery is a defining inspiration.…[he] is a deeply sensitive composer who savours going gently into the night." (April 2014). His recording of his Twenty-Six Preludes for Solo Piano—by pianist Holly Roadfeldt—has attracted similar praise: they "are similarly atmospheric and proceed to unfold like a magical tapestry. Each of the 26 Preludes seemingly comprising of warp and weft forming a myriad of pixels of little pictures that ultimately combines to form a moveable feast for both eye and inner ear. O'Riordan's miniatures are informed by languorous beauty and profundity, the lyrical variations of each often feature elaborate embellishments, as well as sudden dissonant figurations that seem to mimic the gravity-defying leaps of the gazelle…" (World Music Report, April 2017)
His most recent release, Autumn Winds, has been similarly praised. "Compositionally it seems on first blush simple at heart but as one listens the details both flesh themselves out and freshen the listening mind so that it all seems increasingly evergreen and more complex than at first might be thought." (Gapplegate Music Review, 2020) "[O'Riordan] is not strictly speaking a minimalist, yet he possesses that rare quality of capturing a vivid musical landscape with Webern-like efficiency." (The Morning Call).
O'Riordan (b. 1968) is an active composer, conductor, saxophonist, and teacher. His music has been performed in Canada, China, Costa Rica, Cyprus, Finland, Italy, and Russia; and in nearly all of the fifty United States. In 2009 Dr. O'Riordan joined the faculty of Lafayette College where he serves as Associate Professor of Music and Director of Bands, teaching courses in music theory, and composition. In addition, conducts the Lafayette College Concert Band and Contemporary Music Ensemble. He holds the Doctor of Musical Arts degree from Arizona State University; the Certificate of Performance in Saxophone from Northwestern University; and three Master of Music degrees. Apart from his active teaching and composing schedule, Kirk is an avid fan of obstacle course racing.