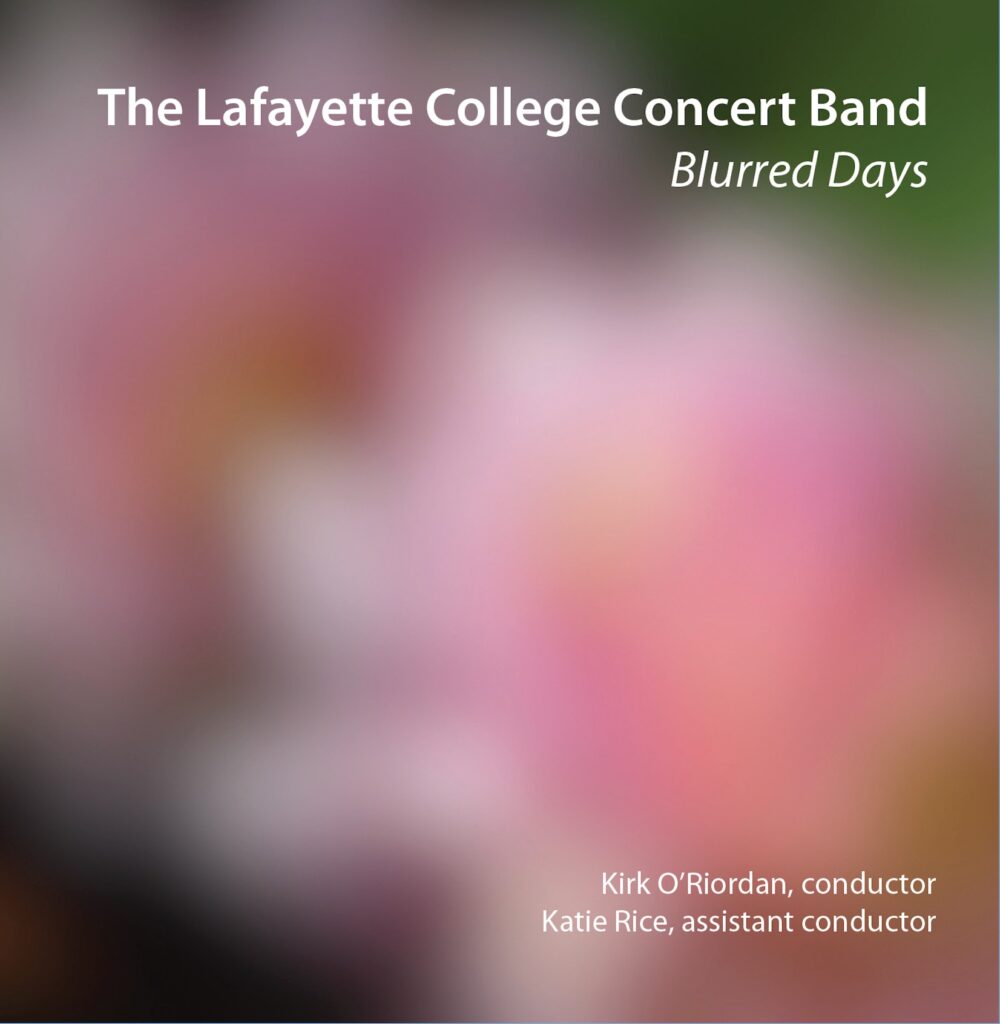 Like many bands and other performing ensembles across the country, we have had to adapt to the pandemic. For us, this has meant that we have not been able to work together, in person. This has always been a band that thrives on its sense of community, and not having that has been hard on all of us.
But rather than mourn what we have lost, we have searched for opportunities within our remote format that are unique. Working in isolation has allowed us to re-examine the possibilities of the Wind Ensemble as an entity—to re-imagine what is possible with this collection of sounds.
The five pieces on this CD were written especially for us, and especially for our situation. Each of the pieces was conceived to take advantage of techniques that would not be possible in a traditional concert—effects on a person-by-person level, or writing for flutes in their lowest register.
To make these performances, each student recorded his or her part on their phones or computers and uploaded them to either a shared drive or to the web-based recording service Band Lab. Katie Rice assembled the tracks and performed the first round of editing. I took the tracks she finished and combined them into the final product, completing the pre-production audio work.
Every student has a unique track in the recording, which allows us to use studio effects on a person-by-person level. With many of the pieces, the individual parts were created to be non-linear—we could create specific sonic effects and duplicate them in the recording software. Several of the pieces incorporate improvisation, narration, and other unconventional techniques.
Our goal was to re-imagine what the wind ensemble could be under the conditions of remote instruction. I believe we have done that, and each composer solved that problem in wildly different ways. As conductor and professor, I am profoundly grateful to and proud of these students and what they have accomplished under very difficult circumstances.
Proceeds from the sale of this CD will help provide music lesson scholarships for LCCB members. To purchase, contact Prof. Kirk O'Riordan using the email in the right column, or contact the WIlliams Center Box Office.
The recording will be available from all digital vendors, such as Spotify, iTunes, Amazon, and others.
Tracks:
1.Ashley Kushner: Piled Sands Swirled Away (9:37)
2. Pete Deshler: We Choose the Moon (10:51)
3. Kirk O'Riordan: Body Doubles (21:40)
I. Water Lily
II. Wolfsbane
III. Angel Trumpet
IV. Chicory
V.Interlude
VI.Meadow Lily
4.Justin Kogasaka: Toward an End Yet Unseen (9:24)
5.Anna Zittle: To Life in Blurred Days (8:48)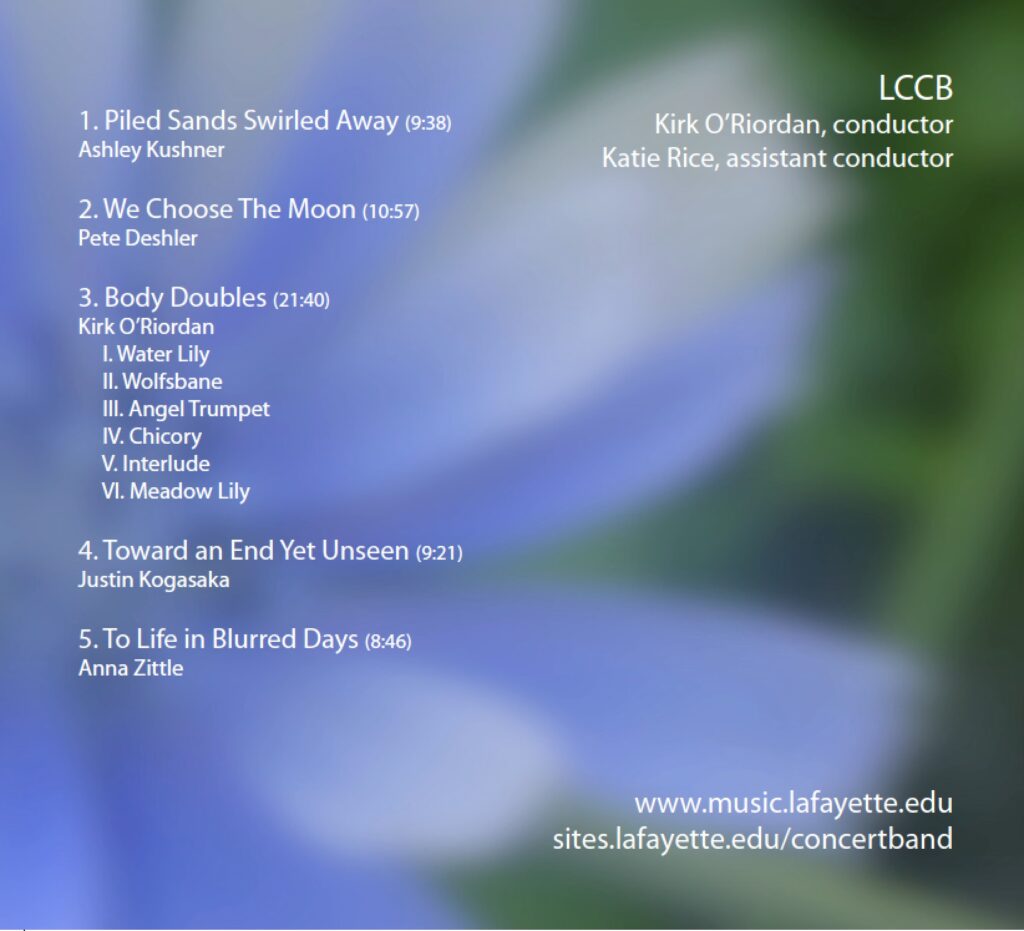 Composers:
Ashley Kushner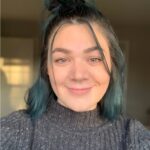 Ashley Kushner, based in Bethlehem PA, graduated from Lafayette College in 2019 with dual degrees in Biology and Music. During her time at Lafayette, Kushner was an active member of the Lafayette College Concert Band, performing in all eight concerts of her career as a clarinetist. In addition to the concert band, Kushner also performed with the Lafayette College Contemporary Music Ensemble and Lafayette College pep band. Also active as a composer, Kushner completed an honors thesis composing and workshopping a piece for the Lafayette College Concert Band, entitled Would I Have Broke this Happy Dream?, which premiered in May of 2019. Kushner has also composed several other works for percussion ensemble and chamber groups, performed by Sō Percussion, the Lafayette College Percussion Ensemble, and the Lafayette College Contemporary Music Ensemble. After graduating from Lafayette, Kushner has continued to work with the concert band both as an instrumentalist, filling in on bass clarinet before COVID-19 and contributing to recordings during the remote semester; and a composer, arranging one piece for live performance and composing another which was conceived for remote players and recorded individually during COVID-19 closures. Kushner currently works as a laboratory technician in the biologics field and continues to compose (and practice her instruments!) in her spare time.
Kirk O'Riordan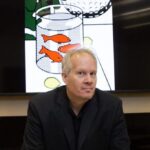 Kirk O'Riordan's music has been referred to as "unapologetically beautiful" and is often praised for its uniquely "visual" qualities that depict a wide range of striking moods. "[O'Riordan] is not strictly speaking a minimalist, yet he possesses that rare quality of capturing a vivid musical landscape with Webern-like efficiency." His most recent CD release, Autumn Winds, has received widespread acclaim: "Compositionally it seems on first blush simple at heart but as one listens the details both flesh themselves out and freshen the listening mind so that it all seems increasingly evergreen and more complex than at first might be thought." O'Riordan is an active composer, conductor, saxophonist, and teacher. His music has been performed in Canada, China, Costa Rica, Cyprus, Finland, Italy, and Russia; and in nearly all of the fifty United States. In 2009 Dr. O'Riordan joined the faculty of Lafayette College where he serves as Associate Professor of Music and Director of Bands, teaching courses in music theory, and composition. In addition, conducts the Lafayette College Concert Band and Contemporary Music Ensemble. He holds the Doctor of Musical Arts degree from Arizona State University; the Certificate of Performance in Saxophone from Northwestern University; and three Master of Music degrees. Apart from his active teaching and composing schedule, Kirk is an avid fan of obstacle course racing. www.kirkoriordan.com
Peter Deshler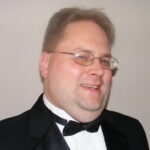 Pete Deshler received a Bachelors of Science in Music Education from West Chester University in 1997 where he performed in the W.C.U. Concert Choir under the direction of both Dr. Donald Nally and Dr. David DeVenney. He began teaching music at Easton Area High School in 1998. Mr. Deshler's duties have included conducting the Concert Choir, Chamber Singers, Camerata, Sophomore Women's Choir, teaching Music Theory, Voice Lab, and instrumental lessons. Pete earned his Master's in Music Education from West Chester University in 2003, where he studied voice under Alan Wagner. He has privately studied music composition under Dr. Larry Lipkis, Dr. Tae Sakamoto and Dr. Kirk O'Riordan.
Since graduating Pete has performed with Lehigh Choral Union, Twin Rivers Choral Society and as a soloist with his wife Marisa. Mr. Deshler has also been the director of the Western Salisbury Union Church Men's Choir, the Western Salisbury Union Church Summer Concert Series, the assistant conductor of the Twin River Choral Society and is a founding member of the Wandering Singers. Pete is also the director of the Jerusalem Singers which he founded in 1996. He has pieces published by Colla Voce Music and Imagine Music.
Justin Kogasaka
Born and raised in the state of Hawaii, Justin Kogasaka is a student at Lafayette College (class of 2022) studying Electrical and Computer Engineering and Music. His musical background is in string music, particularly symphonic and chamber works from the Baroque to the late Romantic period. As a violist in 'Iolani School's Orchestra 5, he has performed orchestral string works at the Midwest Clinic in 2017 and supported peer soloists in concerto repertoire. He has also performed string quartet pieces in 'Iolani School's chamber music program. He continues to play viola with the Lafayette College Chamber Orchestra and has joined the Lafayette College Percussion Ensemble. In the Spring of 2020, he began studying composition with Professor Kirk O'Riordan and is grateful to Professor O'Riordan for the guidance and the opportunity to work on this project.
Anna Zittle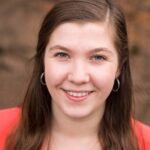 Anna Caroline Zittle is a student composer currently pursuing a Mathematics and Music Dual Degree at Lafayette College in Easton, Pennsylvania. Originally from Phoenix, Maryland, she attended Notre Dame Preparatory School, where she took an early interest in music. Now, aside from composition, she actively plays violin, piano, and mallet percussion. She is currently a member of Lafayette's Percussion Ensemble, Chamber Orchestra, and Concert Band, studies violin performance with Linda Kistler, and vocal directs for the Marquis Players, a student run theatre group on campus. While Anna typically enjoys composing for smaller chamber ensembles, she was excited to take on the challenge of writing for the Lafayette College Concert Band. She would like to thank Dr. O'Riordan as well as the faculty and staff of the Williams Center for the Arts for their wisdom and support throughout this process, and is looking forward to strengthening and improving her compositional skills and musicianship at Lafayette.