Whether you are a sugar daddy or monitoring your sugar levels, you are just trying to stay in control of your life, whether that be diabetes or otherwise.  When food is consumed, the body breaks down the sugars and starches into a simple sugar commonly referred to as glucose. Glucose, which is stored in the bloodstream, is used by the body as a form of energy. Like every consumer product in a Giants food store aisle, diabetes too comes in different types.  In Type 1, often known as juvenile diabetes, the pancreas in your body do not produce insulin. Instead the body's immune system attacks and destroys the beta cells that produce insulin in the body. Alternately, in Type 2 diabetes, your body becomes resistant to insulin. To dia 'beat' this resistance, your pancreas makes extra insulin, but over time your body may be unable to make enough insulin, resulting in Type 2 diabetes. Diabetics suffer from major health complications and other daily side effects with symptoms including dehydration, frequent urination, increased appetite, high blood pressure, and damaged blood vessels. These side effects are dia-… we're out of puns for now.
The not-so sugar coated fact is that 1.25 million Americans are living with Type 1 diabetes. This breaks down to about 200,000 youth and over a million adults who are currently suffering from diabetes. This sugar high isn't stopping anytime soon, it is projected that by 2050, about 5 million people in the U.S alone will suffer from diabetes, including nearly 600,000 adolescents. Not so sweet, eh?
Diabetes was the seventh leading cause of death in the United States in 2010 based on the 69,071 death certificates in which diabetes was listed as the underlying cause of death. In 2010, diabetes was mentioned as a cause of death in a total of 234,051 certificates.
Diabetes may be underreported as a cause of death. Studies have found that only about 35% to 40% of people with diabetes who died had diabetes listed anywhere on the death certificate and about 10% to 15% had it listed as the underlying cause of death.
Apart from the overwhelming death numbers, diabetes comes with a high cost, literally. In the early 2000's, insulin cost nearly $100-$200 a month, but now has peaked to about $400 – $500 a month. That's a whopping $4800-$6000 a year for a painfully pricking process.  Neither one's sugar level nor the price of insulin, should be that high.  In addition to the diabetic bills, the increased risks of anxiety and depression for people, especially children, with diabetes pricks your heart deeper than a needle could ever prick a finger. Not so finger pricking good?
One of the best ways to take control over this alarming sugar rush is by the constant monitoring of  one's blood glucose levels. Glucose levels fluctuate throughout the day based on a person's diet, activity levels, and other external factors. As such, it is required that one's blood glucose levels are obtained before and/or after each meal. Today, the most widely used glucose monitoring devices are based on minimally-invasive finger stick tests, a market that is worth over $6.0 billion. This process leaves patients having to frequently prick their skin, for some, upwards of six times a day! As such, the introduction of both non-invasive glucose monitors (NGM) as well as continuous glucose monitoring systems (CGMS) is of great interest for diabetics and healthcare professionals alike. Today, NGM options on are the market are mainly subcutaneous sensors. These types of are NGMs are associated with painful, subcutaneous implants that require replacement within a matter of days, in addition to unreasonably high user costs.  Yet, with scientific and technological advances and knowledge higher than before…why are diabetics stuck suffering? Our process aims to eliminate this painfully, invasive process and take the "ouch" out of the day-to-day life for millions of people.
Our goal is to cut out all of the pain associated with a diabetic diagnosis. This is possible thanks to state-of-the-art technologies, which take advantage of optical glucose monitoring as well as previously established methods of CGMS and insulin pumps. In particular, our control scheme functions by using non-invasive contact lenses as our sensor to measure glucose levels. The reading is then translated into a signal which can be interpreted by a proportional-integral-derivative (PID) controller, which continuously calculates the error between a patient's current and optimal glucose levels. This is done by analyzing the difference between the desired set point and the actual value of the blood glucose. The desired set point will be personalized based on demographic factors like age, gender and other health conditions. The PID controller will interpret the signal and output a specific, continual insulin response via an insulin pump. Readings will be stored and displayed via the CGMS. The advantages of implementing CGMS to applications are of immense need within the diabetic community. These continual readings will allow healthcare professionals with useful information about trends in a patient's daily glucose levels, helping patients to reduce glycemic variability. This additional control will aid in the prevention of hypoglycemic episodes and lower glucose levels.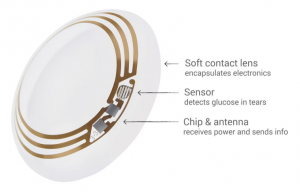 The proposed contact lenses work according to the image above.  There is a clear layer, much like that of a regular contact lens that surrounds most of the electronics.  Connected to these electronics is a sensor that can measure the glucose concentration in the tears of a patient.  This information, via the encapsulated electronics, would wirelessly be sent to a device which would determine whether the glucose level is in the appropriate range.  From this, the device would determine whether to inject insulin or not when appropriate.    
In particular, the process aims to gain control of glucose levels, insulin must be injected on an as-needed basis into the patient. For this to occur, the amount of insulin injected at variously points within the day must be altered according to the unique "healthy" glucose ranges 4–8 mM (72–144 mg/dL)of each individual. There is potential to also control the times at which glucose levels are measured, but it is more advantageous for levels for be read and recorded on a near continuous basis. Continuous readings would also allow for a more complete picture of the fluctuations in glucose levels throughout the day.
This process is cyclical in nature, but ultimately works to create a connection between glucose readings and impart an appropriate insulin injection response. As such, it is crucial that our device is continuously functioning at its highest capacity, and although the functionality of our device is ultimately aimed to increased ease  and quality of life for the user, the process itself is delivering life-sustaining hormones to the body, and thus much be extremely efficient and precise.
Although this idea is melt-in-your-mouth good, some logistical issues arise from the combination of contact lenses and insulin injections.  For instance, the contact lenses are not permanent; over time they will degrade and readings will become less accurate.  A study would need to be done on the optimal lifetime of a set of lenses would last.  Supposing proper functionality of the device, the device would need to be able to determine the minimum blood-glucose level a patient could have and inject insulin when below this threshold.
An additional issue with these lenses is manufacturing, and ultimately cost to consumers.  Not only is the purchase of insulin expensive, but also, some of the prototypes of these devices use partially gold wiring within the contact lens.  Despite looking cool, the cost of a set of contact lenses would be even higher than that of insulin.  Google is still in the testing phase of these kinds of contact lenses, therefore there is no cost that has been quoted for use, but would very likely be expensive given the manufacturing cost and the luxury of use.  There are those who believe that competition among manufacturers will drive down the cost of glucose reading lenses. Others believe that if the price does not get driven down by competition that insurance would most likely cover these devices.
The system that we have described is known as a feedback loop.  A feedback loop is a control system that responds to a perturbation after it occurs.  This is opposed to what is known as a feed-forward control system.  A feed-forward control system is one that measures a change in input and adjusts before a change in output occurs.  In our case, a human body would need a measurement to be made of system "inputs" or what a given person eats.  If a response were to be made before moving above or below critical blood glucose levels, it would be invasive to the point that one would have to have a device implanted in their stomach to determine "system" inputs.  This kind of implant is impractical and would not be a product worth selling.  Responding after a change in blood glucose better treats those with Type 1 and Type 2 diabetes by its less invasive style and its improvement on the current finger pricking pain that regular patients go through.  
At the end of the date, our process is the sweetest proposal for controlling diabetes in a pain free manner all while offering extensive sight into a patient's daily glucose trends. Both of which would make the projected increase in diabetic diagnoses in the future a little easier to swallow.
References:
"Continuous Glucose Monitoring." Dexcom. Dexcom, 26 Jan. 2017. Web. 10 Mar. 2017.
Sawh, Michael. "Triggerfish Smart Contact Lens All Set to Tackle Glaucoma." Wareable. Wareable, 08 Mar. 2016. Web. 8 Mar. 2017.
"SENSIMED Triggerfish®." SENSIMED Triggerfish® – Sensimed. Sensimed, n.d. Web. 10 Mar. 2017.
Shah, Rima B. et al. "Insulin Delivery Methods: Past, Present and Future." International Journal of Pharmaceutical Investigation 6.1 (2016): 1–9. PMC. Web. 30 Mar. 2017.
"Type 1 Diabetes Facts." JDRF. N.p., n.d. Web. 10 Mar. 2017.
Vashist SK. Continuous Glucose Monitoring Systems: A Review. Diagnostics. 2013; 3(4):385-412.