Let's Destress
The Smart Alec is an application for a smartwatch that will control the level of stress the wearer endures. The possibility exists for the Smart Alec to stand alone as its own wearable biometric device, similar to a FitBit. For people all around the globe, stress is a major problem in everyday life. Whether it is from school, work, or social life, everyone occasionally experiences high levels of stress. High levels of stress can lead to many problems in a person's life including panic attacks, binge eating or drinking, anxiety, and many more complications that also precipitate more stress. When a person's stress is reduced, they begin to think more clearly and become much more productive. The Smart Alec stands alone from the FitBit and "smart home" software in that it links biometrics with the automated home concept.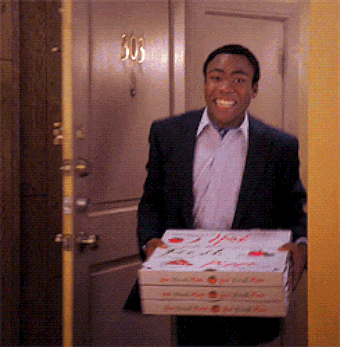 (https://media.giphy.com/media/nLhdSinRtaL2E/giphy.gif)
There are three main types of stress: acute, episodic and chronic. Acute Stress is the stress that stems from short term problems. Say you had to clean your house, do laundry, had a big presentation at work and had to pick up your kid from school all due on the same day. The overwhelming feeling that one would get from this pile of work would be acute stress. Acute stress usually leads to anger, anxiety, and headaches. Since acute stress is a result of short term problems, this is the most common type of stress people experience.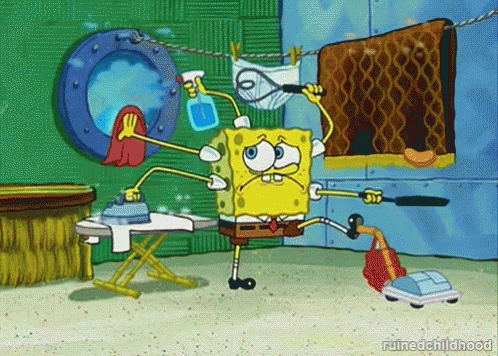 (https://media.tenor.co/images/7a926eff9a0bc6f69255ed85338a1b9a/tenor.gif)
Episodic stress is similar to acute stress in that it is a result of short term problems. Episodic stress is the stress that comes from repeat occurrences of acute stress. This type of stress is often suffered by people who juggle loads of obligations and responsibility. When someone has simply too much going on to meet the necessary deadlines of their countless activities, (*cough* junior spring…) they experience episodic stress. This type of stress can foster bad moods, pessimism, and in extreme cases, anxiety/personality disorders. However, since the level of stress is somewhat constant, someone who experiences episodic stress can be oblivious to their constant state of tension.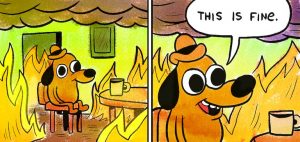 (http://az616578.vo.msecnd.net/files/2016/09/14/6360948027775480071537775930_hgjhgjhfj.jpg)
Chronic stress results from long term problems; it develops from a situational problem that a person often feels is not possible to escape. For example, chronic stress could be a result of early childhood trauma or war-time experiences. The issue with traumatic stress is that over time, the victim accepts it as normal. Extreme cases of chronic stress are often diagnosed as Post-Traumatic-Stress-Disorder (PTSD), or manifest in other anxiety disorders or depression.
There have been many scientific studies conducted to find the most effective ways to reduce stress. In one experiment, a two group study was conducted to determine the affect of lavender oil as a stress reducer. The study concluded that Lavender aromatherapy does in fact significantly decrease a person's stress (Kim, 2011). Studies were also conducted on the effectiveness of music to reduce stress. These studies showed that light sounding music controls heart functions as well as triggers biochemical stress-reducing effects (Cervellin, 2011). As for the effect of room lighting on stress relief, it has been proved that different intensities of light will have a different affect on a person's mood. For example, a bright light will make the body think of sunlight and consequently put someone in a better mood. On the other hand, "soft" light dims and diffuses light to reduce shadows and provides a more relaxing atmosphere, thus providing a stress reducing environment.
The Smart Alec is an application that will be aimed to reduce a person's stress, no matter what the cause. When a person becomes stressed, the body reacts in ways that help the person indicate that they are stressed. For example person's pulse will elevate, they will sweat, and tend to breath in a more shallow, rapid manner.
Why Does it Need Control?
External stress control is potentially valuable, as even if one knows they are stressed, it doesn't always help them calm down and destress. This is where the Smart Alec comes in. Unlike your body solely letting you know or not letting you know that you are stressed out, the Smart Alec will notice that you are stressed out and in return make changes to your surroundings to help bring down your level of stress. If a person's stress level is decreasing at times when they become stressed, any of these three types of stress can be managed and reduced, ultimately resulting in an improvement in a person's overall happiness, productivity and quality of life.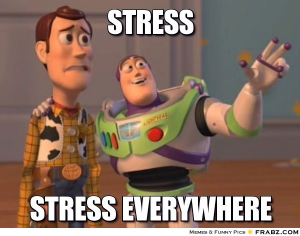 (http://s2.quickmeme.com/img/57/570249459244f3112c7ca01b6cf4335c67aad3473df04876a7f67305e8824ec9.jpg)
With the Smart Alec a user's stress levels seek to be controlled to eliminate as much stress from their life as possible. Heart rate, perspiration levels, and elevation in temperature are all indicators of stress that can be used to determine if a user is stressed out. Using biometric indicators on the watch, the user's watch will be able to determine if they are stressed out and change their environment accordingly.
Indicators of Stress (Biometrics)
MIT researchers are developing a wrist sensor that tracks a user's perspiration and temperature changes. This technology provides a real-time tracking of the user's moisture level and temperature to measure when the user experiences stress, rather than relying on the patient's memory like a psychologist or other therapist. This device, along with other similar applications to the Smart Alec, will actually be able to determine the exact moment a person experiences stress and potentially be able to determine what things in that person's life actually cause stress. Granted, the wearer would have to have some recollection of what they were doing at the moment their sensor detected stress signals.
The control of this variable is essential because it is a measure of how much stress a person is experiencing. The Smart Alec is an app that links a smartwatch with the user's home in order to reduce stress by taking biometric readings from the watch and using it to adjust the user's home in order to create a stress-relieving environment. The entire point of the app is to reduce stress by linking the home with the biometrics.
Stress is something that affects everyone and reducing this can help mitigate anxiety and mental illness in the general population. Everyone comes home from work beaming, glowing about what a wonderful day they had and when they see their absolutely wonderful family, they get even happier, right? Nah. Work is stressful, raising a family is hard, and being a Jets fan just sucks. When a person gets home from a long day, vegging out watching TV, drinking a beer (or six), are all common ways to destress. But what if your house helped you destress too? With the Smart Alec, a user's home will be able to control the mood lighting, ambient white noise, and even dispense soothing herbal vapors or incense within the house. This will reduce the stress of the user while still allowing them to be productive, even if the user is unaware of their elevated stress.
A Relaxing Room
In this application, the sounds, mood lighting, and smells within the house will be manipulated. Mood lighting can have a calming effect on the user. The sounds within the house will be calming sounds, such as a rain-forest, the ocean, or other ambient white noise. Smells can also provide a sense of relaxation that would be beneficial to the user. These make sense to control because they have a direct effect on a person's stress levels. If a house were to already have mood lighting going, calming sounds, and a nice smell when a stressed out person walks in, it would greatly help to reduce their stress from the moment they walk inside the house.
The method that will be used is a step method. The variable being controlled is the body's heart rate, all of which increase with stress. On average, a person's average resting heart rate is between 60-100 beats per minute. However, when a person experiences high levels of stress and anxiety, their heart will beat over 100 beats per minute or higher depending on the person (Bowles, 2013). To keep the heart rate under control, the watch will monitor when a person's resting heart rate is significantly above their average resting heart rate and adjust the lighting, sounds and smells in the room to relax the user and thus decrease their heart rate back to its average range. The app's purpose is also to keep the person focused on their current task at times of high stress, not simply to sedate them. Thus, when heart rate dips to a level that indicates the wearer has remained motionless for a prolonged period of time, or is bordering on sleep, the control scheme can reduce the calming lighting in favor of light that is more conducive to productivity (but never fluorescent, gross).
The first aspect of the room that would change is the lighting of the room. Prior to first use of the application, a calibration will be performed to determine the brightness level and color that will be best for a person's stress level. If the app notices an increase in the resting heart rate, the lights in the room will dim to a level that corresponds with the user's destressing light intensity. If the change in brightness does not change the user's stress level back to its relaxed level, a second resort will come into effect. This is where the relaxing sounds come in. Out of the speakers in the room, the user will then hear nature sounds, classical music, or some Jack Johnson to help control their heart rate. Lastly, if the past two changes to the room do not work, relaxing smells, straight out of the Yankee Candle catalog, will be released into the room.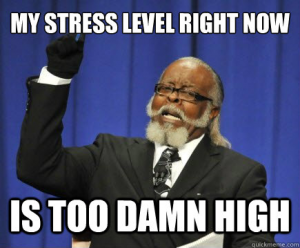 (http://s2.quickmeme.com/img/72/720aa217cc6a628698e7757400d8139de53534356155d4d8186d05cfeb60aa0d.jpg)
What Can Happen?
The Smart Alec has potential to mitigate the negative effects that stress has on the working class 9 to 5 guy/gal. We all get stressed out sometimes. When it is an episodic stress, we just get used to feeling tense. When it's acute, we're more likely to be aware of it, but what can we do about it? We try meditation or other breathing exercises, we take a break and watch some Netflix (yeah, just ONE episode), or we succumb to our vices and throw back a few too many beers. But it doesn't have to be like this. What if your house could help you destress? Yeah your girlfriend gives good back massages when you're visibly tense, but she gets stressed out too, man. The Smart Alec can help your whole family at once to take a deep breath, and focus on productivity.
The Smart Alec's potential is not limited to making life a little easier for the average working adult. Those who experience chronic stress, are predisposed to anxiety, or either raise children on the autism spectrum or are themselves on said spectrum are likely to experience bouts of extreme stress. The Smart Alec will not cure chronic stress, nor will it single-handedly prevent anxiety attacks, but it will help reduce the time that these stress flare-ups will incapacitate the user. On average, a panic attack lasts at least ten minutes, but can also last a significant amount longer (Tidy, 2016). However, if a panic attack lasts three minutes instead of ten thanks to the Smart Alec's automatic detection of elevated pulse and subsequent dimming of lights to the user's calibrated settings and introduction of ocean sounds and lavender-scented vapor, it has done its job.
(https://i.kinja-img.com/gawker-media/image/upload/s–rMBc-x_—/c_scale,f_auto,fl_progressive,q_80,w_800/195r8vyu709c5gif.gif)
Sources
https://www.technologyreview.com/s/508716/wrist-sensor-tells-you-how-stressed-out-you-are/
http://www.globalhealingcenter.com/natural-health/eliminate-stress-with-color/
http://www.apa.org/helpcenter/stress-kinds.aspx
https://patient.info/doctor/panic-disorder
http://www.livestrong.com/article/155585-anxiety-pulse/
https://www.ncbi.nlm.nih.gov/pubmed/21854199
https://www.ncbi.nlm.nih.gov/pubmed/21767754
http://www.invitinghome.com/home_lighting/lighting-mood.htm