Are you tired of waking up groggy each morning and struggling out of bed? Have you ever tried to watch a movie, only to have sunlight glare on the screen? Do you want to save on energy costs and more efficiently end each day by removing a chore from your already full plate?
Opening and closing all the blinds in a house or business is a hassle. Until now, your only option for hassle-free blind control was outfitting your home or place of work with complex specialty "smart" blinds that are expensive and require professional installment. In fact, the Blinds with Benefits™ system can be retrofitted to modify your existing blinds and can be self-installed!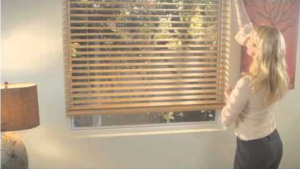 (Blindsgalore 2013)
The Blinds with Benefits™ system automatically opens and closes your blinds based on your chosen settings for amount of light and room temperature. This unique blind-control system functions similar to your thermostat and can measure temperature, light, and time of day to determine whether the blinds should be open, closed, or somewhere in between. The Blinds with Benefits™ system is simply a network of motors that can be fit to any blinds that function using a rotational mechanism. You just hook the Blinds with Benefits™ up to your blinds, download the partner app and enter your chosen settings, then let Blinds with Benefits™ do all the work.
So, how will Blinds with Benefits™ benefit you?  
Are you tired of feeling groggy all day? Studies show that waking up with the sun each morning has immense health benefits. Humans are diurnal creatures that are naturally inclined to sleep during the dark hours of night and be awake during the daytime. Melatonin, a hormone that regulates our sleep patterns and many of the body's circadian rhythms, is produced at night. Production stops upon optic exposure to daylight. Melatonin plays an important role in countering infection, inflammation, cancer, and autoimmunity, according to the May 2006 issue of Current Opinion in Investigational Drugs. When people are exposed to sunlight in the morning, our nocturnal melatonin production occurs sooner, so we sleep more easily at night. This melatonin rhythm phase advancement caused by exposure to bright morning light has been effective against insomnia, premenstrual syndrome, and seasonal affective disorder. Serotonin is the daytime precursor to melatonin. Moderately high levels of serotonin result in more positive moods and a calm, focused mental outlook. Waking up with the sun is directly correlated with hormone-regulation resulting in both better days and better rest at night (Mead 2008).
(Popkey 2017)
Blinds with Benefits™ will ensure you get to wake up with the sun every day. Similar to an alarm clock, the system can be set to open the blinds shortly before you would like to wake up. A sunlight-filled room will better prepare your mind and body for another hectic day, as well as promote long-term physical and mental health.
In addition to the immense health benefits, the Blinds with Benefits™ is incredibly easy to set so they close automatically at night–whatever time that is for you. It can be at sunset. It can be midnight. It can be whatever you choose. The Blinds with Benefits™ will also open your blinds automatically in the morning with the sun. It will improve privacy automatically by blocking the view through the window after dark. Even if your neighbors are a little creepy, you never have to feel like they are peeking in through your windows after dark again!
(Ben 2012)
About every 18 seconds in the United States, a burglary occurs. That is about 200 per hour and 4,800 per day. In addition, according to the FBI, home burglaries increase between 10-18 % during the months of July and August, prime vacation time. You don't want to have to worry about your home's safety while you're having fun in the sun! In fact, as of 2016, 45 percent of Americans take a summer vacation, resulting in about 657 million trips between Memorial day and Labor Day (Statistic Brain 2016). Blinds with Benefits™ is just a small addition to your preexisting blind completely invisible from the outside, easily giving the impression that someone is home even when you are away. When it looks like someone is home, you are much less likely to be robbed. Blinds with Benefits™ is an easy, inexpensive protection against robbery and other petty crimes because it makes your home appear more active than it otherwise would. Sorry Home Alone fans–put the mannequins and booby traps away!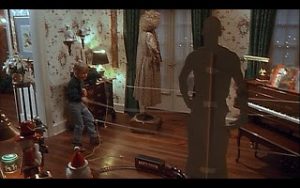 (Reasons 1970)
What's that you say? Blinds with Benefits™ can help me save on energy costs too?  
Are you tired of coming home after a long day only to realize the sun has turned your living room into a greenhouse?  The sun has been beating in for hours while your pet soaks up the sun, yet your furniture fades and you have to crank up your air conditioner just to cool off. Then, when the energy bill comes, the frustration continues to build. Blinds with Benefits™ has a setting for this too! According to the Department of Energy, closing the blinds to reflect the light can reduce heat gain up to 45%. Blinds can also reflect the light onto a light-colored ceiling, which helps the light to diffuse without as much heat while still allowing some natural light into the room. In the winter, closed blinds can act as a barrier for heat loss, helping you save on heating costs as well (Rutkowski, 2013). While you're at home or work, let Blinds with Benefits™ keep your house at your ideal temperature.
Blinds with Benefits™ can also be applied in businesses and office buildings, where you'll save on energy and personnel costs. You no longer have to spend money paying an employee to walk around the building opening or closing the blinds for you, a needless expense of manpower when their time and energy could be used more effectively to benefit the company. Blinds with Benefits™ can be used to help workers to stay comfortable as well by keeping the office at a pleasant temperature. In addition Blinds with Benefits™ can be set to automatically adjust the blinds daily to avoid the glare on a computer or other surfaces. Ever feel like your colleagues or students are daydreaming during your meeting, presentation, or lecture? Close the blinds instantly to remove the temptation of gazing out the window in a conference room. Blinds with Benefits™ allows your business to be more green, more economical, and helps to create a comfortable and productive work environment.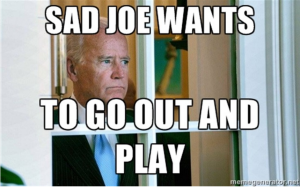 (Bustle.com 2015)
The Blinds with Benefits™ system is fast and simple to install.  First, determine how many windows you wish to be equipped with the system. When you order Blinds with Benefits™, you select how many windows you are going to convert and that is how many fittings you will receive. Each fitting contains a small motor that will be able to control any blind that functions using a rotational mechanism. Next, you will specify the number of rooms in your house that are in need of temperature control, and you will receive thermometers to place in each of these rooms. You will also receive four miniature light sensors with adhesive backs. You will stick one of these on every side of your house, so the system can tell how much sunlight the rooms of your house are receiving. A thermometer can be placed outside so the system can determine how hot it is. Each of these pieces will have Bluetooth capabilities and will be connected to a centralized system brain which is essentially a tablet. With this tablet, you will be able to create a schedule or a set of conditions in which your blinds will open and close. Also available is a cell phone app that can be used in conjunction with or to override the system brain. For your convenience, the override will be valid for 24 hours before the Blinds with Benefits™ return to their settings.
The Blinds with Benefits™ system is designed to open and close your blinds, first according to time of day, and then to control factors like privacy, natural light, and temperature.  So, you may ask, since there are so many factors, what happens when the system encounters conflicting demands? Well, the system is equipped with a rule set.  
First, you will select a time setting, meaning you specify when during the day or night you would like your blinds closed. The rest of the time, the system will be continuously monitoring the maintenance of your settings. In addition to setting specific times, you can set the blinds to automatically open when the sun rises and close when it sets. This is controlled by the sunlight sensors, and can affect all or some of the windows. Next, the temperature setting allows you to use your blinds to help keep your house at a desirable temperature and save on energy costs in the process. The temperature system is controlled by a feedback loop where the temperature is monitored in individual rooms. Then you set your blind type, either light reflecting (light colored) or light absorbing (dark colored). If the temperature deviates from your ideal set point, the temperature inside is compared to the outdoor temperature, and the blinds will open, close, or fall somewhere in between based on their reflecting or insulating properties to help control the temperature of the room. The sunlight detectors can again be used to determine where the sunlight is entering the room, meaning just the blinds on the sunlit side will be altered if the room is getting too warm. The Blinds with Benefits™ system can make decisions in real-time based on the measurements it takes, and manipulates the blind position in order to maintain your settings and your sanity!
Blinds with Benefits™ is a unique and simple system designed to meet all your home or office's hassle-free blind-control needs. Simply attach the motor system to your existing blinds, download and set the wifi/bluetooth-integrated app as you desire, and enjoy your improved privacy, security, and health for years to come!
References:
Alt, Kimberly. "Protect Your Home While on Vacation." ASecureLife.com. N.p., 22 Feb. 2016. Web. 04 Mar. 2017.
Ben. "Windows." Memecenter. N.p., 2012. Web. 04 Mar. 2017.
Blindsgalore. "How to Use Standard Cord Lift and Tilt Control Blinds." YouTube. YouTube, 22 July 2013. Web. 04 Mar. 2017.
"Boo Monsters Inc Gif." Popkey. N.p., n.d. Web. 21 Mar. 2017.
Giphy. "Waking Up GIF." GIPHY. N.p., 27 Sept. 2016. Web. 04 Mar. 2017.
Health Perspectives. National Institute of Environmental Health Sciences, Apr. 2008. Web. 04 Mar. 2017.
Ladygray. "Reasons Why I Don't Look Out My Window At Night." Memecenter. N.p., 2013. Web. 04 Mar. 2017.
Mead, M. Nathaniel. "Benefits of Sunlight: A Bright Spot for Human Health." Environmental Health Perspectives.  Apr. 2008.  Web. 09 Mar. 2017.   
Skinner, Tom. "Holiday Home Security." LinkedIn SlideShare. N.p., 23 Nov. 2010. Web. 04 Mar. 2017.
"Summer Vacation Travel Statistics." Statistic Brain. Statistic Brain, 03 Mar. 2015. Web. 04 Mar. 2017.
"Reasons Why 'Home Alone' Is Possibly the Greatest Film Ever." Reasons Why 'Home Alone' Is Possibly the Greatest Film Ever. N.p., 01 Jan. 1970. Web. 21 Mar. 2017.
Rutkowski, Izabela.  "How to Use Your Shades, Blinds, and Curtains to Beat the Heat".  Consumer Reports. 16 July 2013.  Web. 09 Mar 2017.  
"The Best Joe Biden Memes Of All Time To Honor His Big Announcement".  Bustle.com.  21 Oct 21 2015.  Web.  09 Mar. 2017.