To expand our holdings in Japanese-period postcards of colonized East Asia, we have been acquiring various types of images and texts from China's three northeast provinces, called "Manchukuo" by the Japanese who installed a government there from 1932-1945. The snapshots below were taken by U.S. Vice-Consul Gerald Warner in 1934. The postcards were purchased in Tokyo and Osaka in the summer of 2010. The juxtaposition of snapshot and postcard shows how the commercial imagery of Manchuria predisposed tourists and visiting officials like Warner to see the colony. At the same time, Warner captured images that appear to have been honest attempts to capture something of life in colonized Manchuria beyond that depicted in the familiar genre shots of postcards.
The first card lays bare the power relations that buttressed all of the other scenery presented in Japanese imagery of their frontier empire.  It proudly boasts:
"The Kwanto Army Headquarters which is one of our Nippon representatives. The building, somewhere castle-like style, is very imposing and has dignity that anyone can not violate."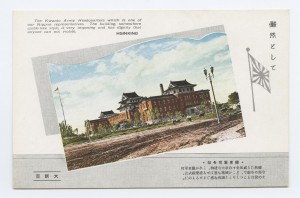 Consul Warner was probably given a tour of the memorialized battlefields of the 1931 conquest. Here is one of his snapshots from the Beidaying barracks, which were emptied of Chinese troops right after the Japanese attack on Shenyang/Mukden on September 18, 1931: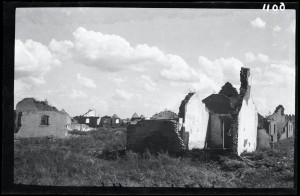 This postcard, issued sometime just prior to Warner's tour, presents a similar scene with a terse description:
〔奉天 北大営) 第一中隊長小野大尉奮戦の地 機關銃槍連兵舎の一部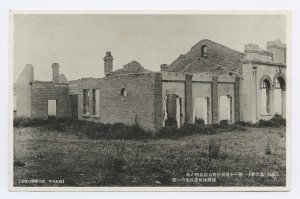 [Trans.:] "The site of 1st Army Commander Captain Ono's desperate battle. A section of the machine-gun damaged barracks."
As with other colonies, Japanese postcard producers issued numerous sets of "Customs and Manners" series to depict either the unique folkways of the empire's many peoples, or perhaps to give a glimpse of the peaceful uninterrupted lives of imperial Japan's contented subjects.
満州風俗 路傍で公演中の街の手品師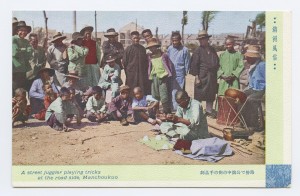 "A street juggler playing tricks at the road side Manchuoukuo"
Warner's own snapshot of popular entertainment from the streets of Shenyang: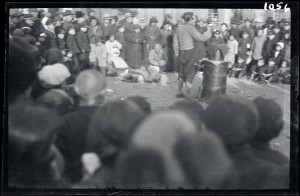 One of the most common themes of Japanese colonial postcards is that of "old" versus "new."  Below is a government-issue card depicting the modern Japanese constructed port of Dalian in contrast to the traditional donkey and cart form of transportation that prevailed in Northeast China at the time: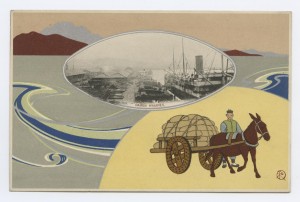 Lastly, a snapshot from Consul Warner's camera showing a street scene in the sleepy border town of Manzhouli, near the Mongolian and Russian borders: