United China Relief Fund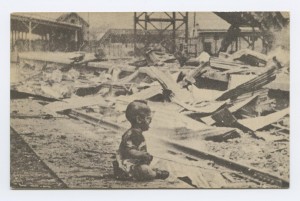 The text on the back of this postcard reads: "This is P'ing Mei–a child of China. He is one of the thirty million children who have been left motherless, fatherless, homeless by four years of merciless war. He is one of 50 million refugees who desperately need food, clothing, shelter, medical aid. He is one of 450,000,000 friendly, democratic Chinese who loved and helped America in the past–who need our help now in order to survive and be a free, independent, friendly neighbor in the future. GIVE TO UNITED CHINA RELIEF, Inc. 1790 BROADWAY NEW YORK, N.Y."
Soon after this photo was taken, the following description appeared in LIFE magazine: "After 16 Japanese bombing planes had flown home, Aug. 28 H.S. ("Newsreel") Wong, famous Hearst cameraman, was first to reach the dreadful scene at the Shanghai South Station. He got this picture-of-the-week–a Chinese baby amid the wreckage. A print of it was sent through International News Service to all Hearst newspapers, totaling 1,730,000. (October 4, 1937, p. 102).
Four years later, the same magazine's editors immortalized Wong's shot, writing, "in 1937 H.S. ("Newsreel Wong")…snapped an unforgettable picture of a Chinese baby wailing all alone amidst the desolation of the Shanghai South Station after a Japanese raid. No picture ever aroused more worldwide sympathy for the victims of aggression than did Wong's." (March 23, 1942, p.34).
There is much controversy surrounding this famous photograph. The debates center around the degree to which the photograph was staged and the impact of Wong's anti-fascist sympathies upon the staging of the photograph. This postcard does not provide evidence that Wong's photo is a "fake," but does attest to its propaganda value.
Assassination of Zhang Zuolin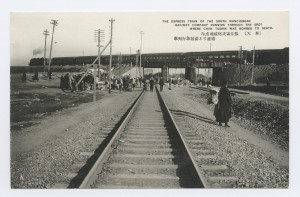 This Japanese postcard, published in the early 1930s, eerily commemorates the 4 June 1928 explosion on the South Manchuria Railway that killed regional governor ("warlord") Zhang Zuolin.  The bombing was blamed on Chinese Nationalist (KMT) officers, but it was soon discovered that Japanese staff officers of the Kwangtung Army engineered the assassination. Various efforts to cover-up the incident and protect the malefactors led to the resignation of the Tanaka cabinet in July 1929.  According to the markings on the back of the card, the stock upon which the image was printed should predate February 15, 1933.  Assuming the normal method of picture-postcard dating applies, this card was published during a period of political chaos in Japan, during the period of "government by assassination." This card may indicate that assassination, as one of many techniques available to those who would see regime change, had become acceptable even at the level of the postcard-buying public.
For more imagery from the Japanese empires, see:
http://digital.lafayette.edu/collections/eastasia