A Brief History of Refugee Action
On January 27, 2017, President Trump signed Executive Order 13769, now known as the travel ban, which lowered the cap on refugee admissions for 2017 to 50,000, suspended the U.S. Refugee Admissions Program for 120 days, suspended the entry of Syrian refugees indefinitely, and prevented tens of thousands of visa holders from Iran, Iraq, Libya, Somalia, Sudan, Syria, and Yemen from entering the US. Following the implementation of this, several student groups at Lafayette attempted to figure out how to respond. Building on previous experience, connections, and knowledge, three students coalesced around the issue of refugee resettlement: Rebecca Wai '18, Natalie Nollan '17, and Hagar Kenawy '17. They created the idea of Refugee Action and recruited a small group of students to help make it happen. Several initiatives started to happen simultaneously to grow the cause. First, a connection was made to Bethany Christian Services, the Lehigh Valley's resettlement agency, and members started tabling every day in the Farinon College Center to raise money for the agency. Second, Refugee Action began hosting events to raise awareness on campus, including film screenings and phone banking events. Third, members reached out to Every Campus a Refuge, an organization whose goal is to get all college campuses to host refugee families, and brought Diya Abdo, the founder of ECAR, to campus to speak about how to make Lafayette an ECAR campus. Fourth, members worked to make Refugee Action an official student organization of the College and started meeting with campus administrators to gain support for the movement. On April 28, 2017, Refugee Action became a student organization, and on May 18, 2017, the President of Lafayette College announced that the College had officially joined the ECAR movement.
As the 2017-2018 academic year began, Refugee Action began organizing more events designed to spread awareness about the global refugee crisis on campus. In November 2017, Refugee Action's first sponsored family arrived in the US and was resettled in the Easton area. Over the course of the group's work with the first family, assistance was provided to other families in the Lehigh Valley. In early 2019, Refugee Action started providing furniture for Bethany Christian Services, and since March 2019, every family that has come through the agency has had their apartment completely furnished by Refugee Action. In April 2019, Refugee Action's second sponsored family arrived in the US and was resettled in the Easton area. In November 2019, Refugee Action's third sponsored family arrived in the US and was resettled in the Easton area. Since its inception, Refugee Action has supported and/or sponsored in varying levels a total of 12 families, and will only continue to support more in the future.
Articles about Refugee Action
Petition to Northampton County Council (Published 2/07/20): Refugee Action presented over 550 signatures to Northampton County Council in support of refugee resettlement
Arrival of Third Family (Published 11/15/19): RefAct helps resettle second refugee family this year, looks to future of organization
Open Meeting (Published 12/06/19): RefAct members reframe 'toxic conversation' surrounding refugees in semesterly open meeting
Displaced Event (Published 10/11/19(: 'I was struck by the loss': Refugee Action uses virtual reality to present refugee stories in a 'new light'
Arrival of Second Family (Published 4/05/19): Navigating logistics and emphasizing humanity of resettlement, RefAct to sponsor another refugee family
Refugee Action Wins Hoff Award for Student Organization of the Year (Published 5/04/18): Aaron O. Hoff Awards
Ben Tumin Event (Published 3/30/18): Using humor as a medium to connect to fear: Ben Tumin speaks on the refugee crisis in America
Arrival of First Family (Published 11/17/2017): Refugee Action Club gathers resources to host refugee family
Mariela Shaker Event (Published 10/27/17): Violinist advocates for refugees, family through music: Mariela Shaker looks to spread peace in time of war
Elias Matar Event (Published 9/29/17): Filmmaker spreads awareness on Syrian refugee crisis
Proposal to Lafayette to Become ECAR Campus (Published 4/14/17): Students propose college host refugee families
Travel Ban (Published 2/03/17): Students, faculty protest immigration ban online, on the streets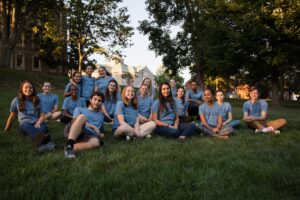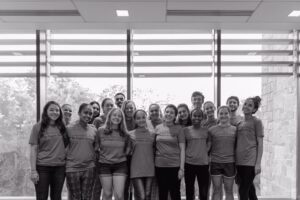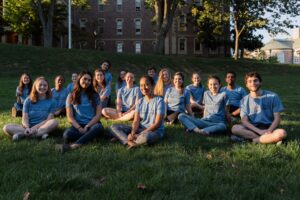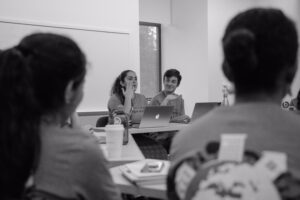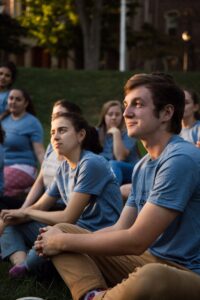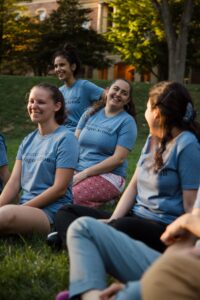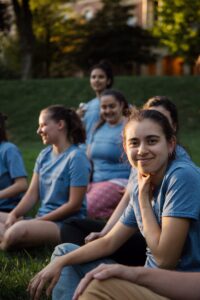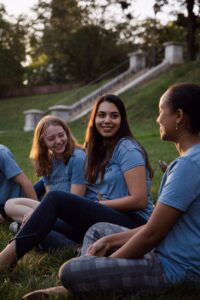 Credit to Richard Ffrench for the above photos.