Welcome back! The first meeting of the decade started off right with a market update presented by Tate Harobin '22, Nick Sant Foster '22, and head analyst Emmett O'Toole '19.
Following the market update, a successful buy pitch for Lululemon Athletica was delivered by Jack Evans '22 and Ian Lee '22. A new Lafayette Investment Club GroupMe chat was also created for all club members to join. Reach out to any club officers to be added to the group! 
To start the meeting, Nick discussed how the major indices finished strongly for 2019, with the S&P 500, DJIA, and NASDAQ up 28.9%, 22.3%, and 35.2% for the year, respectively; however, despite the stellar year, 2020 estimates for the S&P 500 are only 4.1%. Major headlines for the first month of 2020 and how these events could affect the economy and investor sentiment in the upcoming year were also covered. Among these include the Iran conflict that resulted in US airstrikes and the death of Iranian general, Qassim Soleimani, the recent outbreak of coronavirus in Wuhan, China, and the transitional period for the UK in 2020 after its recent departure from the EU.
Tate highlighted the strong quarterly results reported by Apple, Tesla, Facebook, and Amazon. Boeing, a position in the club portfolio, posted its first annual loss since 1997. To conclude the market update, Emmett provided a recap for 2019 and described how US-China trade uncertainty did not affect the return of the major indices for the year as some investors had anticipated.
Upperclassmen members likely remember the previous Lululemon buy pitch that occurred a couple years ago during a general board meeting. At the time, the club ultimately decided to not invest in Lululemon and shares of Under Armour were purchased instead. A quick look at a three year chart of the performance of the S&P 500, Lululemon, and Under Armour demonstrates how Lululemon has exceeded club members and investor expectations.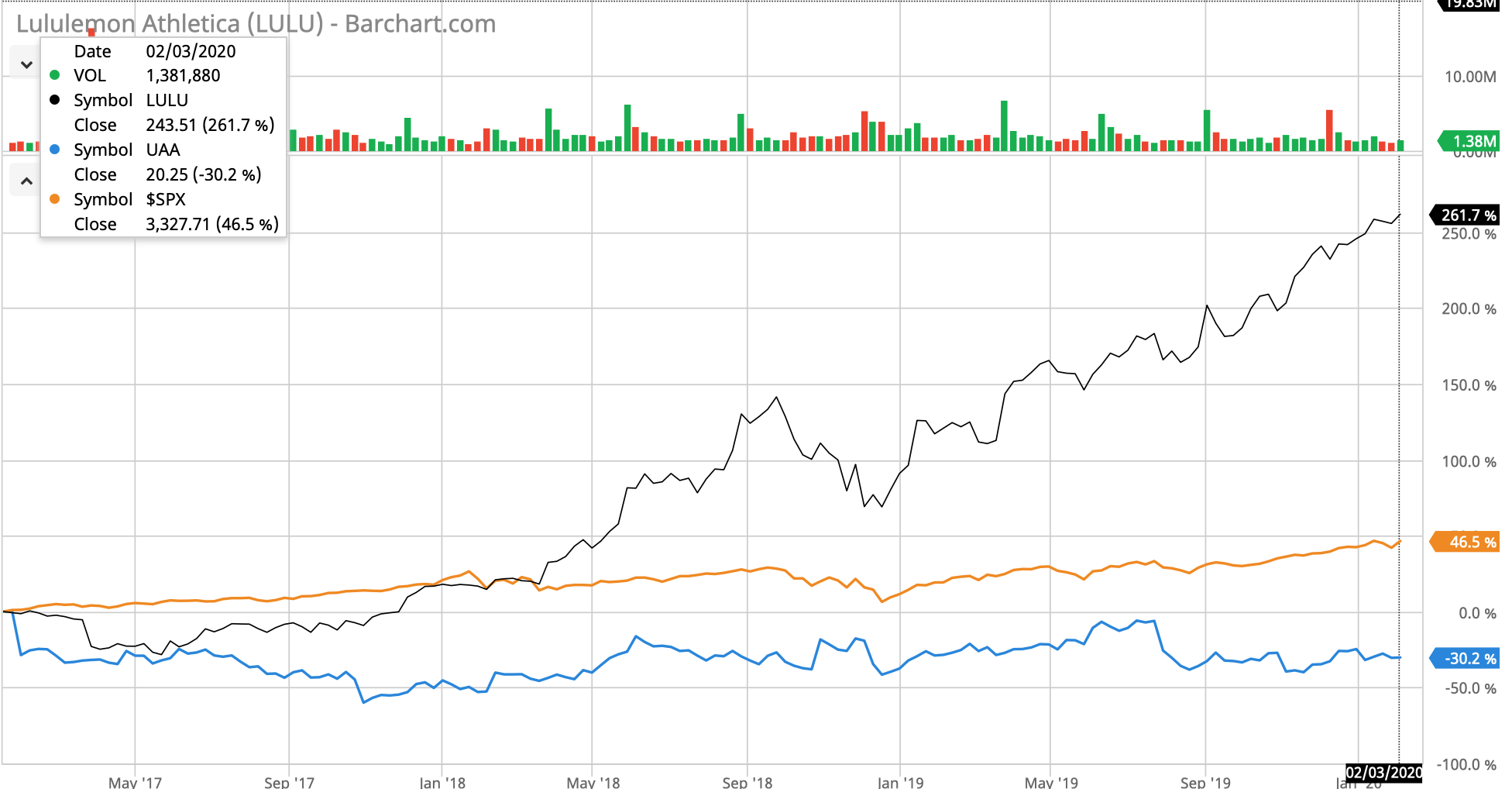 Jack Evans and Ian Lee proposed to allocate ~1.1% of the club portfolio to Lululemon to further diversify our clothing retailer component, which currently consists of Canada Goose, LVMH Moet Hennessy, and Under Armour. While Lulu is trading at a premium relative to other companies in the retail sector, Jack and Ian discussed the company's plan to double the size of its men's inventory, double its digital revenues, and quadruple its international revenues by 2023. Additionally, they anticipate the company's loyal customer base to continue to grow over the next few years. After several questions from members, the club voted to approve the Lululemon buy proposal.