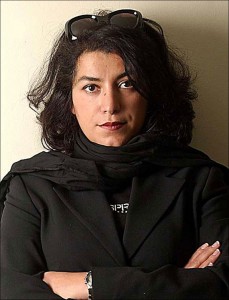 While watching Persepolis, it is very easy to get lost in the plot and the beautiful animation style, sometimes to the point where we forget that it is a true story and that the character Marji not only existed, but is still alive. Her story didn't end with the taxi drive from the airport, or with her grandmother dying, but continued long after that.
Since Persepolis ended, Marjane Satrapi has obviously become a famous graphic novelist, having published Persepolis Parts I and II in 2000, four-five years after the story of Persepolis ends (when Marji leaves Iran for good). After moving to Strasbourg, France, and following the immense international success of her debut work, Marjane continued to write graphic novels, including Embroideries and Chicken with Plums, which have won multiple awards and many of which also address the civil tensions in Iran.
Since the success of the Persepolis film in 2007, Marjane has also continued her career in the film industry, continuing to work with Vincent Paronnaud (the co-director of Persepolis) to create other films such as a live-action adaptation of Chicken with Plums and a comedy-horror film The Voices (a film starring Ryan Reynolds and Anna Kendrick). She has also made multiple public appearances (including some at Parliament) to advocate for the rights of women in Iran and internationally, continuing her messages and beliefs in Persepolis.
Also, in case any of you were worried about her love life (because, let's face it, from what we saw, Marji kind of got the short end of the stick with that one in the film), since Persepolis she married Mattias Ripa, a Swedish national, and the two have lived in Paris since then. And another interesting thing to note is that Marji speaks six languages (Persian, French, German, Swedish, German, and Italian)!