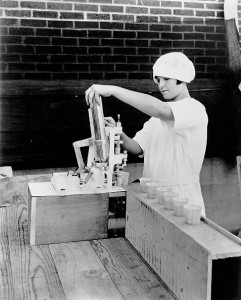 The Hugh Moore Dixie Cup Company Collection (1905-2008; bulk dates: 1910-1957) documents the corporate history of Moore's Dixie Cup business, a pioneer in the paper cup industry. The earliest records contain material about the development of the paper cup, and Hugh Moore's participation in the successful campaign against the common drinking cup. The bulk of the material pertains to Moore's business activities, and several of the departments which operated under his direction at Dixie's headquarters in Easton, Pennsylvania. Of particular interest are the rich sources for studying the numerous competitors in the cup business, and the role of advertisement and promotion in Dixie's success. The collection contains correspondence, minutes and reports, financial records, printed material, photographs, and product samples. The collection (67 linear feet–63 record cartons, 14 oversize boxes, 2 drawers) is arranged into nine series:
I.     General Business File Box 1-12
II.    Competitive Companies Box 12-14
III.   Legal File Box 14-17
IV.   Department File Box 17-20
V.    Minutes and Reports Box 21-22
VI.   Home File Box 22
VII.  Photographs and Special Formats Box 23
VIII. Product Samples Box 24-48
IX.   Additions Box 1-16
Series I is organized into two subseries: Subseries 1 (1908-1920) consists of one linear foot of records which document Moore's emerging paper cup business, then headquartered in New York City; Subseries 2 (1921-1964), the bulk of this series, documents the operation of the company manufacturing Dixie products at the plant in Easton, Pennsylvania.
Series II (1911-1948) contains a rich collection of material which Dixie gathered about its numerous competitors in the paper cup and container business.
Series III includes material about the major legal disputes in which Hugh Moore's company was involved in regarding patents in the manufacture and design of paper cups (1908-1958), and files (1928-1957) regarding companies with whom Dixie undertook merger negotiations.
The material in Series IV is organized into three subseries and includes partial records of three departments operating out of the Easton plant headquarters: Subseries 1, Manufacturing (1917-1949); Subseries 2, Sales (1922-1950); Subseries 3, Sales & Promotion (1921-1970) contains a rich collection of printed advertisements and promotional products.
Series V (1916-1971) contains Annual Reports, Bylaws, Minutes of Stockholders, and the Board of Directors meetings of the various corporations which managed and operated the manufacturing of the Dixie cup in New York and Easton.
Series VI (1905-1910, 1940-1972) includes primarily Dixie-related correspondence and printed material which Hugh Moore received at his home after his retirement from the cup-making business. This series also contains correspondence with friends in Kansas City, Missouri, and diaries which Moore kept in high school, during his days at Harvard, and which include some references to Moore's early crusade against the common cup.
Series VII contains individual and group photographs of Dixie staff. There is a rich collection of exterior and interior images of the various Dixie plants. There are also photographs of Dixie cups, their display in store fronts across the United States, and Dixie dispenser installations on railroads, planes, and theaters.
Series VIII (1910-1986) is organized into two subseries and contains approximately 2000 paper cups and related items. The bulk of the products in this series were manufactured at the Easton plant in the 1920s through 1950s. This unique collection also includes samples of the earliest cups manufactured by the American Water Supply Company of New England, and the Health Kup. There are also several cups manufactured by the American Can Company in the 1960s and 1970s, and James River Corporation as recently as 1986. Through a recent gift, this series also contains the President's Cup, awarded anually to the Salesman "whose all-round performance is judged the best."
Series IX (ca. 1920s-2008) contains donations from former Dixie Cup Co. employees and other individuals. Materials include product samples, memorabilia, photographs, brochures, advertisements, and a digital copy of an original Dixie ice cream promotion film from the 1920s. The series also includes a recent purchase of Phoebe Snow paper cups from the Lackawanna Railroad.