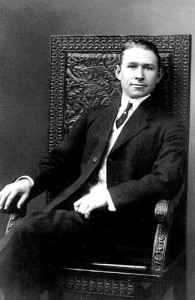 Hugh Everett Moore (1887-1972), Dixie Cup Company president, was born April 27, 1887 in Fort Scott, Kansas, the youngest of six children to John James Moore and Alice Elizabeth (Harbison) Moore. He completed his primary school education in Olathe, Kansas, and received his secondary education in Kansas City, Missouri, where he attended the Manual Training High School his freshman year and graduated with honors from Central High School on June 16, 1905. While in school, Moore participated in theater and won medals in debate as a member of the Webster Literary Society. The Webster society's director, Clifford Nowlin, was Moore's early mentor. During his vacations he worked on the American Journal of Real Estate, The Kansas City Star, Drovers' Telegram, and other local newspapers. Although Moore was offered a scholarship to the Kansas City School of Law for writing the best qualifying exam in U.S. History in his senior year, he still sent for information on journalism programs at various universities, including Boston, Columbia, and Harvard University. Immediately after graduation in June, he worked for a short time as an advertising solicitor on The Reform, a Kansas City newspaper. In July he accepted an offer to work at the Chicago office of The Packer, a national fruit and produce trade newspaper. In addition to submitting advertisements, Moore regularly contributed articles and poems to the paper. In September of 1905, Moore agreed to relocate to The Packer's branch office in New York City, where his work took him to Philadelphia, Newark, Jersey City, and other cities.
While in New York, Moore's diary entries reveal his curiosity for philosophy, religion, and the arts. He attended lectures on various subjects, including Eastern religions, the philosophy of Russell Sage, Anarchism, modern Socialist thought, and he even joined a rally in support of Big Bill Haywood and striking miners in the West. Moore also became interested in Unitarianism because of its belief in the "harmony of reason and religion." He went to hear American educator and social reformer Felix Adler and Mark Twain at Carnegie Hall, and commented on hearing William Jennings Bryan on his return from Europe in 1906. Moore visited museums, attended the theater and opera, and took observant walks through Chinatown and the Bowery. For quieter evenings he borrowed books from the library, including American Commonwealth by James Bryce, The Jungle by Upton Sinclair, Robert Stevenson's Treasure Island and Dr. Jekyll and Mr. Hyde, Dickens' David Copperfield, texts on monopolies and trusts, international law, and a biography of Thomas Jefferson. He continued to be concerned about commencing his studies at a university and enrolled in some evening courses in French. While visiting his sister Sallie and brother-in-law Lawrence Luellen in Boston, Moore at last applied to Harvard as a Special Student and was accepted for the 1906-1907 academic year.
With some reservation, he chose college over the scholarship to the Kansas School of Law, and a managerial post with The Packer. In order to pay for his school expenses, Moore took over the Boston territory for The Packer. He began attending courses in the Liberal Arts at Harvard College in the Fall semester with the hope that it would lead him to a career in the newspaper business. While at Harvard he joined the debating team as an associate member and participated in the usual social activities.
Moore registered for a second year at Harvard, and was promoted to ad manager of The Packer for the New England region in September 1907. That same fall Moore also became interested in Luellen's idea for a paper cup and vendor which would dispense a clean cup of water, and replace the notorious tin dipper in public places. In 1908, Moore discontinued both his studies at Harvard, and his employment with The Packer in order to develop the cup business and fight a campaign to abolish the common drinking cup. He joined Luellen in organizing regional companies to sell the cups and vendors, and in 1910 established the Individual Drinking Cup Company, with headquarters in New York City.
Moore married Berenice Brown on September 15, 1917, with whom he had two sons, Hugh and Craig. Moore served as captain in the U.S. Army, Intelligence Officer Eastern Department in 1918. He married his second wife, Louise Wilde in 1947 with whom he resided in Easton, Pennsylvania until his death at age 85. From 1910-1936, he served as president of the Individual Drinking Cup Company, and from 1939-1943 of the Dixie-Vortex Company. He was chairman of the board from 1936-1955, and chairman of the finance committee from 1955-1957. On June 20, 1957, Moore stepped down as an officer of the Dixie Cup Company, although he continued to serve as a consultant on Dixie matters to American Can Company.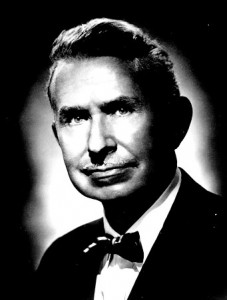 Far from retiring, Hugh Moore pursued various other ventures, including leadership in the Saint Lawrence Seaway Development Corporation. In addition to his success in the cup business, he was an advocate of international peace and population control. His other achievements, even before leaving Dixie included: chairman of the executive committee of the League of Nations Association (U.S.), 1940-1943; consultant to the State Department at the United Nations Conference, 1945; founding member of the Committee to Defend America by Aiding the Allies, 1940; treasurer of Committee for the Marshall Plan, 1948; president of Americans United for World Organization, 1944; chairman of the finance committee of the Woodrow Wilson Foundation, 1951-1952; chairman of the fund-raising arm of the UN education program, 1955; and member of the Atlantic Union Committee, 1949-1960; American Association for the United Nations, 1945-1954; U.S. Committee on NATO, 1961-1972.
His contributions to population control included: chairman of the board, Population Reference Bureau; vice- president, International Planned Parenthood Federation, 1964; founder in 1944 and president of the Hugh Moore Fund for International Peace, established to fund organizations involved in population control, which also published Moore's pamphlet "The Population Bomb" in 1954; and co-founder of the Population Crisis Committee, 1965. Hugh Moore received an honorary degree of Humane Letters from Lafayette College in 1961.