Series XI. Related Collections: 1970s-2001
SERIES XI. Related Collections: 1970s – 2001 (3 special format boxes, 1 record box; 3.5 linear feet) contains supporting material to the Howard Chandler Christy Papers at Lafayette College.  Unlike the Christy Papers, these records were not generated or collected by Christy or his wife Nancy.  The documents of Series XI are organized into two subseries as follows:
Subseries 1. Jane Conneen Files contains notecards, correspondence, and miscellaneous research generated by Jane Conneen and her daughter, Mimi Miley, in preparation for the Allentown Art Museum exhibition on Christy in 1977.  Note cards remain in their original order as arranged by Jane Conneen, with major subject headings including mixed media, subjects, portraits, and chronology.  When Jane Conneen notecards were discovered within the Christy Papers and pertained to the accompanying documents, they were left in place.
Large groups of notecards which were found on their own are now stored in Series XI, Subseries 1.  Any miscellaneous correspondence and research material pertaining to the exhibition is stored in folders at the end of this subseries.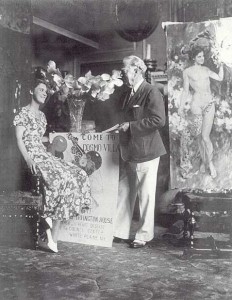 Subseries 2. Holly Chandler Longuski Files contains photocopies of records in the possession of Howard Chandler Christy's daughter, Holly Longuski.  These records came to Lafayette College in two parts.  The first is a scrapbook of Elise Ford, Longuski's mother and Christy's longtime companion and model.  This volume dates ca. 1935-1949 and contains autographs, inscriptions, sketches, and bits of correspondence collected by Ford.  The second is a journal of Elise Ford, dictated to her by Howard Chandler Christy.  It contains extensive biographical information on Christy, from his youth in Ohio through his largest painting commissions.  Copies of photographs are filed at the end of the journal and include images of Elise Ford, Howard Chandler Christy, their Vermont vacation home, and their infant daughter, Holly.  A VCR tape containing home-movies of Ford, Christy, and Holly at this Vermont location is located with the films of Series IX.