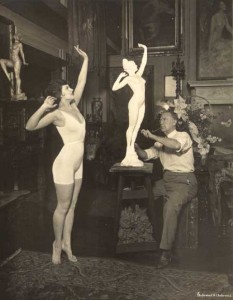 Howard Chandler Christy (1873-1952) was born on Meigs Creek in Morgan County, Ohio, on 10 January 1873 to Francis Marion Christy and Mary Matilda Bone Chandler Christy. At the age of two his family moved to a farm near Duncan Falls in Muskingum County. Christy's parents encouraged his early artistic endeavors. At three he was already sketching animals and by four his father purchased him his first set of watercolors. Young Christy showed little interest in academics and left school at the age of twelve to work on his family's farm. His favorite pastimes revolved around the Muskingum River, where he sketched, painted, fished, and rode the steamboats.
In 1890, Christy took $100 in savings and $200 from his parents and set off for New York City to pursue a career as an artist. He enrolled in the fall and spring semesters of 1890-91 at the Art Students League and studied under the noted painter William Merritt Chase. Christy's funds ran out and he soon returned to Ohio. By 1892 Christy had earned additional funds from farm work, and combined with a loan from a wealthy relative, he was able to return to New York continue his studies at the West Tenth Street Studio of Chase. These art classes spanned two and a half years, including two summers in Shinnecock, Long Island, where Chase emphasized out-door drawing and painting of landscapes and seascapes. In 1893 Christy also entered the National Academy of Design and won two prizes in draftsmanship.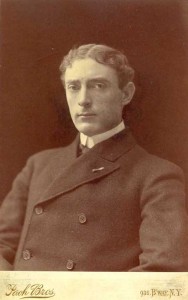 During his early years as an art student, Christy developed a keen admiration for illustrators such as Edwin Austin Abbey and Howard Pyle. Mechanical techniques for illustration and color reproduction were rapidly developing in the 1890's; consequently, a demand for magazine illustrators was on the rise. Christy realized that illustrations were more marketable than paintings.
With his funds on the decline, the artist left his formal art classes and turned to a career in commercial illustration. While it was difficult to end his study of fine art, he resolved to pursue an art form that provided a better living and did not require further funding by his family.
By 1898, Christy developed a solid relationship with several book and magazine publishers of the time. These included G.P. Putnam's Sons and Dodd, Mead and Company, as well as Life, Leslie's Illustrated Weekly, Century Magazine, Scribner's Magazine, and Harper's New Monthly Magazine. These illustration commissions were executed in pencil, pen and ink, and ink wash. Christy almost completely abandoned painting during this period, which caused great disappointment to his mentor, William Merritt Chase.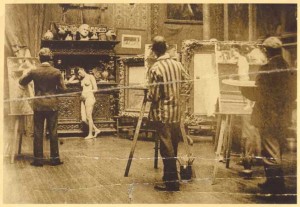 When the U.S. Battleship "Maine" was sunk in Cuba's Havana harbor, twenty-five year old Christy offered his artistic abilities as a war correspondent for several magazines. Christy documented much of the major action of the Spanish-American War as well as the daily activities of the soldiers. These drawings were widely published back in the United States, which helped develop his reputation in the field of magazine illustration. He had the opportunity to travel with Colonel Theodore Roosevelt's Rough Riders and a friendship between the artist and the future president was born. Christy's sketches of Roosevelt, his soldiers, and other military personnel were later published as a portfolio entitled Men of the Army and Navy in 1899.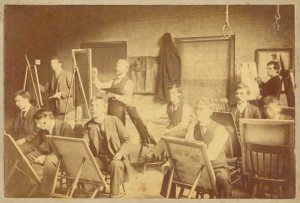 Upon his return to New York at the completion of the war, Christy soon found himself labeled a "military" illustrator. Dissatisfied with his constant war story commissions, Christy introduced his trademark Christy Girl in an illustration depicting a female figure in the pipe smoke of a war hero. Entitled "The Soldier's Dream" and debuting in Scribner's, this illustration was the first example of Christy's ideal American woman. The Christy Girl developed into a beautiful, modern and educated young woman, who loved the both the outdoors and sports.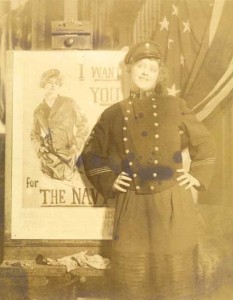 She appeared in many of Christy's magazine illustrations, which neared 6,000 by 1905. Christy had become one of the most recognized magazine illustrators of his time, reaching a total audience of approximately 64 million Americans through an average of 4 magazine subscriptions per household. By 1910, Christy's estimated annual earnings reached $50,000. A single contract with William Randolph Hearst in 1912 paid him $18,000 a year. Magazines in New York such as McClures, Ladies Home Journal, Cosmopolitan, Redbook, Collier's and Hearst's commissioned Christy's illustrations for their articles. During this period he also developed strong relationships with book publishers Bobbs-Merrill and Moffat, Yard and Company.
Christy's first marriage was to one of his models, Maybelle Thompson, in 1898. Their relationship was a stormy one, documented in several newspaper gossip columns of the day. In 1908, after separating from his wife, abstaining from alcohol, and turning to Christian Science, Christy and their only daughter, Natalie Chandler Christy, left New York City and returned to the family farm in Duncan Falls, Ohio.
Christy built a home named "The Barracks" on this land. He continued his career in illustration from this site for the next seven years, managing his New York publishers from afar and receiving proofs of magazine serials and novels by mail. During this period his second wife, model Nancy May Palmer, was introduced to him by fellow artist Charles Dana Gibson. Nancy Palmer was hired by Christy and modeled for him at The Barracks until his return to New York City in 1915. Many of the Christy Girls from this period bear a striking resemblance to Nancy Palmer.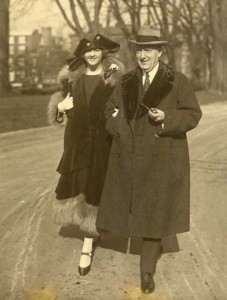 With the United States involvement in World War I looming, Christy felt the need to move back to New York and establish residence. In 1917 he became the first tenant of the Hotel des Artistes on West Sixty-Seventh Street. He remained at this magnificent two-story studio for the rest of his career. As WWI developed, Christy became increasingly involved in war efforts. He donated approximately 40 paintings to be reproduced as posters for recruitment, bond sales, victory loans, and service organizations. These posters featured various incarnations of the Christy Girl, from altruistic angels, ghosts, and nurses to female representations of "Liberty" and "Justice." Christy's patriotic feelings ran strong, and he donated both his talents and time for the cause. He reportedly helped sell 7.4 million dollars worth of war bonds in 3 hours.
In 1919, Christy's divorce to Maybelle Thompson was finalized and he married Nancy May Palmer on August 14. Nancy's modeling for Christy ended as she became increasingly involved as his manager/social secretary and traveling companion. The Christys were actively involved in the New York City social scene and accorded celebrity status in the local newspapers. Their social calendar and dress were followed by the society and fashion writers of the time. As a nationally recognized "expert" on beauty, Christy was invited to judge the first Miss America Pageant in 1921.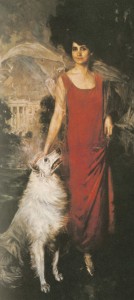 By 1921, Christy had retired from magazine illustration and turned to a new career in portraiture. Christy quickly became portrait painter of the elite, including celebrities, socialites, politicians, and prominent businessmen, including Mr. and Mrs. W.R. Hearst, President Warren G. Harding, President and Mrs. Calvin Coolidge, Herbert Hoover, General John J. Pershing, Dr. Norman Vincent Peale, Amelia Earhart, Eddie Rickenbacker, Will Hays, Lillian Russell, Will Rogers, Benito Mussolini, the Prince of Wales, and Italian Crown Prince Umberto.
The early 1930's found Christy suffering from periods of ill health and bouts of blindness. It is during this time of sickness and depression that the artist began focusing on landscapes and the female nude. Decorative screens, panels and murals were executed by Christy throughout these years and often featured one of his most notable and beloved models, Elise Ford. Miss Ford, an aspiring painter herself, became Christy's longtime companion and the mother of his second daughter, Holly Chandler Ford.
Mural commissions were executed for the Park Lane Hotel in 1934 (later purchased and installed in the Sherry-Netherland Hotel in 1951) and the Café des Artistes (1934 upper level, 1942 lower level). The frolicking nudes from these idyllic woodland scenes also became a Christy trademark. A one-man exhibition at the Grand Central Galleries in New York in 1935 featured 26 portraits and 22 nudes and landscapes from this period.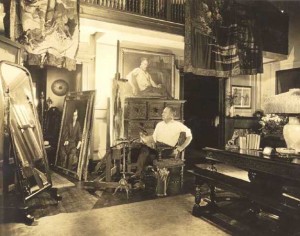 Christy's later career is also notable for his major historical paintings. These large-scale mural commissions include such works as: "We the People" (1937), "The Signing of the Constitution of the United States" (1940), "The Stephen Foster Memorials" (1940; 1947-50), "The Signing of the Treaty of Greene Ville" (1945), "The Signing of the United Nations' Charter" (1946-47), and "Dawn of a New Light [Thomas Alva Edison]" (1950). Later religious canvases include titles such as "Giving the Great Commission," "Jesus the Christ," and "Peace on Earth."
During this prolific period of painting Christy also produced many program covers for athletic, social, and club events as well as posters for President Franklin D. Roosevelt's birthday celebrations, the Boy Scouts, Police Athletic League, Red Cross, and Salvation Army. The outbreak of World War II resulted in a run of new wartime posters for Christy. Posters executed for WWII had a much more religious tone; an example is "Give Us the Faith and Courage of Our Forefathers" (1942).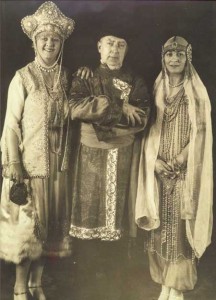 Christy's death at his Hotel des Artistes studio in 1952 left several commissions in progress, including a portrait of Douglas MacArthur and plans for a historic painting of Gettysburg. Christy held membership in many arts organizations throughout his lifetime, including The Lambs, The Aldine Club, and The Players. He was honored for his contributions to American art and his public service to the country many times. The United States Naval Academy elected him an Honorary Member of the Academy's Class of 1921. Other honorary decorations were bestowed by the New York Police Force and the Veterans of Foreign Wars. In 1947 the Society of Illustrators made him an honorary member, and in 1951 he received the Ohio Career Medal from the Martha Kinney Cooper Ohioana Library Association. Christy also received medals from the Paris and Chicago Expositions, the National Academy of Design, and the Society for Sanity of Art.