Series I. Correspondence of Howard Chandler Christy: 1912-1952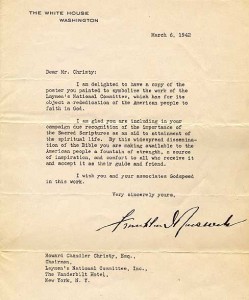 SERIES I. Correspondence of Howard Chandler Christy: 1912-1952 (4 record boxes; 4 linear feet) contains incoming manuscript and typescript letters collected by the artist and his wife, Nancy Palmer Christy.  Correspondence is primarily professional or social in nature, with a small percentage relating to personal matters.  All correspondence addressed to both "Mr. and Mrs. Christy" is filed within this series, while letters addressed specifically to Nancy Palmer Christy are filed within Series II.  Letters are arranged alphabetically by correspondent or corresponding agency's name and then chronologically within each file.  If a letter was dated only by postmark on the envelope, this information was transferred in pencil to the upper right corner of the letter before the envelope was discarded.  Incoming correspondence includes letters, telegrams, invitations, and greeting cards.  Outgoing letters appear infrequently throughout the series as handwritten copies by the artist and are filed by addressee's name.
The bulk of the letters date from the middle to later portion of Christy's career (ca. 1930s-1952) and relate to his commissions as war-time poster artist and fundraiser, portrait painter, historic muralist, and New York City social figure.  This is the period when Nancy Palmer Christy acted as the artist's secretary/manager.  Handling Christy's correspondence was most likely one of her duties and many letters have been preserved thanks to her efforts.
The letters of this series document several aspects of Christy's career in great depth, including the initial commissioning of artwork to the final reactions and praises received upon completion of the paintings.  This series is perhaps most valuable as a chronicle of Christy's later career as a painter of portraits, posters, and large-scale historic canvases.  While illustration dating from later in his career is discussed within the correspondence files (i.e., program covers for athletic, social, and club events), material pertaining to his earlier career as magazine and book illustrator is sparse throughout the series.  This is probably due to the fact that much of the work of his earlier career was completed at The Barracks in Ohio.  Like many of the original drawings for these early illustrations, his correspondence with publishers did not survive the return to New York City in 1915.  Prior to his marriage to Nancy Palmer Christy in 1919, it does not appear that Christy retained much of his personal or professional correspondence.  If any of this earlier material does exist, it did not come to Lafayette College via the Hotel des Artistes studio.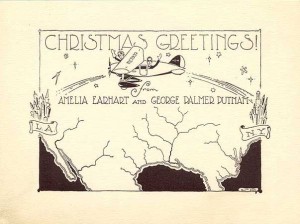 Christy's correspondence from prominent political, entertainment industry, and social figures of the time is quite rich, including Calvin and Grace Coolidge, Franklin and Eleanor Roosevelt, Douglas MacArthur, Eddie Rickenbacker, John D. Rockefeller, Amelia Earhart, Gene Autry, Jack Dempsey, W. R. and Millicent Hearst, Helen Astor, and Fannie Hurst.  Correspondence relating to Christy's personal life can be found within the files of Nancy Palmer Christy (wife), Elise Ford (model and mother of Christy's daughter, Holly), Natalie Christy (daughter from first marriage), and Carolyn Chandler (grand-daughter).
Significant amounts of correspondence can also be found within Series VIII, Scrapbooks.  These letters were arranged, pasted, and taped within the scrapbooks by Nancy Palmer Christy.  The scrapbooks are not arranged chronologically.  An in-house database of correspondents is available at the repository.