Series V. Subject Files: 1896-1981
SERIES V. Subject Files: 1896-1981 (11 record boxes; 8.5 linear feet) contains a wide range of manuscript, typescript, and reproduction records pertaining to many aspects of Christy's life and career.  Most images of Christy's work appear in photocopy, photostat, or poster format; some are reproductions from publications such as journals and programs.  Due to conservation issues, photographic reproductions have been transferred to Series VI with a photocopy remaining in original locations and original artwork has been filed in Series VII.
The subject files are organized alphabetically within six subseries and then chronologically within each file.  Inclusive dates on folders refer to the dates of materials in the folder, not necessarily the date of commissions of art works.  The bulk of the materials in Series V date from the 1930s-1950s and document Christy's work as painter of portraits, posters, and historical murals, as well as his volunteer work and membership in various social, arts, and political clubs.  Earlier material (ca. 1900-1920) pertaining to Christy's illustration work also exists within Series V, although it is often in photocopy.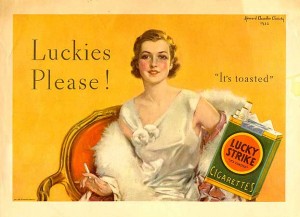 Subseries 1. General, contains the most diverse records of the series, spanning ca. 1900-1970s.  Arranged alphabetically by folder title, these files include a wide range of materials, including advertisements designed by Christy, information on his exhibitions, organizations he belonged to throughout his career, clipped or photocopied articles written by Christy or about Christy, photocopied newspaper clippings arranged chronologically, biographical information on the artist, and poetry and prose written by the artist.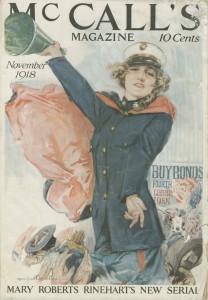 Subseries 2. Illustration, contains both photocopies and clipped articles from journals featuring Christy illustrations, black and white proofs of illustration for publications, a small amount of color pages removed from books or calendars, and clipped magazine or newspaper cover pages.  These materials document some of Christy's earliest work in the field of magazine illustration, including his commissions during the Spanish-American War.  Images in this subseries also offer a fragmented glimpse of the development of "The Christy Girl" in the artist's early magazine illustration.
The bulk of this subseries dates 1898-1920 is primarily arranged in bibliography format with folder titles containing the fullest citation possible.  Folders are filed under author name, journal title, or illustration title, depending on the completeness of the citation.  Many folders are filed under "Christy, Howard Chandler" as illustrator.
This subseries was generated in part as a student intern project in Special Collections.  The intern researched the Christy illustration examples which came as part of the collection (primarily incomplete clippings from journals), created a bibliography of any other examples of Christy illustration discovered as part of this research, and produced photocopies from original journals or microfilm to add to the subseries in order to make it as complete and comprehensive as possible.  The container list for this subseries indicates which illustrations were added in photocopy, and it is expected that Subseries 2 will grow as further citations for Christy illustration are discovered and photocopies are produced.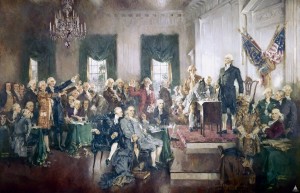 Subseries 3. Paintings, contains documents pertaining to commissions and sales of many of Christy's large-scale historic murals as well as some of his smaller landscapes.  Files are arranged alphabetically by painting title and then chronologically within each file.  The bulk of these records dates from Christy's middle to late career, ca. 1930s through the early 1950s.
This subseries is rich as a visual record many of Christy's major works.  Large-scale reproductions of paintings in poster format have been filed with other oversize material in the Special Collections Flat Files.  Photographs have been transferred to Series VI for appropriate conservation housing with a photocopy of the image left in its original location in the file.  In both cases, cross-referencing to alternate storage locations has been completed on original folders and the container lists.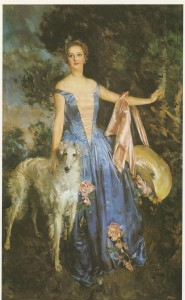 Subseries 4. Portraits, is a valuable record of Christy's work as a portrait artist from the late 1920s until his death in 1952.  Arranged alphabetically by sitter's name and then chronologically in each file, this subseries offers a listing of many of Christy's portrait commissions.  Files contain clippings and photocopies from newspapers as well as complete journals featuring articles on Christy portraits.  Records in this subseries also include notecards on portraits prepared by Jane Conneen in preparation for the Allentown Art Museum exhibition on Christy in 1977.  A small amount of correspondence relating to the portraits exists within these files; major correspondence containing details of the commissions or reactions to the finished portraits is located under sitter or their family members' names in Series I and II.  Any photographs of individual portraits were photocopied for the file and then transferred to Series VI.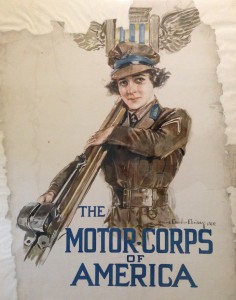 Subseries 5. Posters, contains examples of many of Christy's World War I and II poster commissions with bulk dates from ca. 1917 to the mid 1940s.  Files are arranged alphabetically by poster title and then chronologically within each file.  Records primarily include photocopies of newspaper and journal articles concerning posters, photocopies of photographs of the posters placed in Series VI, and small-scale reproductions.  Actual full-scale posters have been placed with other oversize materials to the Special Collections Flat Files.  Cross-references remain on original folders and the container list for the subseries.  The posters of this series document one of the important patriotic aspects of Christy's career and are a valuable record of American recruitment posters during the World Wars.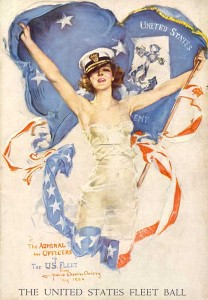 Subseries 6. Programs, documents the many program covers Christy designed for various social, arts, military, civic organizations throughout his career.  Files are arranged alphabetically by organization's name and then chronologically by program year.  Records primarily include covers removed from programs featuring Christy's artwork, although some complete programs do exist within the subseries.  Later reproductions of program covers are filed here, as well as photocopies of photographs transferred to Series VI.  The program covers span Christy's career, with the bulk falling into the 1930s.  Some of the most noteworthy examples from this subseries include the frolicking nudes from "The Lambs" programs and the Army and Navy football program covers.