Series VI. Photographic Material: ca. 1873-1952
SERIES VI. Photographic Material: ca. 1873-1952 (21 special format boxes; 2.5 linear feet) contains approximately 1,200 images in the form of photographs, negatives, and slides.  The primary format of the series is the black and white photograph, with color prints appearing infrequently throughout the folders. While some of the prints are dated, many are not.  The earliest images of the series are photographs of Christy as an infant.  The latest photographs date from the final years of Christy's life.  This series is an excellent resource for researchers interested in the visual documentation of Christy's career as an artist and his personal/social life.  The series is organized into ten subseries as follows:
Subseries 1. Paintings, 2. Portraits, 3. Posters, 4. Sculpture, 5. Illustration, and 6. Works by Other Artists represent approximately half of the photographic images in the series.  Most of these photographic materials were removed from Series I, II, or V and transferred to appropriate conservation storage systems in Series VI.  Photocopies of the transferred photographs remain in their original locations with cross-references to Series VI.
Subseries 1 – 5 are arranged alphabetically by title of work.  Supporting documents for each work, such as correspondence or clippings, can be located by title in earlier series.  These subseries offer a significant visual record of Christy's artwork, including details and full views of the works.  Other photographs of note from these subseries include views of Christy working on the canvases or standing before a completed work, alone or with a sitter or model.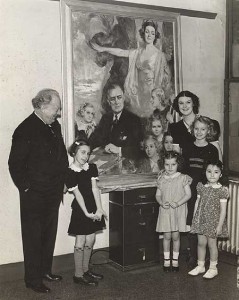 Subseries 1. Paintings and 2. Portraits are the most comprehensive groups of photographs in the series.  While the photographs of paintings in Subseries 1 include many titles already represented in records elsewhere in the collection, many untitled landscapes and nudes are located here as well.  Most of the notable portrait photographs in Subseries 2 are identified, although some remain unknown and are filed under unidentified men, women, children, and groups.  Many of the photographs of Christy portraits are inscribed to the artist and feature the sitter's autograph.  While Subseries 3. Posters, 4. Sculpture, and 5. Illustration contain smaller amounts of photographs, they still offer an important visual record of Christy's work. The bulk of the photographs from these subseries were produced in the studio of Peter A. Juley and Son of New York City, the primary photographers of Christy's artwork.  Subseries 6. Works by Other Artists contains a small but interesting group of photographs collected by Christy and is organized alphabetically by artist's name, if known.
Subseries 7. Individuals, 8. Groups, 9. Locations, and 10. Animals represents the second half of the photographs from this series.  They record the personal life of the artist, including the many social activities and functions attended by Christy.  Subseries 7. Individuals is arranged alphabetically by subject's name and include many prominent people of the time, including, Grace Coolidge, Dorothy and Alfred DuPont, James A. Farley, Henry Ford, Will Hays, Prince Philip of Hesse, Douglas MacArthur, Mae Murray, Eddie Rickenbacker, Will Rogers, Franklin D. Roosevelt, and Prince Umberto of Italy.  Many of these individuals were friends of the artist or portrait subjects and their photographs are inscribed to Christy or his wife, Nancy.  A large portion of this subseries includes individual photographs of the artist and Nancy Palmer Christy.  Other significant photographs of family members include Natalie Christy (daughter), Maybelle Thompson Christy (first wife), Harmon Smith (adopted son), and Elise Ford (model and mother of daughter Holly).
Subseries 8. Groups primarily features photographs of Howard Chandler Christy and Nancy Palmer Christy together: at home, vacationing, socializing with friends, and attending various functions.  These photographs are filed first within the subseries and provide a wonderful view of the Christys' life together, including Nancy modeling for her husband and their activities New York society during the 1930s and 1940s.  Other miscellaneous groups of note include visitors at The Barracks in Ohio, ca. 1910, as well as unidentified people who may be relatives of Christy.
Subseries 9. Locations contains photographs of significant places from the artist's life, including his birthplace and the Barracks in Ohio, William Merritt Chase's studio Christy's Hotel des Artistes studio in New York City, and various exhibition galleries featuring Christy's work.  Finally, Subseries 10. Animals contains a small number of photographs of the Christys' pets and their friends pets.