A collection of creative work depicting the science, beauty, and mystery of fluids
The Moods of Water – submitted by Evan Savage '21
Water can meander
As melting snow drip-drips down high-flying peaks
Into soft streams below

Water can flow
Down rocks, over logs and through meadows
Turbulent streamlines melting into velvet as you watch
Carving its name into the ground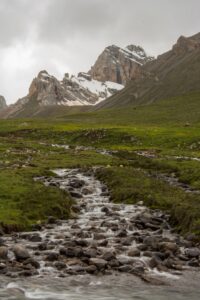 Water can plunge
Freefall freezing droplets like the snapshot of a photo finish
Pounding like thunder
Breaking bedrock to form new cracks into the crust of time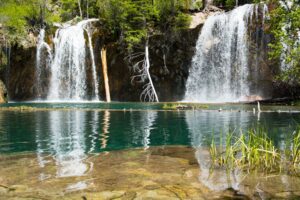 Water can sit dead still
Reflecting back everything it witnesses
A perfect mirror upon which the mountains can reflect

A Fluids Sonnet
By Nicolette Sonmez '20
A student asked, "Why do fluids matter?"
His Professor took a deep breath and said:
A fluid is the raindrops that patter,
A fluid is the soup which keeps you fed.
A fluid is the water you must drink,
A fluid is the fuel in your new car.
A fluid is the blood which helps you to think,
A fluid is the protective cloud afar.
A fluid is the ocean which helps keep you cool,
A fluid is the air through which all things live.
A fluid is the level, your trusty tool,
A fluid is the ink with knowledge to give.
The Professor asked, "Now do you see why?"
The student said, "Not really, but I'll try".
Fluids are Cool – Semester Review
– submitted by Chris Romano '19
Oh, to be a sheet of laminar flow!
Such peaceful bliss is one that I may never know.
To avoid the harsh eddies that arise in turbulent tow
And instead slide upon brethren as ducks fly in a row.
For streamlines of life are never so easy,
As those defined in our beloved Bernoulli.
For in the hustle and bustle, work and the scurry
Stagnation points escape me as I move in a hurry.
Final exams: They call to me from the calendar.
Taunting, teasing, they scream "Come hither!"
The stress, it mounts, devoicing anxious sobs in my throat.
Pressure rising like hydrostatic force beneath a boat.
– But oh, what's this?
Could it be divine mercy!
Concepts; lectures – at last to be understood!
Similitude and energy: they save of me what they could!
Free me of the chain that is piezometric head
For elevation? Pressure? EGL, HGL? (Oh do I need to go to bed)
Surely on the test I did not know what was to be said!
Now I sing thanks for sweet fortune's kiss!
The energy equation's comfort is one that I will surely miss.
Praise be to the deities of fluids;
For if they were to have pondered the impact that they would have on their posterity, they would never have knew it.
Toricelli and Newton; Euler and Joule
Water thicker than blood in this world where fluids are oh so cool.
The 10 commandments enshrined through table A5
One semester in and I'm just glad the head loss experienced here has not been mine!
Haiku by Sarah Walko '15:
Water, when it flows
Can be viscous, turbulent
Delicate, one knows
Water"fall" Skogafoss, Iceland – submitted by Nouman Naveed '19
Sheetflow Waves by Sullivan Deck – .mov file
Sheetflow of runoff along a paved surface organizes into rolling waves – submitted by Rowan Jones 2013

wavessheetflow. Runoff heading down Sullivan Road, Sept 18, during 3-inch rain event. Sheet flow down a steep slope will show these roll waves, due to surface instabilities (the surface flow is faster than the flow beneath, and is not damped enough by shear to travel with the fluid below) that grow until a wave is formed.