English-language version: Outcasts of Empire: Japan's Rule on Taiwan's "Savage Border," 1874-1945. Oakland: University of California Press, 2018.
Purchase paperback:   UC Press Barnes&Noble  Amazon
Luminos Open Access digital edition [free] (click here)
"What is Asia?": Podcast hosted by Nakota DiFonzo
New Books Network:  Podcast hosted by Shatrunjay Mall:
Award: Shortlist, International Convention of Asia Scholars 2019 Book Prize, Social Sciences category:  https://icas.asia/shortlist-and-winner-social-sciences-ibp-8-2019
Reviews
Fabienne Hofer-Uji, Japanese Studies
Hiroko Matsuda, American Historical Review
Mark Driscoll, Harvard Journal of Asiatic Studies
Anne E. Sokolsky, Journal of Asian Studies 
Nathanel Amar, H-Solz-Kult
Scott Simon, Pacific Affairs
Robert Stolz, Cross-Currents 
Ann Heylen, The China Journal 
Robert Eskildsen, Monumenta Nipponica
I-An Wasiq Gao, International Journal of Taiwan Studies
Michael Turton, The View from Taiwan
Amazon.com
goodreads.com
Article in The Daily about my book talk at University of Washington in April,
Podcast of Interview with "Meiji at 150" host Tristan Grunow:
Georgetown University book talk:
Yale University book talk:
University of Toronto book talk:
Ohio State University book talk:
University of California Luminosa Open Access blogpost re: Outcasts of Empire:
https://www.ucpress.edu/blog/32072/open-order-author-paul-barclay-explains-published-luminos/
Article on Lafayette College website:  https://news.lafayette.edu/2017/12/06/outcasts-of-empire/
(from UC Press website):
"Paul Barclay's exploration of indigenous histories in Taiwan is sophisticated and engaging. This highly original narrative of a formative period will be of great interest to all those concerned with comparative colonial history."—Nicholas Thomas, Professor of Historical Anthropology, University of Cambridge
"Barclay's work reveals how indigeneity evolved coevally with capitalist imperialism and nationalism during the last century. It is a multisided and multiscale analysis—incorporating global, regional, and local scales—and it is embedded in a coherent and compelling narrative. Analysts are greatly concerned about resource frontiers in today's world; this study furnishes them with an indispensable historical framework."—Prasenjit Duara, Oscar Tang Professor of East Asian Studies, Duke University
"Analytically precise and theoretically ambitious, Barclay's wonderful new book examines the entanglements of the interstate system, indigeneity, and sovereignty through the case of Japanese-occupied Taiwan. A must-read for anyone interested in the fate of indigenous peoples under modern colonialism."—Louise Young, author of Japan's Total Empire: Manchuria and the Culture of Wartime Imperialism
The expanded, Chinese-language edition of Outcasts of Empire is out: 帝國棄民:日本在臺灣「蕃界」內的統治 (1874-1945). National Taiwan University Press, 2020 (560 pp). https://www.press.ntu.edu.tw/en/publish/show.php?act=book&refer=ntup_book01132&page=2&field=bdom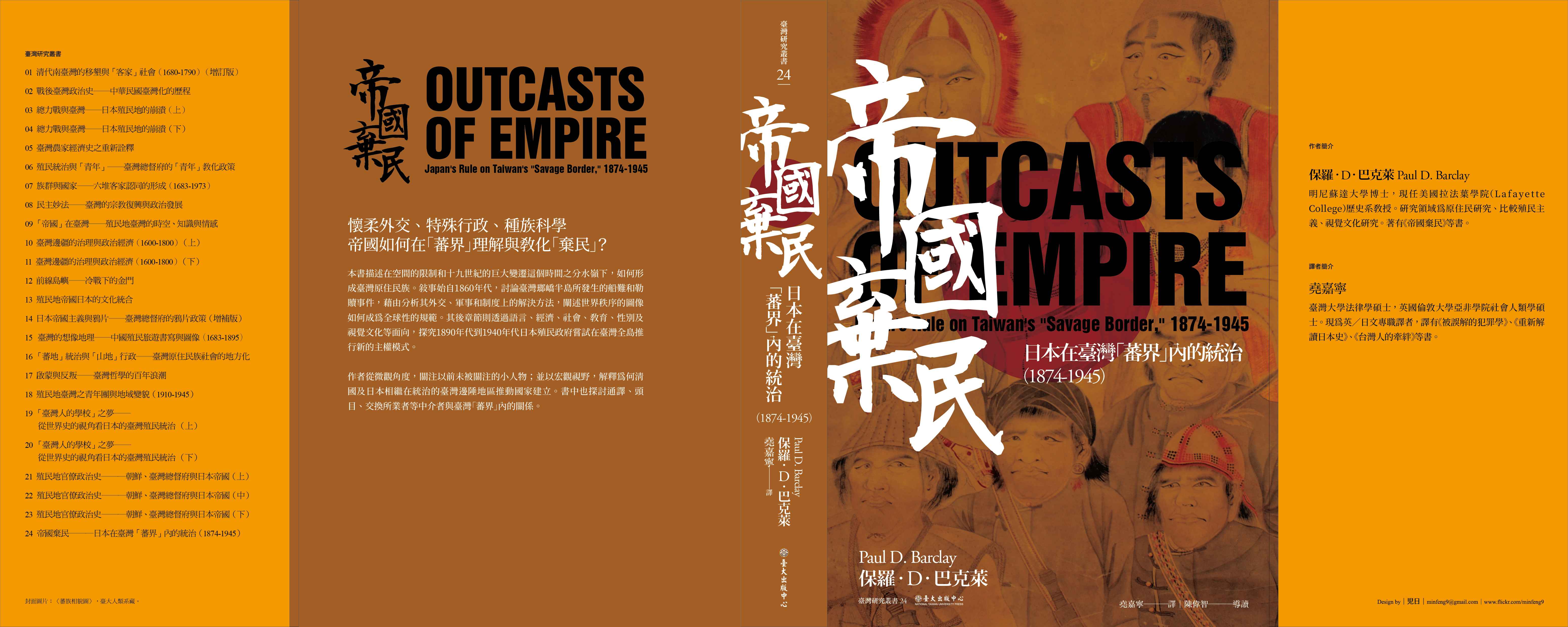 In addition to a preface by my good friend and colleague Chen Wei-chi 陳偉智, the new edition contains over 45,000 additional words of text. The Chinese-language edition benefits from the sharp eyes of translator Yao Chia-ning 堯嘉寧 and editor Tsai Min-chun 蔡旻峻, who made numerous suggestions for clarifying, correcting, and improving the original text. The new edition adds more global and theoretical context, goes into greater empirical detail, and utilizes recently digitized primary source material, to amplify and round out the analysis presented in the University of California Press edition of this book.
Review in the Taiwan National History Museum Journal, Taiwan History: https://www.nmth.gov.tw/publication?uid=171&pid=818