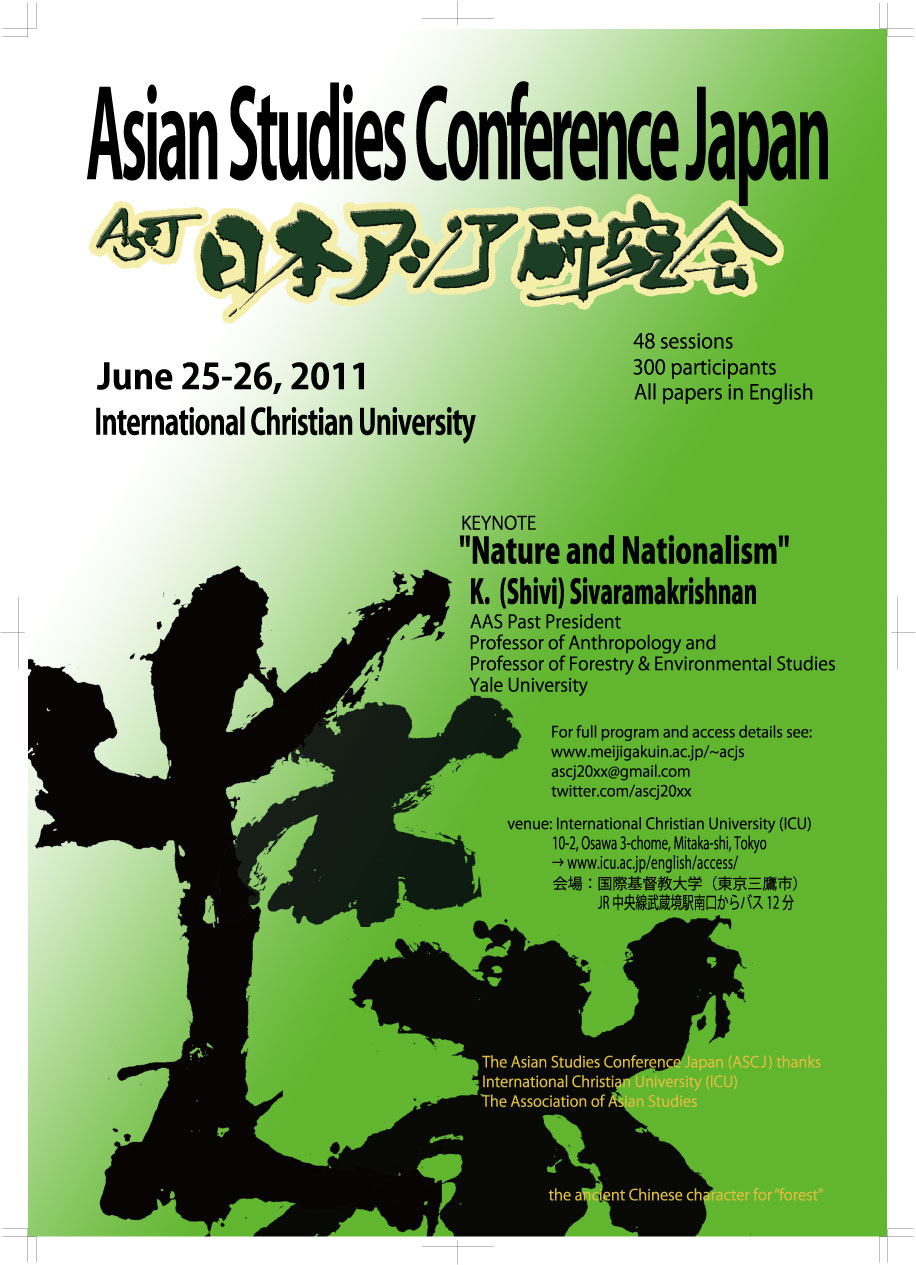 Thanks to the organizers and my fellow panelists for an informative conference in Tokyo, and especially thanks to Yamamoto Masashi and Vicky Muehleisen for putting up with me for a whole week!
Session 35: Room 316
The Exhibitionary Complex and the Police State: Imperial Pedagogy in Taiwan under
Japanese Rule
Organizer: Paul Barclay, Lafayette College
Chair: Robert Eskildsen, J.F. Oberlin University
This panel conceptualizes several examples of imperial pedagogy in colonial Taiwan as parts of an "exhibitionary complex." Japanese visionaries, employing techniques explored in the papers, configured the peoples, places, and built environment of Taiwan as a series of exhibits to be viewed, categorized, and displayed for the purposes of statecraft, economic gain, and discipline. By shifting the focus of culture-studies inspired scholarship to individual "exhibitors," and the agency of the "exhibited," these papers also argue that colonial "exhibits" were constructed in a context of intra-governmental conflict and local constraints. Caroline Hui-yu's paper shows how the 1925 Taipei Police Exhibition, ostensibly staged to instruct Taiwanese subjects in "everyday modernity," could also serve as an arena of competition between recently arrived Japanese policemen and "Taiwan Hands" for influence in the colonial state. Sōyama Takeshi's paper analyzes government-sponsored tourism as a mechanism for enforcing spatial boundaries between Japanese and Taiwanese in the realm of leisure, while tourism also sought to erase boundaries in the realm of political identity. During the post-1937 period, Taiwanese subverted this pedagogical enterprise by disguising trips to Chinese folk temples as visits to Shinto shrines. Paul Barclay's paper argues that model villages in Taiwan's "indigenous territories" failed as commercialized tourism "exhibits." Nonetheless, they provided image-hungry foreigners with photo-ops that played upon shared Japanese and Western assumptions about the place of indigenes in the international order. These journalists portrayed Japan's polices favorably abroad, thus vindicating a security apparatus often at odds with the tourism industry.
1) Hui-yu Caroline Ts'ai, Institute of Taiwan History, Academia Sinica
Everyday Coloniality, Social Networking, and Knowledge Production: The 1925 Taipei Police
Exhibition
The interwar years serve as an intriguing period for the analysis of "everyday coloniality." Following current academic interest in questions of "vision," this "new" turn of colonial studies tends to rest on a rich ground of "things visible" and "tangible." The problem, however, is that history is more often than not being abridged or curtailed, and the attempt to seek historical facts is sometimes muted in the process. This case study of the 1925 Taipei Police exhibition illustrates just this need to bring history back to textual analysis. Since the 1925 Taipei exhibition was unique in the way that it seems to have been the only recorded hygienic exhibition initiated by the police in colonial Taiwan, the questions I will ask include arts and culture of the Taishō period (such as music, movies, radio, advertisements, and leisure entertainment), the supporting groups which helped or donated the displayed items, and the makeup of the "old Taiwan hands" (mainly, the police staff and the range of the social networking). Ultimately, I am interested in how Imperial Japan managed to produce its colonial knowledge about Taiwan.
2) Takeshi Soyama, Kyushu Sangyo University
Tourism under Japan's Colonial Rule in Taiwan: From the Perspectives of Privilege,
Exclusion, Assimilation and Resistance
Japan's colonial rule in Taiwan caused Japanese cultural concessions in Taiwan. For the Japanese who lived in Taiwan, Taiwan was an extension of the Japanese mainland, and of course, this was also true for the Taiwanese and native Taiwanese. This concept of an extension of the Japanese mainland was categorized into two types. One type was privileged spaces for Japanese people, such as Japanese-style hot springs and inns. The general Taiwanese population tended to be excluded from these attractions that had Japanese cultural characteristics. Elementary school excursions were the only opportunity for access to such places. At the time, elementary schools for Taiwanese children were to assimilate children into Japanese culture. These facilities for assimilation, such as elementary schools and shrines, constituted the second type of extension of the Japanese mainland. In 1937, when the Sino-Japanese War broke out, the Governor-General of Taiwan began to force the Taiwanese to visit and worship at Japanese shrines. In the meantime, the Taiwanese urged the Governor-General Railroad Section to conspiratorially conceal their "joss house" (Chinese folk temple) tours under the disguise of Japanese shrine tours. This situation shows that assimilation and compulsion were cleverly transformed into resistance in the context of colonialism and tourism.
3) Paul Barclay, Lafayette College
Ethnic Tourism, Wartime Surveillance and Public Relations: The Taiwan Photography of
Harrison Forman
On April 1, 1938, the photo journalist Harrison Forman began a tour of Taiwan. Forman's visit came at a nadir in U.S.-Japanese relations, just after the Nanjing massacres. Although only a few photographs from Forman's excursion were published, they provide, in conjunction with his unpublished diary and over sixty archived photographic negatives, a telling example of how Japanese officials and merchants utilized the infrastructure of tourism to manage the image of Japanese empire abroad. The great majority of Forman's images depicted Taiwan Indigenous Peoples, who constituted less that 2% of Taiwan's population. In general, cameras were tightly regulated and photography discouraged on the home islands and in Taiwan. Nonetheless, the colonial state encouraged the production and dissemination of photographs of Taiwan Indigenous Peoples. Pamphlets, postcards, and illustrated books were readily available at train stations, small shops, and the tourist bureau and freely distributed to foreign guests. This paper asks why Taiwan Indigenous Peoples were treated as the privileged face of Taiwan in the 1930s, while previously they had symbolized the failure of the government general to govern the island. I argue that image-conscious officials and thrill-seeking Westerners found common ground on guided tours to model villages in the "Aborigine Territory." There, visitors recorded impressions of an orderly yet exotic colony while police officers monitored their movements on easily patrolled interior routes. In the bargain, visitors were diverted from Taiwan's military installations and other vistas deemed embarrassing or sensitive by the colonial government.
Discussant: Robert Eskildsen, J.F. Oberlin University