UN HOMME QUI CRIE / A SCREAMING MAN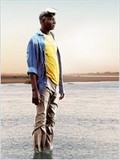 Thursday, October 2o in Oechsle Hall, 224
2006 / 92 min.
http://sites.lafayette.edu/tourneesfilmfest/files/2011/08/unhommequicrie.jpg
Working on a scale both intimate (a father's wounded ego) and epic (a nation torn apart by civil war), writer-director Mahamat-Saleh Haroun creates a remarkable portrait of present-day Chad. Adam, a 55-year-old former swimming champion, takes great pride in his work as the pool attendant at a luxury hotel in N'Djamena, the nation's capital. Adam is assisted in his job by his son, Abdel; their friendly competitiveness is highlighted in the film's opening scene, as the two men see who can stay underwater the longest. At home with his wife, with whom he is still blissfully in love, Adam pays little attention to the news reports of insurgent attacks on the Chadian army. But the father's life is upended when his boss tells him that his son will be replacing him as the sole pool attendant. Reeling from this blow to his self-worth, Adam makes a treacherous decision, agreeing to the local district chief's demand that he offer Abdel instead of cash as his mandatory contribution to the war effort. Adam gets his cherished job back, but the joy it provides is no match for the guilt and torment he now must endure.
DIRECTOR: Mahamat-Saleh Haroun
Jury Prize – Cannes Film Festival (2010).
Best French-Language Film Outside of France – Lumière Awards (2011)